Stand Tall
Speed doesn't have to hurt. These "comfort performance" bikes go easy on your back–but not on the competition.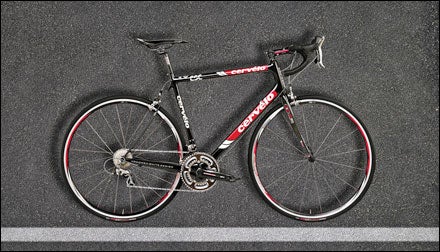 Heading out the door? Read this article on the new Outside+ app available now on iOS devices for members! Download the app.
Cervélo RS
Dream Rides
Looking for inspiration for a bike tour? Look no further than
page four
of this article.
PERFECT FOR: All-arounders looking to climb, sprint, and tour with the best. WHY IT'S COOL: Want race-proven? Riders from Team CSC won the last two editions of Paris-Roubaix, held on cobblestone roads, on Cervélo's revered R3. For the RS, Cervélo took the squared tubes and springy seatstays that give the R3 its coveted power-train stiffness and bump absorption, then lengthened the wheelbase for better stability and raised the handlebars to reduce back strain. The result is a bike that makes any ride feel better. BEFORE YOU BUY: Sell your old bikes. Unless you race time trials, this is the only one you'll need. $4,000; 16.3 lbs, 56cm; cervelo.com
Schwinn Le Tour GSX and Trek Pilot 5.0
Schwinn Le Tour GSX and Trek Pilot 5.0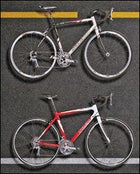 Trek Pilot 5.0
PERFECT FOR: Committed roadies whose idea of "just staying in shape" involves four-hour-plus rides on hilly roads. WHY IT'S COOL: With a full-carbon frame, vibration-damping handlebar inserts, and a hand position that's three-quarters of an inch higher than the tallest of Trek's race-oriented Madone frames, the Pilot is built for comfort. But it's also light and stiff enough that you could swap out the triple chainring for a more aggressive double and be ready for local races. BEFORE YOU BUY: The Bontrager Race wheelset underdelivers for this frame. $2,310; 18.7 lbs, 56cm; trekbikes.com
Schwinn Le Tour GSX
PERFECT FOR: Newbies ready to become local century contenders without breaking the bank. WHY IT'S COOL: With bikes this inexpensive, there are always a few shortcomings and lingering gripes: too noisy, harsh, or sluggish or all three. Not so here. In fact, you don't really notice the bike at all. The neutral handling keeps it going where you point it, and the carbon-fiber fork and seatstays take the sting out of the aluminum frame. Upshot: It's a remarkably efficient ride for the price. BEFORE YOU BUY: If you're heavy or riding in hilly country, the Tektro brake calipers are a bit too flexy to stop with any authority. Swap them out for something stiffer. $1,000; 21.8 lbs, 56cm; schwinnbike.com
Marin Verona and Look 585 Optimum
Marin Verona and Look 585 Optimum
Marin Verona KILLER VALUE
PERFECT FOR: Everyday cyclists looking for a responsive bike that won't jar sensitive backs on long-haul training and club rides. WHY IT'S COOL: Though the Verona is made primarily from aluminum, the engineers at Marin have radically altered the shapes of the tubes to deliver vertical flex—to smooth out fatigue-inducing road chatter—while preserving aluminum's inherent stiffness in key areas for efficient energy transfer. With the carbon-fiber seatstays absorbing any remaining road buzz, this is about as smooth as an aluminum frame can get. BEFORE YOU BUY: The steering, while stable, is a bit sluggish, though it handles exceptionally well for this price range. $1,655; 18.9 lbs, 56cm; marinbikes.com
Look 585 Optimum
PERFECT FOR: Elites who want to ride very fast—and very far—without feeling it. WHY IT'S COOL: A proprietary carbon-fiber technology delivers pro-level stiffness in the bottom bracket for maximum efficiency, while the wishbone shape of the seatstays provides plush vibration damping for comfort in the saddle. And at just 2.2 pounds, the frame can be built up as light as almost anything you'll see in the Tour de France, meaning it can, and should, be raced. BEFORE YOU BUY: Unless you're competing or out to crush your buddies on weekend rides, this might be more bike than you need. $2,699 (frame and fork); $6,000 as tested; 15.8 lbs, 55cm; lookcycle-usa.com
Dream Rides
Break in your new rig on these life-list-worthy tours
1. CALIFORNIA'S WINE COUNTRY
Spin past old-growth redwood forests and vineyards in Napa and Sonoma counties, braking only for wineries, coastal views, and some of the classiest inns north of San Francisco. 16–55 miles per day, $2,598; backroads.com
2. THE TOUR DE GEORGIA COURSE
Test your mettle for six days on the scenic roads lacing the southern Blue Ridge Mountains near Atlanta between stays in the Peach State's finest resorts. 40 miles per day, $2,995; trektravel.com
3. THE SONORAN DESERT
Pedal lightly trafficked roads past the giant cacti and red-rock canyons outside Tucson, Arizona, for six days, enjoying light-pollution-free nights at historic guest ranches. 24–40 miles per day, $2,195; gosojourn.com
4. VERMONT'S CHAMPLAIN VALLEY AND ISLANDS
Sign up for a six-day circuit through the rolling, postcard-perfect countryside of Lake Champlain, with stop-offs in classic New England B&B's. 10–33 miles per day, from $1,395; vbt.com