A Tail of Three Wheels
With the industry pushing 27.5-inch wheels for 2014, we reflect on a year's worth of testing aboard the Scott Genius—in 26, 27.5, and 29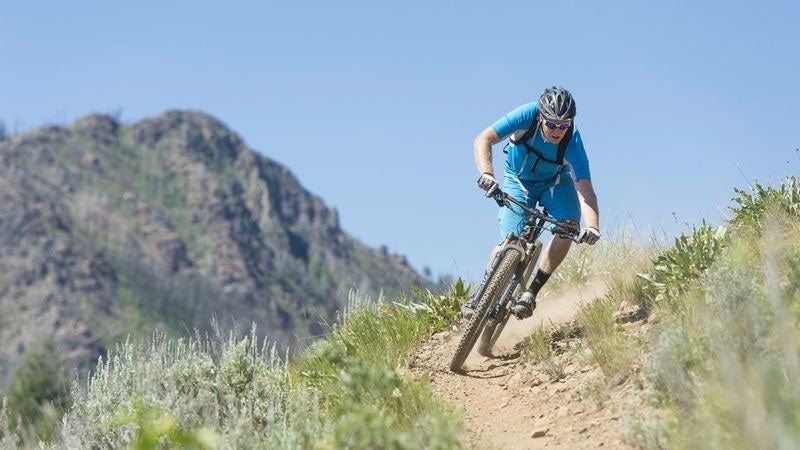 Heading out the door? Read this article on the new Outside+ app available now on iOS devices for members! Download the app.
On a safari I took recently in Namibia, the outfitter contracted a bike guide as part of the trip for those who wanted to see animals from two wheels. I was happy to have the chance to ride at all. And I was ecstatic when I discovered the bikes were high-quality, well-maintained mountain bikes. (Often in such cases you get clunkers.)

The 29-inch Genius 900 SL
The 27.5-inch Genius 700 SL

The 26-inch Genius LT
So I laughed out loud when the bike guide, Leander Borg of NatureFriend Safaris, apologized that I would have to ride a 26er. "The 29ers are best here, but we only have so many of those," he said regretfully. Never mind that the bike he gave me was an awesome full-suspension carbon Merida complete with Shimano XTR parts—I couldn't have asked for more. "And what about the 27.5ers?" he quizzed me later on the trail. "I haven't tried one yet, but I think I want to get one next year."
The comment made me realize just how effective the bike industry has been in marketing and selling wheel size. Leander honestly felt that a bike with 26-inch wheels would inhibit my experience. And though he was perfectly content on his own Scott Spark 29er, he was seriously considering trading it in for a 27.5, sight unseen. Even here, at the other end of the earth, cyclists were engaged in the great wheel debate.
THE WHEEL TEST
The question of what wheel size is best is the most common query I get when people find out that I test bikes. With that in mind, last year we organized with Scott to test not just one of their 2013 Genius models, but all three: the 29-inch Genius 900 SL, the 27.5-inch Genius 700 SL, and the 26-inch Genius LT. All three bikes were equipped with Scott's intelligent Twinloc feature, which uses a single bar-mount lever to adjust both front and rear travel between fully open, climbing mode, and fully locked. Travel varies between the three models: the 900 is a five-incher (130mm-90-0 in it's respective modes); 700 is a six-incher (150-100-0); and the LT was a big bike at 7.2 inches (180-140-0).
All the bikes came in their top-end spec, including SRAM XX drivetrains and brakes, Syncros carbon wheels, which we set up tubeless with Maxxis Ardent tires, and Rockshox Reverb dropper seat post. The two bigger wheeled models employed Scott's new single-pivot suspension design, while the LT used the older push-shock design. (For 2014, the LT model will jump up to 27.5-inch wheels, including the updated single-pivot shock configuration.) The rest of the parts and spec were almost identical, including carbon stems and bars from Syncros and matching matte black finishes. In short, the bikes were equipped as close to the same as possible so that we could best isolate performance differences in the wheel sizes.
Before getting into the niggling differences between the wheels, it's worth pointing out that the new Scott Genius platform is one of the best all-around designs out there right at the moment. In particular, the 900 is an incredible machine. It has five inches of travel, which is enough to play and take on pretty rough, technical trails, yet ours weighed an outrageous 24.6 pounds, meaning it's still light enough for race duty. (The 700 registered 25.6 pounds, slightly heavier due to the thicker tires; and the LT came in at 24.6.) The Twinloc feature, now being emulated by other companies, is a clever bit of design that has long set Scott's apart because it truly makes the bikes ride differently without taking your hands off the bars.
Compared with other bikes in this category, such as the Niner RIP 9 RDO or the Yeti SB-94 Carbon, the Genius 900 feels lighter and racier, with a steeper head tube angle and shorter chain stays. That means burlier riders might find it a bit lightweight. But if I were limited to owning just one bicycle, the Genius would be high on my list, probably in the more economical 910 configuration, which trades carbon hoops for aluminum and steps down to Shimano XT parts—my favorite.
ROUND AND ROUND
To really get a sense of differences in the wheels, we picked a couple of loop rides on which to test the bikes. The circuits ranged from a nine-mile fast smooth loop in Santa Fe to a chunky, rocky 5.6-mile tech fest at Starr Pass in Tucson. More than a dozen riders tried out the bikes back-to-back-to-back, recording times and ride impressions after every lap.
The 900 and 700, which have the same cockpit size and wheelbase, had remarkably similar trail manners, while the LT felt quite apart. After riding the two bigger wheel sizes, testers commented that the LT had a whimsical feel akin to a BMX or trick bike. It also felt the plushest of the three, naturally, given its long travel. Steering on the 700 was quicker than the 900, and it also tended to feel a bit more playful, as if it wanted to be kicked around and jumped off of things. The 900, on the other hand, felt great at speed and plowed through fields of baby heads that slowed down the two smaller wheel sizes. Generally speaking, most testers seemed to prefer the 900, though not by a lot; the 700 was a close second. And, interestingly, the 900 also earned the most complaints, as a handful of riders said they frequently bottomed out the bike's five inches.
As expected, what bike a rider owned at home proved the biggest determiner of which Genius they preferred. Riders who own 29ers generally looked most favorably on the 900 and least favorably on the LT. Riders who still own 26ers gravitated to the 700. It makes sense: While one bike doesn't necessarily ride better than another, each feels different and demands adjustments to how you ride it. For instance, to keep the wheels planted on steep terrain you must move forward in the saddle slightly on the 900 when climbing, whereas no such adjustment was necessary on the 700 or LT. Because of that, it's natural that riders tended to what they know.
The second biggest determiner was rider size. Rider preference split about 50-50 between the 900 on one side and the 700 and LT on the other. The bigger guys tended toward the 900, while the smaller testers, especially the women, voted for the 700. Interestingly, a few women who are avid 29er fans said they much preferred the 700 over the 900 because it just felt more balanced and easier to push around.
Finally, terrain was also a big factor. On the buff trails around Santa Fe, the 900 won the majority. In Tucson, where it's rocky and rough, preferences leaned toward the 700 and LT. And when we branched out to an especially technical rocky loop at Starr Pass, with a handful of four-foot step downs and a rubbly, loose gully, the LT was the favorite for the added forgiveness of the extra suspension. Case in point, I've been riding 29ers for nine years now and prefer them hands down in almost every situation, but I only managed to clear everything on that tech loop aboard the LT.
Three testers also took the bikes to White Mesa, just north of Albuquerque, with each bike equipped with a power meter. The trails here are mostly smooth and fast, with some rocky bits and a couple of steep drops—overall, a nice, balanced trail experience. The idea was to ride the loop at a given power output and record the times. Each of three riders tested all three bikes, and the time differences turned out to be less than 10 percent across the board.
It's far too small a sample to be scientific, but the take-away—especially in light of the rest of the testing—is clear, to me at least. A particular size wheel might best suit a certain rider or a specific style of riding, but the performance gains or losses are minimal no matter what size wheel you choose.
ROLL WITH IT
So is it time to go out and trade in the 26er for 29? The 29er for 27.5? Should Leander upgrade his entire fleet to big wheels? Or should he dump the 29-inch Spark for a 27.5-inch Genius?
Much as the bike manufacturers might imply otherwise, I say trade up only if you're ready or in need. As far as I can tell, based on riding hundreds of mountain bikes in every conceivable size and configuration, wheel size is a personal preference.
Personally, I lean toward 29ers. But that's based on my riding style (wheels on the ground, not off), the types of things that I do (plenty of endurance), my local trails (which tend toward fast and flowing, not steep and techy), and years of conditioning. If I lived in Sedona or Whistler, I might prefer a different size—or I might not. And I might be faster in Santa Fe on 29s or more agile on 26s or 27.5s in Moab. But the difference, so far as I can tell, is minimal and very likely not to matter as much as other factors like quality and weight of your wheels, tire choice and pressure, and—ultimately—fitness.
I race an event every September called the Vapor Trail, a high-altitude singletrack endurance ride where it's widely accepted that 29ers are de rigueur. However, two years ago Josh Tostado rolled up on a 26er and shredded the rest of the big-wheeled field, setting a new course record on the way. And last year, Jesse Jakomait won aboard a 27.5. Could they each have been faster on different size wheels? Who knows. What's clear is they each picked the tool they are most comfortable with and then made it work for them.  
That's the thing about wheel size today. Bikes have gotten so good that every one of the three Geniuses we tested is miles better than the bikes we were riding five or even three years ago. The ultimate solution might be to have a collection of bikes: a long-travel machine with smaller wheels and a short-travel bike with big hoops. But for those of us who can't justify such a luxury, it's safe to say that any quality bike, whether it's built around 29, 27.5, or 26, will function great and let you have loads of fun. Just pick the size you feel most comfortable on, forget about the wheels, and get out there and ride.