The E-Bike Is Pure Joy
A recent essay in 'The Atlantic' ignores the many ways in which electric bicycles are helping cyclists commute, recreate, and enjoy themselves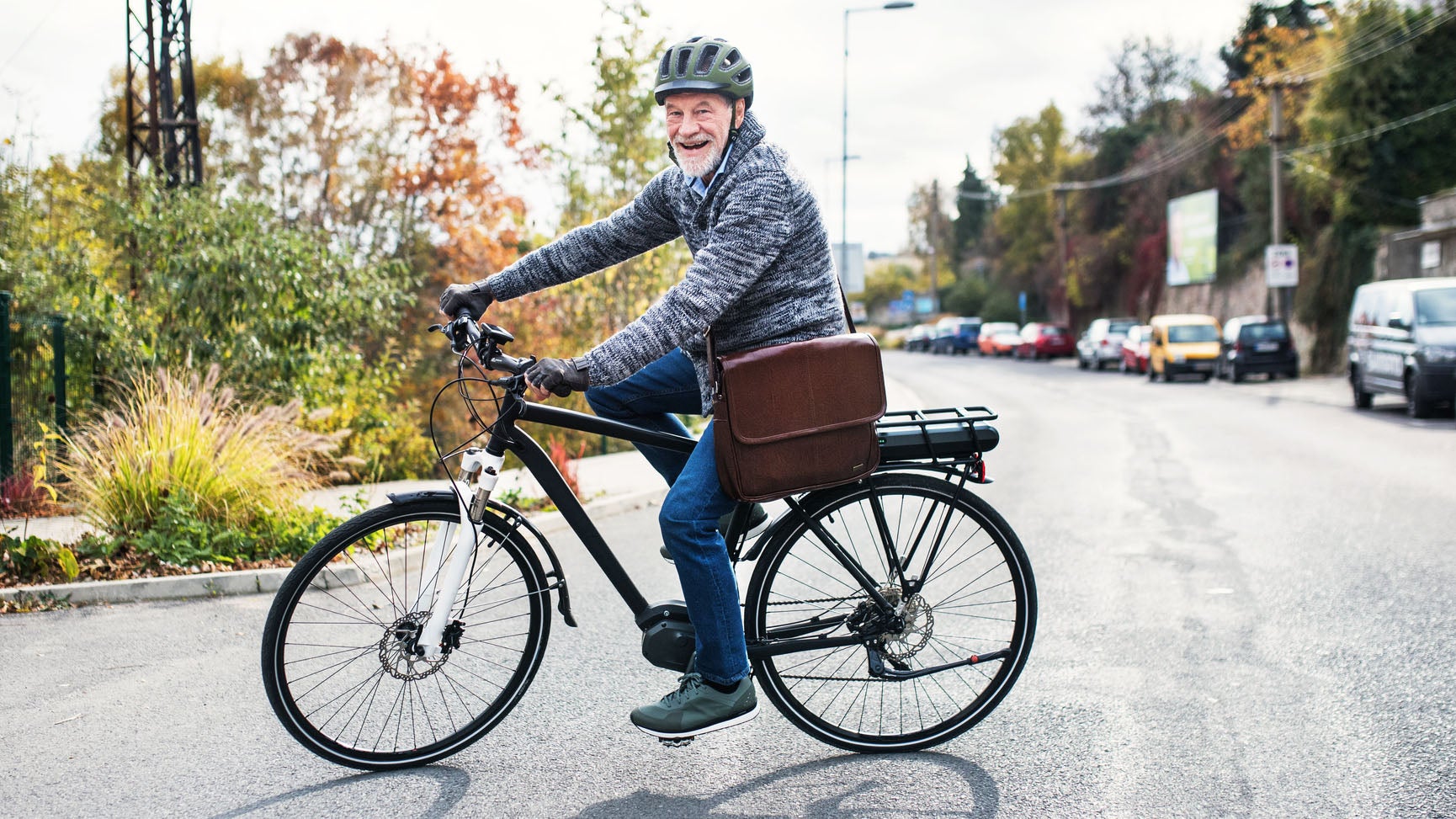 Halfpoint/Getty Images
Heading out the door? Read this article on the new Outside+ app available now on iOS devices for members! Download the app.
Earlier this week, The Atlantic ruffled feathers across the cycling world with a column titled "The E-bike Is a Monstrosity." Ignoring the headline, I read the essay, written by columnist Ian Bogost, to try and understand his ambivalence toward an invention that—full disclosure—I absolutely adore. Bogost's take, when boiled down, is that e-bikes are neither bicycles nor motorcycles, and this ambiguity makes them lacking in both functionality and cultural coolness.
I couldn't disagree more. Apparently, neither could throngs of cyclists who berated poor Bogost on Twitter. I detest social media backlashes more than I do bad takes about e-bikes, and have thus stayed out of Bogost's mentions. Still, I believe his column could have benefitted from some additional reporting. As a longtime cycling journalist, I've come across many riders who have had their lives transformed by e-bikes. And before the cycling world moves on from The Atlantic's essay, I believe it's worth reading exactly how and why e-bikes are both functional and, in their own way, cool.
I Regained the Activity That a Careless Driver Took Away
Shortly after a driver nearly killed me, a cycling mentor told me: "There's a time to pull, and a time to sit in. You've worked hard. It's OK to use the draft now." I was grateful to have permission to be easy on myself; I was recovering from a massive trauma and newly paraplegic. But here's the thing: sitting in is boring. I've always been on the fast ride or the A race, pulling and sprinting for whatever finish line is available. When I was ready to try and ride again, a year later, I quickly found that my one working leg wasn't strong enough to propel me; I had to turn myself inside out just to maintain a slow crawl on hills. Forget sitting in, I was dropped and watching the peloton recede over the next hill. So, I bought an e-gravel bike and I fucking love it. With the boost, I could leave the bike path and get back onto Boulder's incredible gravel roads, enjoying them without stressing about tipping over. The bike has been a social bridge too—I can keep up with most group rides to chat and sweat, and know I'll make it home. Without this bike, I'd still be desperately chasing the bunch—or I'd simply have given up. —Andrew J. Bernstein, public relations, Boulder, Colorado
I Enjoy Time with My Partner
My wife and I are retired and live in an area that has many more hills than flats, some with 20 percent grades. If it wasn't for our e-bikes, I would be riding alone. We ride Class 1 bikes and usually ride four times a week, between 15 and 40 miles each time. The only time that we are using assistance is while getting up to speed or going uphill. The e-bike still gets you out in the air and provides a good workout without overstraining the heart or knees. It's also a lot of fun. —George Crowe, engineer, Claremont, New Hampshire
Every Ride with My Kids Is an Adventure
I swear that I feel like a kid every time I get on a bike, even if just for a moment. There's a sense of freedom and adventure that comes with pedaling that has never left me, no matter the style of bike I'm riding. As a parent of two young kids I find that , a) bikes are a great way to go on adventures by myself, and b) bikes are a great way to share adventures with my kids and wife. But since the children are only three and 15-months-old, we're still in the early stages of what I hope will become a full-blown family bike addiction. For now, the most important and convenient tool in our family bike arsenal is our Rad Powerbikes RadWagon 4. We've had this e-bike for more than two years now and have ridden hundreds of miles with our children on the back in Thule seats. We took our daughter to daycare for an entire year on it. We ride with both kids to the farmer's market. We run errands on it together. We cruise to parks both near to and far from our house. Each time we get on it's an adventure, no matter how small the ride. Getting in a car to go somewhere isn't exciting, but getting on the RadWagon is. I feel it, and judging by how much both our kids like to mount up, they feel it too. If that's not enough reason to love an e-bike, I don't know what is. —Will Taylor, Outside gear director, Santa Fe, New Mexico
I No Longer Fear Dying from a Heart Attack
A few years ago I developed a heart arrhythmia that I've been coming to terms with ever since. Ultimately, I co-wrote The Haywire Heart, a book laying out the research showing the direct relationship between decades of hard training and racing and an increased incidence of cardiac arrhythmias. Thing is, cycling (and cross-country ski training and racing) is not only how I defined myself, how I challenged myself, and how I stayed fit—it also was my most, and sometimes only, social outlet. I never had seen myself as a rider of e-bikes until my heart arrhythmia got to the point that I could not ride up any of the gorgeous climbs we have here in Boulder without my heart rate shooting up uncontrollably. Without the e-bike, I would have been completely grounded at home or creeping along in my lowest gear on one of my other bikes. With the e-bike, I can still go riding while keeping the intensity low and minimizing arrhythmia incidents. Better yet, if I go into arrhythmia, I can put the bike in TURBO and get home over hill and dale with a minimum of effort, keeping my heart rate in the 70s while the Bosch motor puts out 275 percent as much power as I do. Without the motor, I would have to go super slowly and stop every time my heart rate spiked again, or I would have to call somebody to come and take me home. That freedom, to know that I can always get home if I have a heart problem, is worth an enormous amount to me. —Lennard Zinn, VeloNews tech columnist, Boulder, CO
I Drive Half As Much
I live 3.25 miles and 500 vertical feet above Santa Fe's downtown core and my office. Within a few blocks are grocery stores, most of my preferred restaurants, and a hardware store. It's easy to imagine a car-free existence, minus the return trip up the hill. This spring, a combination of gas prices, an increased sense of urgency around climate action, and a desire to incorporate more movement into my day-to-day drove me to purchase an Orbea Optima with the goal of reducing, but not eliminating my car use over the summer. Three months in, I'm driving two or three days a week instead of six of seven. And while my e-bike was purchased to solve a functional problem—that it's too much work to get home at the end of the day—it's opened my eyes to the pleasures of emissions-free human scale micro-mobility. On a particularly warm summer day, I biked home through the historic district and caught a whiff of something sweet. I downshifted and turned my pedal assist off, enjoying the sensory marvels of several blocks of blooming roses, many of which were hidden behind adobe walls. At the end of the street, I reengaged the pedal assist and headed up the hill, eagerly awaiting the fragrant commutes of apricot and wood stove season. —Madeleine Carey, conservation manager, Santa Fe, New Mexico
I've Rediscovered a Lost Love
I was a lifelong cyclist who was injured—to the degree that I spent around eight years in recovery. During that time, I put on a ton of weight and was reaching the age (50-something, we'll leave it at that) where I thought my cycling days were done. I discovered an e-bike, and it got me back on the road. I'm just a month in from starting riding again, and the difference in my life already is just astonishing. If I didn't have the motor to fall back on at certain points, or to give me confidence in finishing a longer ride, I'd never have dared to even try cycling again. Now, I'm expanding my boundaries as I slowly get stronger and regain my long-dormant cycling skills. —Dale Hawley, Binghamton, New York
I'm Saving Cash
I'm the happy owner of a RadWagon 4, and the bicycle is primarily a commuting tool to take my daughter to school, although my wife and I also run multiple errands on it every day. My daughter's school is 4.6 miles away from my house, so with two trips there and back, that equals 18.4 miles a day. Our aging Volvo wagon has abysmal gas mileage, maybe 18 miles-per-gallon in city driving. So, let's just say that every day, the school trip is one gallon of gas. This year the price of gasoline has hovered around $4 a gallon. So let's say that conservatively, I'm saving a gallon a day, or $20 a week on school trips alone. A typical school year is 40 weeks, so let's say I have the potential to save $800 a year on those trips. I'm not going to include winter months, but I believe those trips will be canceled out by the various trips to the store, swimming pool, and soccer practice in the spring and fall. My estimate is that after 2.5 years I have saved enough of gas to justify the bike's $2,000 price tag. Even if I throw the cost savings out, I cannot say enough about the joy I have on those daily bicycle commutes with my daughter. The wind whips through our hair, and we talk about the sights, sounds, and smells we encounter on the trails. Those experiences are priceless. —Frederick Dreier, Outside articles editor, Lafayette, Colorado
Lead Photo: Halfpoint/Getty Images