The Top 7 Road Bikes of 2013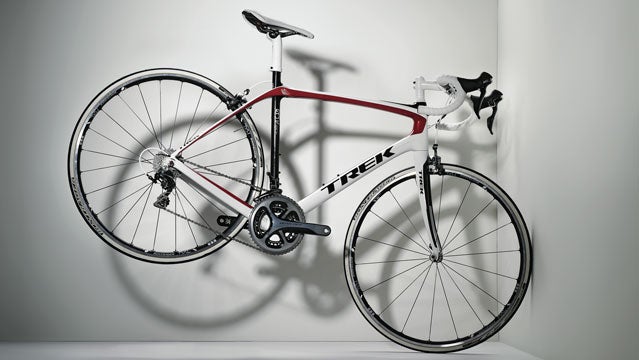 Inga Hendrickson(Photo)
Heading out the door? Read this article on the new Outside+ app available now on iOS devices for members! Download the app.
Trek Domane 6.9
Trek's innovative carbon frame design disconnects the seatpost from the top tube with a pair of bearings at the seat junction, allowing the seatpost to flex in an arc and absorb road vibration without diminishing the bike's sharp, fast handling. "It smooths out big hits almost like a softtail mountain bike," one tester remarked. Added comfort comes from closed-cell foam pads built directly into the contact points on the handlebars, which riders felt really cut the chatter, and cushy 25-millimeter tires (with space for even bigger).
Trek nailed other details, too, including full internal cable routing, cyclometer sensors built into the rear stay, and a chain keeper integrated into the frame to prevent dropped chains. With the powerful braking and shorter lever throws of the new Shimano Dura-Ace 9000 components, this is the fastest comfort bike we've ever swung a leg over. 14.7 lbs
HANDLING: 4.5 
RESPONSIVENESS: 4.5
Specialized Roubaix SL4 Expert Compact Bike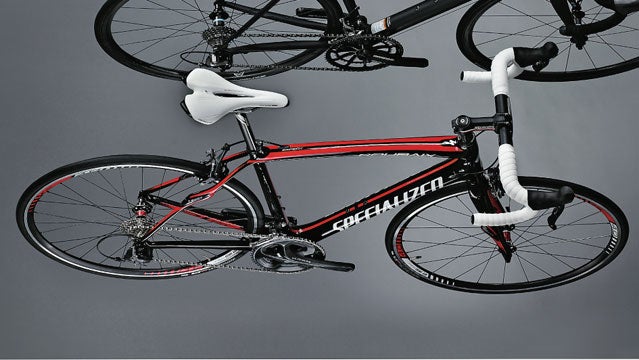 BEST FOR: Long painless miles.
THE TEST: This fourth generation of Specialized's endurance bike still has the road-muting cushiness of past iterations, thanks to a new, larger elastomer-insert design in the seatstays and fork. But where past Roubaix could feel a bit soggy, the SL4 is lively, courtesy of the rigid Coke-can-size down tube and bottom bracket mated to snappy, pencil-thick rear stays. The long wheelbase and taller headtube were notably stable on rough roads and techy descents. "Reminds me of a Caddy with a V-8," said one rider. Shimano Ultegra components are great value for the money.
THE VERDICT: Don't call it a comfort bike—it's a fast roadie that's comfortable. 17.3 lbs
HANDLING: 4 
RESPONSIVENESS: 4
Cannondale SuperSix Evo Black Inc.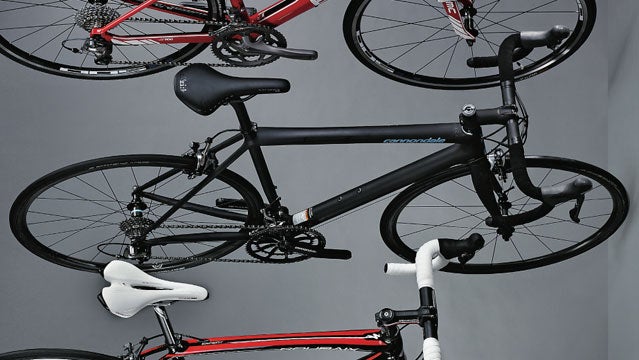 BEST FOR: Winning hill climbs.
THE TEST: The Evo Black Inc. is 20 percent lighter than the UCI weight minimum. Put another way, that's over three pounds less than any pro's bike. Every tester who tried it was dumbfounded. "Unreal," was a common refrain. As you'd imagine for the price, everything is top-shelf, including best-in-class Dura-Ace 9000 parts and Enve cockpit and tubular wheels, which most agreed were the nimblest in our test. While it was surprisingly steady for such a featherweight, a few bigger riders found it a bit jittery on descents. But all was forgiven on the climbs. "Feels like cheating," said one tester. The UCI agrees.
THE VERDICT: Technical advantage never felt so good—or cost so much. 11.9 lbs
HANDLING: 4 
RESPONSIVENESS: 5
BMC Granfondo GF02 Bike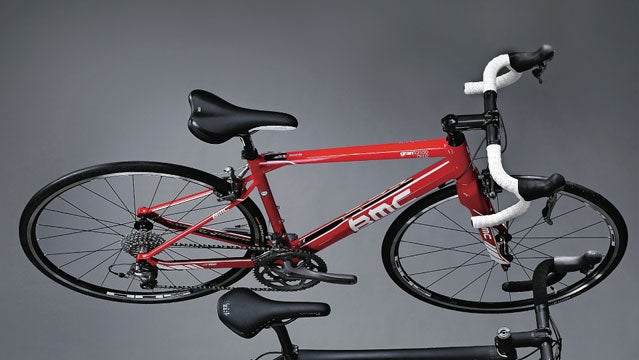 BEST FOR: Gravel-grinders (see page 100) and other epic rides (gran fondo being the term du jour for long-distance, mass-start rides).
THE TEST: Though it's built from less-coveted aluminum and was one of the least expensive bikes we tried, testers couldn't keep their hands off this candy apple red beauty. With flex points built into the seatstays, fork, and seatpost to add bump-eating compliance, the GF02 felt nearly as cushy as a carbon frame. And while we appreciated the burly wheels with pillowy 28-millimeter tires, their heft was noticeable—a change to a lighter set would drop two pounds.
THE VERDICT: Said one tester: "You can't buy more comfort or performance for the money." 19 lbs
HANDLING: 4 
RESPONSIVENESS: 3
GT Edge Ti Bike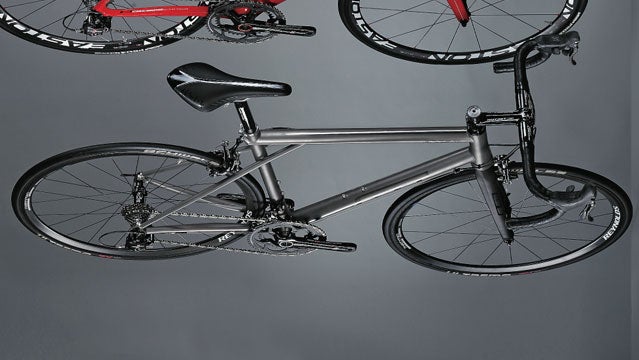 BEST FOR: Metalheads and nineties throwbacks.
THE TEST: The Edge Ti might look just like its storied 20-year-old predecessor, but GT has updated the triple-triangle design with modern geometry, a tapered headtube, and a carbon fork. (Though, oddly, it stuck with a threaded bottom bracket.) The result is a classy, well-balanced steed that felt as much at home on country-road tours as it did in the peloton. The titanium frame has a gentle feel, yet accelerations were crisp. Most people loved the Campagnolo Super Record 11 parts on our test bike, minus a few complaints about reaching the thumb shifter in the drops.
THE VERDICT: Heritage looks; modern speed and comfort. 16.1 lbs
HANDLING: 4 
RESPONSIVENESS: 4.5
Diamondback Podium 7 Bike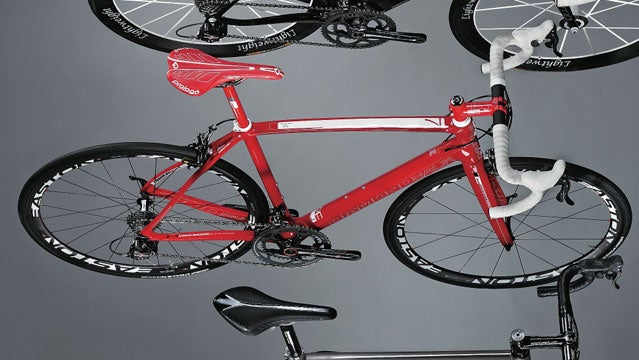 BEST FOR: Iconoclastic roadies.
THE TEST: Many testers scoffed at the idea of a road racer by Diamondback. Then they tried it. The Podium 7 is as balanced-feeling as a Colnago, as responsive as a Bianchi, and as sexy as a Pinarello—and it's cheaper by a long shot than comparable models from those three. It has the hard edge of a race bike (in a good way), but the subtly arcing top tube and thin seatstays add just enough compliance to cut the harshest road noise. The SRAM Red parts on our test bike (Campagnolo pictured here) performed better than past iterations, though not everyone loved all the Diamondback logos.
THE VERDICT: Race ready and well priced. 14.6 lbs
HANDLING: 5  
RESPONSIVENESS: 4.5
Assos G731 by Goomah Bike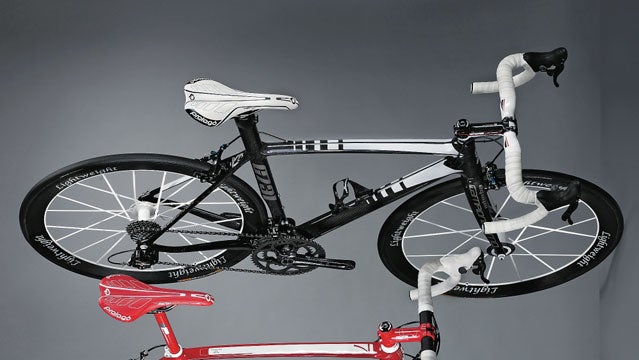 BEST FOR: Connoisseurs.
THE TEST: The Goomah is a lot like über-high-end clothing manufacturer Assos's apparel: beautifully crafted, expensive, and oddly named. It might look like a flat-out race bike, but the oversize, shaped carbon tubing and the slight arc in the top tube make for a refined and supple ride. Still, with a huge BB30 bottom-bracket area and an asymmetric rear triangle for incredible power transfer, the bike was plenty fast and efficient. "Forget cake, let them ride Assos," said one rider.
THE VERDICT: A boutique item (production is limited to 400) for those who want something that most can't have. 14 lbs
HANDLING: 4.5 
RESPONSIVENESS: 4
Lead Photo: Inga Hendrickson