Uvex Wing RS bike helmet
Clothing / Apparel / Helmet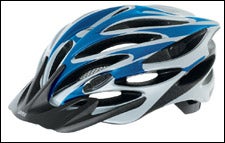 Heading out the door? Read this article on the new Outside+ app available now on iOS devices for members! Download the app.
A fun statistic from the Washington D.C.-based Bicycle Helmet Safety Institute: Expect to crash every 4,500 miles. Furthermore, if you're not wearing a helmet, expect to die: head injuries cause 75 percent of the 600 annual bicycling-related deaths in the United States. On a happier note, however, bike helmets can prevent 85 percent of cyclists' head injuries. And since helmets are required by law in most states, it's not such a bad idea to invest in a good one.
Uvex Wing RS bike helmet

Uvex Wing RS bike helmet
These days, thanks to the widespread use of that white picnic-cooler foam known as expanded polystyrene, almost every helmet on the market can save your brains from becoming scrambled roadkill. But there are precious few that can protect your noggin and provide style and comfort.
The Uvex Wing RS has nailed this triumvirate of safety, fashion, and fit. With its sleek lines, metallic-silver-and-blue color scheme, and curvaceous vents, the Wing RS is wearable sculpture. Lucky for cyclists, the helmet also possesses a highly functional side: Weighing a mere 295 grams, it feels as light as the shell of an ostrich egg but has all the requisite safety features of a bomber lid: The extra-large vents—big enough for a small hummingbird to fly through—keep your head cool, while Uvex's special Bee Stop mesh, lining the front vents, keeps the bugs at bay. The one-size-fits-many rear dial ensures that even if your head is huge—or the size of a pin—the helmet can work for you: just turn the dial clockwise until it's snug. Plus the padded band that circles the entire interior promises that migraine-inducing pressure points are an issue of the past. Best of all, with its removable visor, the Wing RS goes both ways, working equally well for both roadies and backcountry bikers.
For a girlie-size head like mine, however, I ran into one potential downside: While I could dial back the inner strap system for a supersnug fit, the outer shell still felt a little unwieldy, like I had borrowed my big brother's football helmet to take a spin. But if you're a biker with a big head, the Uvex Wing RS might be just the brain bucket for you. $120; www.uvexsports.com