What gear should I use while biking with my dog running alongside?
What gear should I use while biking with my dog running alongside? BrettShaker Heights, OH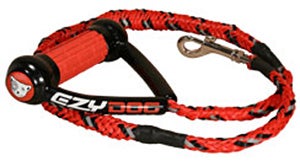 Heading out the door? Read this article on the new Outside+ app available now on iOS devices for members! Download the app.
Overall I'm not sure this is a really good idea—I've never seen a cyclist/dog combination that looked like anything but a safety hazard for all involved. I also have to ask: What does your dog think about this? I know most dogs like to run (except my beagles, who prefer to sniff), but biking speed is something else. I don't know what breed your dog is, but the first consideration is to simply ensure that you're not going to be running the dog into the ground.
The Cujo 40-Inch Leash

The Cujo 40-Inch Leash
I think you're going to need to do two things. One is to train the dog to stay close to you, on either the left or right side. I think you probably could to that at a local track—just get your dog to follow you, then hold treats in your hand or something to get him/or her to stay close. Reward that behavior. The goal is to have the dog really focus on you.
Secondly, you'll need some kind of leash. This makes me a little nervous—it would be all too easy for the dog to decide to chase a squirrel, at which point you become more of a sled than a cyclist. The Cujo 40inch leash from EzyDog($34) has pretty good length, as well as shock-absorbing qualities so it won't "jerk" harshly. It should work.
Be careful about where you ride. Sidewalks aren't good as you're liable to start snaring pedestrians. Roads might be okay if there's room for you and your hound to stay out of traffic.