Indefinitely Wild
Yamaha Just Launched Its First Electric Bicycles
Our first impressions of the motorcycle maker's attempt at bikes meant for singletrack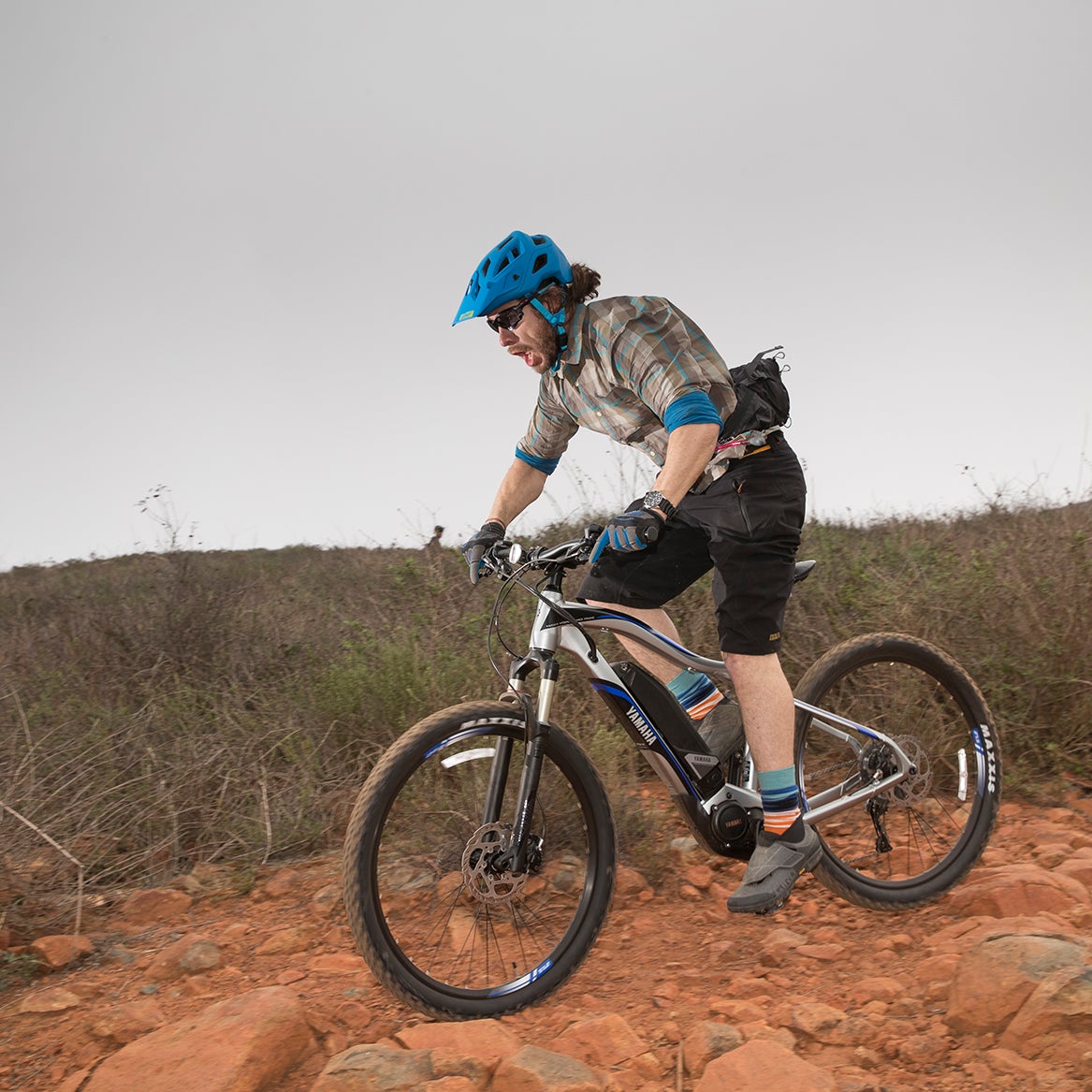 Heading out the door? Read this article on the new Outside+ app available now on iOS devices for members! Download the app.
Everyone on the internet likes to call electric bicycles "motorcycles," so maybe it makes sense that a motorcycle company is now making electric bicycles. Yamaha just debuted a line of four new e-bikes, and we tested them in the mountains of Southern California.
There's actually a lot more to these bikes than just a meme come full circle. Yamaha is an absolutely gigantic company, producing everything from keyboards to world championship–winning motorcycles. And the company has been manufacturing e-bike motors and batteries for the past 25 years. It has supplied Trek with e-bike components since 2012 and offers everything from software to controls and displays to brands across the bicycle spectrum. Now Yamaha is bringing that expertise to its own ground-up designs.
The Bikes
Yamaha's power-assist e-bikes, which start at $2,400, are designed for mountain, road, and city bikers looking for a rig with solid components and electric-assist pedaling.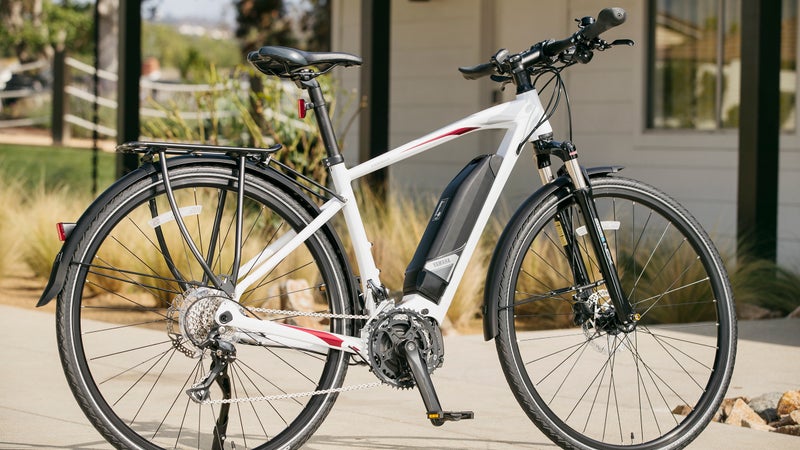 Yamaha CrossConnect ($2,999)
What Is It? A hybrid road bike for school, errands, and gym commutes or just riding along a bike path.
Who's It For? College students, young professionals, older riders, and tourists who want sensible two-wheeled transportation that won't leave them soaked in sweat.
The CrossConnect is intended as a do-it-all road bike for people who like the convenience of a bike for their daily travels. It has an upright riding position and is fully accessorized with integrated front and rear fenders, rear rack, and lights. It sports an air-sleeve suspension fork to smooth the ride (it can also be fully locked out to increase pedaling efficiency).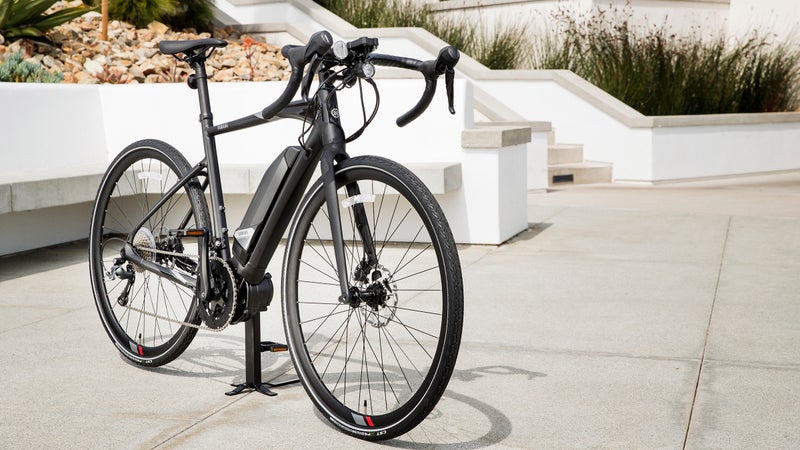 Yamaha UrbanRush ($3,299)
What Is It? A road bike that accepts large-volume tires and is compatible with fenders and a rack.
Who's It For? Long-distance commuters, gravel riders, and weekend leisure riders.
More performance-focused than the CrossConnect, the UrbanRush is a versatile road bike with room to mount gravel tires for dirt roads and light trails. The drop bars are mounted high enough to be all-day comfortable, so you could run courier deliveries on this thing.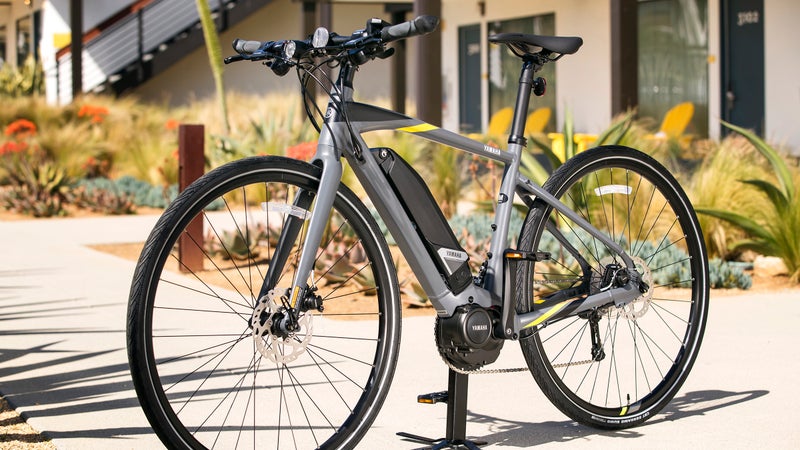 Yamaha CrossCore ($2,400)
What Is It? An entry-level version of the CrossConnect.
Who's It For? Price-conscious buyers in need of an urban grocery-getter.
Equipped with a more affordable rigid fork, the CrossCore is a basic hybrid utility bike that should work great in congested cities.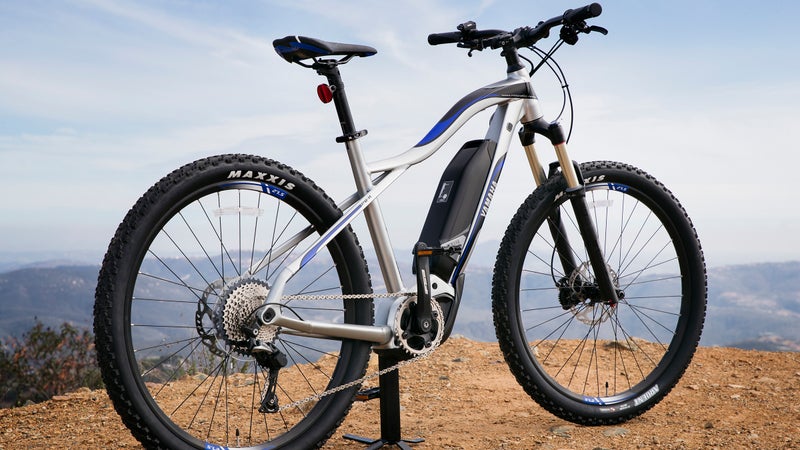 Yamaha YDX-Torc ($3,499)
What Is It? A 27.5-inch hardtail mountain bike with middle-of-the road components.
Who's It For? Mild to moderate recreational trail riders.
This is a 27.5-inch wheel, aluminum frame, hardtail power-assist mountain bike built with a modern progressive trail geometry—slacker head-tube angle, shorter chainstays, and lower bottom bracket—that gives the bike a solid and predictable feel on the trail. The drivetrain is 11-speed Shimano, brakes are hydraulic discs with 180mm rotors, and the front suspension fork from RockShox offers 120mm of travel. The motor and battery are positioned as low as possible (standard with higher-end e-bikes) to improve handling.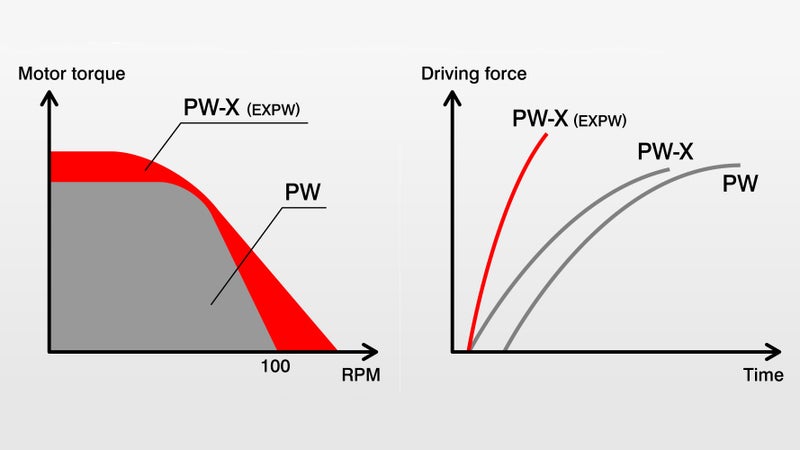 The Ride
"We wanted to make bikes that appealed to the largest numbers of riders possible and do it at a good price," explains Drew Englemann, sales and marketing director of Yamaha's new Power Assist Bicycle Division. Yamaha isn't taking any chances here. The bikes are targeted at the middle of the booming e-bike market, taking advantage of the company's economies of scale to offer a little better price-to-performance ratio than rival brands.
Electric bicycle sales in the United States doubled from 2016 to 2017. About 30,000 of these things are now sold every year, creating a $70 million market. That's still a mere fraction of the 17.4 million bicycles sold here, totaling $6.2 billion, but it does make e-bikes the fastest-growing segment in the industry. Solid, affordable options like these Yamahas should help put new riders on two wheels or enable existing riders to do more miles, more often.
Like other e-bikes, Yamaha's motors are designed to assist the rider's pedal stroke, decreasing the effort it takes to ride and increasing the speed. That means the big challenge for designers is integrating the electric assist into the pedal stroke as seamlessly yet helpfully as possible. Achieving an ideal feel is a case of balancing the motor's power delivery with software and rider controls designed to tailor the power to individual circumstances. Get it right and a good e-bike should feel totally like a conventional bicycle, just one that requires less effort for more speed. Get it wrong and riding a bad one can become unnerving, unpredictable, and frustrating.
Yamaha has a huge advantage here, since it has more than two decades of experience dialing in power delivery. The motors provide significant low-speed torque and quick power delivery. Low pedal-speed torque helps push the bike forward from a dead stop or when you find yourself in a high gear going up a climb and are mashing on the pedals to make progress. It also makes hill starts and track stands easy and is a huge help on technical trail climbs.
The quick delivery of Yamaha's system can make a rider feel superhuman, instantly delivering a large pulse of power as you apply pressure to the pedals. This differs from other systems we've tested, which aim to provide a more natural feel to the pedal assist by slowly ramping up power. Each approach has its advantages, but Yamaha's fast but predictable delivery makes quick acceleration easier and can be crucial when it comes to getting out of the way of fast-moving traffic or clearing a difficult section of trail.
The battery life provided by the 500 watt-hour batteries on all four bikes is impressive, even when operated in the highest power setting. Typical range is estimated at 50 to 100 miles, depending on terrain, speed, and other such factors. Additionally, Yamaha's rider controls are intuitive and customizable, making it easy to monitor battery life, speed, trip distance, and other data.
Our biggest complaint is that motor noise is plainly evident. Yamaha claims the higher-decibel levels compared to rival systems are the result of the higher density of better parts used inside the motor, which it claims should result in a longer service life. Perhaps that's true, but during our short time on the bikes, long-term reliability wasn't testable, and the noise was annoying.
All four bikes are spec'd with durable components that deliver solid performance appropriate for the prices. But unlike pricier competitors, the batteries look like they've simply been slapped onto a bike frame, rather than being integrated into the down tubes. We also feel like all four bikes could benefit from from an aesthetic overhaul. Take a look at the Specialized Turbo Levo or the Bulls Sturmvogel E Evo to get an idea of how elegant an e-bike can look.
Our last complaint is saved for the YDX-Torc tires. This is a 43-pound bike, so you'd think it would make sense to equip it with plus-size tires and tubeless-ready wheels. Larger-volume tubeless tires increase traction and reduce risk of a tire puncture, necessities on a heavy bike like this that delivers significant power when pedaling. The absence of a large-volume tubeless tire is made more obvious by the hardtail, putting the onus on the rear tire and frame to absorb impacts. The combination of a stiff aluminum hardtail frame, smaller-volume tubed tires, and the power and weight of this thing virtually guarantees pinch flats, bent rims, and a harsh ride on demanding trails.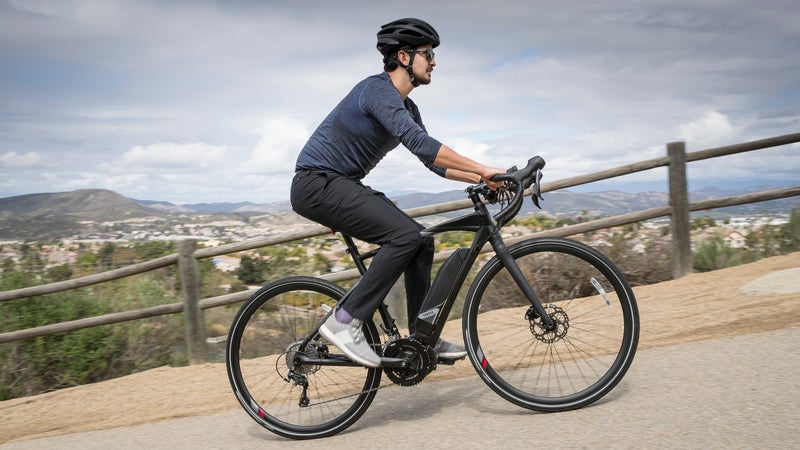 Likes
Affordable prices
Durable components
Solid frame geometry
Smooth, predictable performance
Proven electric components
Deep support from a large company
Dislikes
No high-performance options
Sloppy looks
Loud motors
Poor high-cadence motor performance on road bikes
MTB desperately needs plus-size tires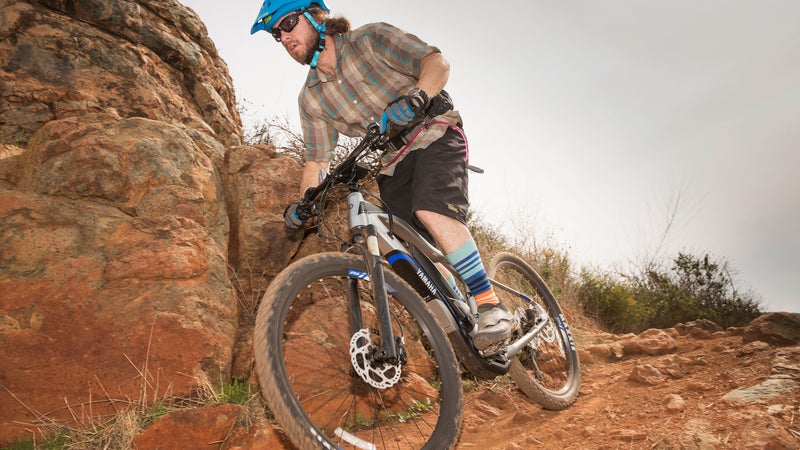 Should You Buy One?
If you're looking to purchase a solid, reliable, and reasonably well-equipped commuter or do-it-all bike at a good price, then Yamaha is offering three good options. And you'll have no problems with its electrical components.
But if you're looking for a pedal-assist mountain bike, you'd do well to spend up to a more expensive rival. Specialized's Turbo Levo range starts at just $4,500 and comes with full suspension and much more suitable wheels and tires.
We hope this venture from Yamaha inspires more investment into the sector, pushes prices down, and results in more innovative designs down the road. Until then, Yamaha's e-bikes are good (if uninspiring), affordable options.