What's a good bike for longer-distance rides?
I enjoy riding my hybrid bike (Trek 7300), for fun and exercise, on both pavement and gravel/dirt/rocky surfaces. But I'd like something faster and more aggressive. My rides are usually about 20 miles and I'd like to go longer. Would you recommend a cyclocross or another hybrid? Tim Basking Ridge, NJ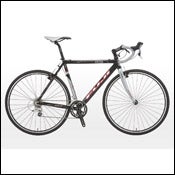 Heading out the door? Read this article on the new Outside+ app available now on iOS devices for members! Download the app.
Trek's 7300 ($640) is a fun bike—very upright and comfy, suspended seat post, and fat tires. For rides around the 'hood, short commutes, the odd trip to the grocery store, it's great.

The Cross Comp
Speedy, it is not. I admire you for pushing one of those things as far as 20 miles.
So, yeah, for anything faster/more aggressive, you need an upgrade to a real road bike. You've already got a hybrid, so I wouldn't go there again—keep the 7300 for short rides. I should think you'd want something that's more aero and lighter, so that means a bike with a racier frame, better wheels, skinnier tires, drop handlebars, that sort of thing.
And a cyclocross bike certainly is a good option. They have most of the advantages of a regular road bike, and also add the ability (in most models) to attach fenders and even bike racks. Fuji's Cross Comp ($1,480, but I bet you can find one cheaper on sale somewhere) is such a bike. It's an excellent bike right out of the box, with a compact crank for easy climbing, light aluminum frame, and a carbon fork. Its frame takes fenders and bike racks, so it even could serve as a light touring bike. Stock tires (700×30) are okay but if you plan to stay on roads, have the shop swap them out for 700x25s.
Another interesting option is a Trek bike, the Trek Portland ($1,700). It's a "city/road" bike, meaning it looks like a regular road bike, but has a little more upright position for better visibility, disc brakes for fast stopping, built-in fenders, and a frame that can take pothole hits. A triple chainring makes hills a breeze. I think it's a little spendy for its component set, but it's a serious effort to create a go-anywhere bike that's user-friendly and comfortable. Worth a look!