Wheel Appeal
Upgrade your ride with these stocking stuffers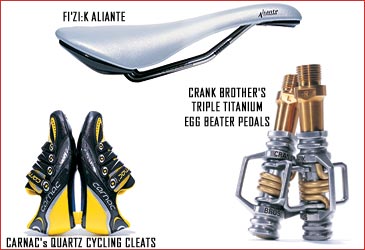 Heading out the door? Read this article on the new Outside+ app available now on iOS devices for members! Download the app.
CRANK BROTHER'S TRIPLE TITANIUM EGG BEATER PEDALS
($400; 949-464-9916, www.crankbrothers.com) feature four-sided entry, for no-brainer, no-look clip-ins, and a mud-shedding design that works even in the deepest peanut butter.
Though it features no crotch cutouts or gel padding, the FI'ZI:K ALIANTE ($150; 800-223-3207, www.fizik.it) is one of the most comfortable saddles around. The key is a bi-directional carbon-fiber-and-Kevlar shell, which creates a flexible center for a soft ride.
If the shoes fit, they must be CARNAC's QUARTZ CYCLING CLEATS ($259; 800-654-8052, www.sinclair-imports.com), the first and only off-the-shelf cycling kicks available with a narrow, medium, or wide footprint. Ventilated neoprene-and-leather uppers and four carbon-fiber-reinforced straps hold them snug for happy hammering.
Wear CRAFT's PRO SLEEVELESS CREW skintight baselayer ($28; 781-631-9544, www.craft-usa.com) under a jersey to stay, believe it or not, cooler on climbs—and, of course, warmer on the way down.
SYNTACE's SCREW-ON MOTO GRIPZ ($20; 800-796-8223, www.syntace.com) stay put thanks to a screw-tight locking collar that keeps the ergonomically shaped grips from twisting loose at the worst possible time.
SIXSIXONE's RAJI MOUNTAIN BIKE GLOVES ($25; 661-257-2756, www.sixsixone.com) put a premium on comfort and control rather than jouster's-mitt protection. The padless palm's smaller grip diameter translates into less forearm fatigue on long descents.
Cabin Fever
Beachwear for the seasonally affected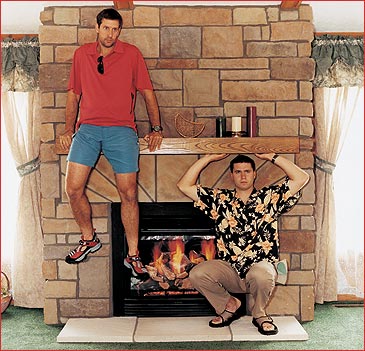 LEFT: Save your eyes with the 100 percent UV protection of CHOPPER sunglasses by SMITH SPORT OPTICS ($60; 800-635-4401, www.smithsport.com).
A polyester polo that repels mosquitos? That's right, EX OFFICIO's BUGAWAY CRICKET shirt ($54; 800-833-0831) gives skeeters the heebie-jeebies.
The gusseted nylon FIJI boardshorts by PRANA ($49; 800-557-7262, www.prana.com) won't make you Kelly Slater, but they still feel nice.
Chart a course for sunnier weather with help from TIMEX's HELIX compass/watch ($80; 800-448-4639, www.timex.com), or at least figure out where you are right now.
BANSHEE V shoes by ADIDAS ($80; 800-289-2724, www.adidas.com) combine the support of a running shoe with the airy freedom of a sandal.
RIGHT: Morph from lowly turista to a supertourist with a silk CAMP SHIRT by Tommy Bahama ($95; 800-647-8688, www.tommybahama.com).
If the swanky yet tough INFANTRY watch from SWISS ARMY BY VICTORINOX ($195; 800-243-4057, www.swissarmy.com) is any indication of the sort of gear their troops wear, sign us up.
Leave the jeans at home and instead pack PRANA's TITAN cotton-and-nylon travel pants ($58; 800-557-7262, www.prana.com). Unlike denim, they'll last longer than you.
Thankfully, ROOTS sandals by BITE FOOTWEAR ($40; 800-248-3465, www.biteshoes.com) don't make that "snap-snap" sound heard from flip-flops. A nice feature when sneaking up on the wildlife.
Toyland
Who says tricks are for kids?
Paul Turner, inventor of the RockShox fork, took three years to perfect the aluminum MAVERICK ML7 full-suspension mountain bike ($2,695, frame only; $5,000 as pictured; 303-415-0370, www.maverickamerican.com). The result is a rear-shock design that delivers the Holy Grail of bikedom: four plush inches of all-mountain travel meshed with supersnappy cross-country performance.
Pull that mountain bike out of the basement, pop off its wheels and drivetrain, and swap in the skis and foot pegs of WINTER X-BIKE's SKI-MX conversion kit ($300; 866-766-2453, www.winterxbike.com). Voilà : your own ski bike! With more than 45 U.S. resorts now permitting ski bikes on their slopes, the opportunity to launch big air on a rig over a crash-landing pad of snow, not hard earth, is too tempting to ignore.
Yes, the TRIKKE.8 ($299; 877-487-4553, www.trikke.com) looks like a poor man's answer to the Segway, 'cept it's way more fun. To move forward, lean into a turn and rock the steering column, using an S-motion. The resulting fluid ride feels surprisingly like skiing—down asphalt. The collapsible, 19-pound Trikke.8 rolls smooth and fast on polyurethane wheels and uses dual independent rear brakes, crucial for stopping at that inevitable intersection at the bottom of the hill.
Behold WILDERNESS SYSTEMS' TEMPEST 170 kayak ($2,699; 800-311-7245, www.wildernesssystems.com), the first fully tricked-out touring boat that maneuvers in high seas like an America's Cup rig. Its streamlined hull will float up to 310 pounds of man and gear, and it's the first sea kayak to feature an infinitely adjustable seat (goodbye, leg cramps!) for a custom fit that locks in the thighs to help execute aggressive lean turns while surfing through a rocky break.
PREMIER SNOWSKATES' founder, Andy Wolf, has taken his original, five-year-old design for a snow skateboard and produced the first-ever convertible snowdeck, the 2-4-1 BI-DECK SAFARI ($180; 800-305-4138, www.premiersnowsk8.com). Its mini-ski attaches to the bottom of the board for a better edge hold while carving down groomers. Remove it and the Safari becomes a stable deck for sticking rail slides in the parking lot.
Get Me Outta Here
Winter fitness gear to aid your escape from the treadmill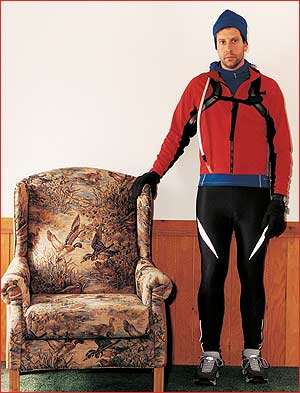 A snug, attached hood and sleek, flat stitching make SUGOI's MIDZERO SPEED SKIN ($80; 800-432-1335, www.sugoi.ca) feel painted onto your body, and that's the point.
To prevent overheating, IBEX's BREAKAWAY JACKET ($178; 800-773-9647, www.ibexwear.com) marries a Schoeller-and-wool blend over the chest (to keep wind and snow at bay) to a velvety-soft Merino wool back panel to prevent overheating.
Be seen, not hurt: PEARL IZUMI's FLASH TIGHTS ($80; 800-328-8488, www.pearlizumi.com) insulate you from 20 to 50 degrees, while reflective patches provide 360 degrees of please-don't-hit-me visibility.
Add some motivational minutiae to the training log with SUUNTO's new X6HR WRIST-TOP COMPUTER ($429; 800-543-9124, www.suunto.com). Features include rate of ascent/descent, altitude, compass bearings, barometric pressure, and heart-rate monitor.
Essentially a soft shell for your head, CLOUDVEIL's FOUR SHADOW BEANIE ($35; 888-763-5969, www.cloudveil.com) maintains your noggin's temperature level.
Much of your body heat escapes through your hands, so cover 'em up with MANZELLA's WINDSTOPPER 3-SEASON GLOVE ($30; 800-645-6837, www.manzella.com).
Designed for downhill sports, SMARTWOOL's mid-calf-length SNOW RIDER SOCKS ($17; 800-550-9665, www.smartwool.com) also work as excellent lightweight winter-running or snowshoeing socks.
We found MONTRAIL's EXCELERACE XCR SPEED HIKERS ($120; 800-647-0224, www.montrail.com) ideal for aggressive hoofing through winter crud. They keep slush from seeping inside, yet still let out the sweat.
With ULTIMATE DIRECTION's PROFILE I.C.E. HYDRATION PACK ($50; 800-426-7229, www.ultimatedirection.com), there's no excuse for yellow snow. The pack's fully insulated 64-ounce bladder, hose, and bite valve keep fluids flowing to 20 degrees.
Pocket Power
Portables for your eyes and ears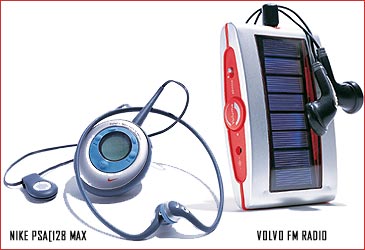 With a water-resistant shell and shockproof playback, the NIKE PSA[128 MAX MP3 player ($200; 800-806-6453, www.nike-town.com) is ready for hard knocks. Strap the 128 MB unit to your arm and secure the cord anywhere on your clothing by placing tiny magnets inside and outside the fabric. Then press play and revel in enough memory to hold the new Beck, the new Sigur Róte's, and an oldie—say, Pink Floyd's Meddle.
Don't ask why automaker VOLVO is selling a portable FM RADIO ($56; www.volvocars.us); just enjoy. The stylish alloy-encased transceiver uses a solar panel to make a simple idea—a slim, credit-card-size radio with earphones—even simpler: No batteries required.
SONY's MZ-S1 MD PLAYER ($180; 877-865-7669, www.sonystyle.com) is a strong argument for minidisc over MP3. This Walkman has a skip-proof, water-resistant design, and connects to a PC through a speedy USB port—a CD's worth of music takes two minutes or less to download. One $3 disc holds 80 minutes of crystal-clear tunes. And the single AA battery goes for 54 hours, way longer than you'll last doing laps in Central Park.
There's no need to drop a bundle on a navigation system. GARMIN has packed its basic GPS handheld with advanced features and, shockingly, knocked $60 off the price. Yup, the GPS 72 ($171; 800-800-1020, www.garmin.com) pulls in the same 12 satellites as $400 models do. With sensitivity to just under ten feet, 22°4'17″N, 159°46'67″W will be a sandy beach paradise, not a tent site out in the pounding surf.
The Winter Coat
Techno-marvels from the next wave of outerwear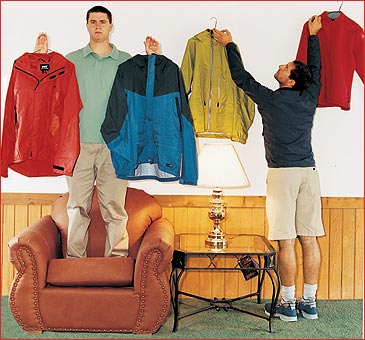 FROM LEFT: Although the polyurethane-coated HELLY HANSON STORM JACKET ($120; 800-435-5901, www.hellyhansen.com) can shut out a nor'easter, don't mistake it for the stifling rain slicker of yore. The Storm's coating feels like silk, not plastic, and the fuzzy feel inside says "soft shell"—not "crackly nylon windbreaker."
The LIBERTY RIDGE ($240; 800-426-4840, www.rei.com), REI's latest breathable-waterproof gambit, uses a proprietary fabric, Diaplex, to turn up the ventilation when alpine pursuits get sweaty. As you grunt through the backcountry with the temperature above freezing, pores in the so-called phase-change fabric dilate to vent steam. Stop moving, or simply amble about outside on a zero-degree day, and the threads seal up to keep body warmth contained.
For those who worship at the altar of minimalist simplicity, consider that just three seams hold together the BURTON AK 3L CONTINUUM FUSE snowboard jacket ($400; 800-881-3138, www.burton.com). Graciously, the designers didn't throw function out the window: Two pockets, pit zips, and a generous powder skirt remain.
Thanks to a polyester fabric that looks like a landscape of pea-size egg cartons, the snug-fitting midlayer NIKE SPHERE ACG THERMAL JACKET ($115; 800-344-6453, www.nikeacg.com) stays toasty warm. The textured pods are shaped to retain Nike's signature substance, air—more commonly known as your body's heat—making this stylish layer an effective 21st-century replacement for tired, ubiquitous fleece.
It's a Water-ful World
Surf dogs and river rats, rejoice
The first-ever virtually stitchless wet suit, O'NEILL's PSYCHO ($329; 831-475-7500, www.oneill.com) means fewer holes for cold water to sneak in.
Stop wasting time. The AT3 ZEN fiberglass-and-nylon paddle ($259; 877-766-4757) uses an ergonomically correct shaft to maximize your stroke efficiency for eddy-hopping or trick-sticking.
Surf's up. Are you? Let the RIP CURL ATS METHOD ($100; 800-842-2875, www.ripcurl.com) tide watch help. Its no-brainer, GameBoy-like graphics make it easy to keep an eye on the ebb and flow.
All you need to start river boarding—essentially bodyboarding down whitewater—is a RIPBOARD ($385; 303-904-8367, www.ripboard.com) and serious chutzpah.
Protect your piggies on your next river trip with TEVA's AVATOR booties ($85; 800-367-8382, www.teva.com). It beats sloshing around in hiking boots or skimpy sandals.
CHURCHILL MAKAPUU FINS ($40; 888-942-6650, www.moreybodyboards.com) instantly supercharge your kick so you can actually enjoy bodysurfing, river boarding, and swimming with fishies.
Photo Finish
What synergy! Cameras to take pictures, books with pictures.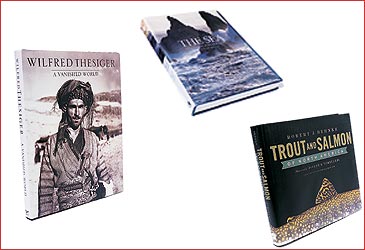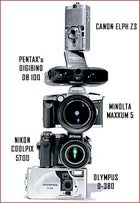 Elves and Outside's interns love the CANON ELPH Z3 ($260; 800-652-2666, www.usa.canon.com). The APS film format and 2x zoom lens give them just enough flexibility to take quick shots of the senior staffers engaged in holiday buffoonery.
Combine high-quality 7x binoculars with a .80-mega- pixel camera and you get PENTAX's DIGIBINO DB 100 ($350; 800-877-0155, www.pentaxusa.com), the best thing around for both watching and photographing that partridge in a pear tree.
With a top shutter speed of 1/4,000 second, a three-frames-per-second film drive, supersensitive light metering, and fast autofocus, the petite MINOLTA MAXXUM 5 ($677 with 28-80 mm lens; 800-808-4888) will take you from beginner to pro—however long that may take.
Say goodbye to film. Encased in tough alloy, the NIKON COOLPIX 5700 ($1,200; 800-645-6689, www.nikonusa.com) fits the hand beautifully. The camera's Nikkor lens with 8x optical zoom can handle big-game telephoto shots or big-family wide-angle pics with 5.0 megapixels of digital convenience.
The OLYMPUS D-380 ($199; 888-553-4448, www.olympusamerica.com) comes with 2.0 megapixels of image quality and a beautiful price tag. But don't be misled: This digital camera is no shoddy closeout. Its 5x digital zoom and terrific image-editing software can help you turn a ski-resort kicker into a backcountry cliff. —Douglas Gantenbein
For a guaranteed case of career envy, consider the résumé of Wilfred Thesiger. The legendary British explorer and writer spent much of his life documenting the world's farthest reaches, from Arabia's Empty Quarter to the glaciers of the Hindu Kush. Now he delivers a feast of photography in his ninth book, A VANISHED WORLD ($35, W. W. Norton), a collection of striking black-and-white portraits of people and landscapes from a lifetime of adventure. —Katie Arnold
"To say we humans are obsessed with the sea is an understatement. We feel the tug of the medium's amniotic power. . . nagging as a dream," novelist Yann Queffelec writes in his introduction to THE SEA ($55, Abrams). Inspired by that elemental draw, and by the sorry condition of the world's oceans, French marine photographer Philip Plisson's 400 color photographs—moody images of ink-blue breakwaters and violet sunsets—dramatically chronicle the sea's powerful emotional undertow. —Christian Nardi
Doing for trout what David Sibley did for birds in 2000's best-selling The Sibley Guide to Birds, the definitive new TROUT AND SALMON OF NORTH AMERICA ($40, The Free Press) brings together the exquisite colored-pencil drawings of acclaimed fish illustrator Joseph Tomelleri and the knowledge of conservation expert Robert Behnke. This book should keep your favorite fisherman happily occupied until spring.
—C. N.