Which full-suspension mountain bike can also handle downhill action?
I'm looking for a full-suspension mountain bike that's under $2,000. The ideal bike would also handle a little downhill action as well. What's the best bike for me in this price range? Dan Georgetown, Texas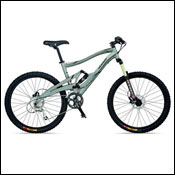 Heading out the door? Read this article on the new Outside+ app available now on iOS devices for members! Download the app.
Hey, for the price range you're in, you can get a lot o' bike—good suspension, well designed frame, and solid components. The only issue is that while a decent full-suspension, trail-oriented mountain bike will make a downhill run, it won't be entirely happy about it. Downhill bikes typically are heavier, have more throw in the suspension, and have a geometry that makes them more stable on corners and rough terrain.
Marin East Peak Mountain Bike

East Peak Mountain Bike
A good starting point is Marin's East Peak ($1,899; marinbikes.com). It features Marin's excellent (and recently improved upon) Quad Link suspension, which combines with a Fox Float R rear shock to give you a smooth ride that doesn't suck up much energy when you're pedaling up hill. The brakes are Avid Juicy Hydraulic 3 discs, and the running gear is reliable Shimano LX. It's an excellent buy.
I also like Giant's Anthem 2 ($1,650; giant-bicycles.com). It has a light aluminum frame with a slightly simpler rear shock setup than the Marin, with a Fox Float R rear shock, Juicy hydraulics for whoa, and Shimano Deore for go. So, it's a slightly lesser-parts package than the Marin, but also a slightly lighter bike.
Here's an interesting choice: Schwinn's Rocket Limited ($1,700; schwinnbike.com). It's a bike that does pretty well on trails but is happier than most cross-country bikes when you point its front wheel downhill and let gravity do its thing. The Rocket has a proprietary Schwinn rear swing-arm design that allows a generous 5.5 inches of travel, and it has beefy frame construction and oversized Moto Raptor tires. Its little brother, the Rocket Pro, downgrades the running gear a bit but retains the solid frame features and sells for $1,150, which makes it a great buy.
You might also troll around on eBay or Craigslist for a bit; you might pick up a Santa Cruz Blur (santacruzbicycles.com) or something like that for under two grand. Sweet!
The Gear Guy reports from 2007 Winter Outdoor Retailer, the bi-annual gearapalooza in Salt Lake City. Check out his top picks for gear to watch in 2007.
Trending on Outside Online