Which GPS unit should I use for bike touring?
I'm going to do a bicycle tour around Lake Michigan next summer, and I'm thinking about getting a GPS for the bike. Got any recommendations for me? Ken Vernon Hills, Illinois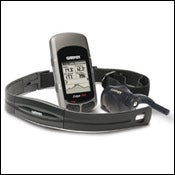 Heading out the door? Read this article on the new Outside+ app available now on iOS devices for members! Download the app.
An honest recommendation? Do without. What are you going to do, get lost? I think not. And a bike computer and altimeter watch can tell you all the important stuff, such as miles and elevation gained. Oh, wait. Michigan. I guess elevation gain is irrelevant.
Garmin Edge 305

Edge 305 GPS Unit
I mean, I ride with a guy who uses a GPS unit. It purports to know how many calories were burned (I'm skeptical), and does keep track of heart rate, although for a tour neither of those metrics matter that much. Otherwise, aside from a squiggly line that shows our "route," I don't see the point. And besides, the batteries have to be replaced every eight hours or so, meaning that for continuous all-day use on a bike they're kind of problematic.
So that's my rant. Now, I assume at this point you remain determined to get a GPS. One to consider is the Garmin Edge 305 ($379; garmin.com). This is really a bike-specific unit, compact and easily mounted to a handlebar. It tracks your course and elevation, monitors heart rate and distance traveled, and stores course information. And it's waterproof in case you hit a downpour. Battery life on its lithium-ion batteries is 12 hours (probably a bit high), and of course then you need to find a place to plug it in.
Nowadays Garmin pretty much dominates the compact GPS market, but there are some other models. Magellan's Triton 300 ($199; magellangps.com), just now coming onto the market, offers a color screen and all the standard GPS features, minus bike-specific things such as a heart rate monitor. But it works with National Geographic digital maps, which may be appealing. And it takes AA batteries, which of course can be found nearly anywhere on the planet. A bike mount is another $25.
You've seen our picks for 2007 Gear of the Year, and now the entire
Outside Summer Buyer's Guide is online. Check out this year's more than 400 must-have gear items, including GPS units.