The Young Americans: Andrew Talansky
The reputation of American cycling has been dragged through the dirt in the last few years. Time has shown that Lance Armstrong, Tyler Hamilton, Floyd Landis, Levi Leipheimer, and many others built their reputations on cheating. But there's a new generation of US riders emerging to take their places—hopefully in an honest manner. This is the first in a series o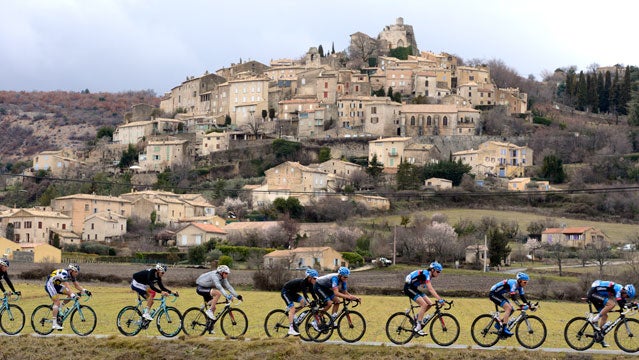 Team Garmin-Sharp Photos(Photo)
Heading out the door? Read this article on the new Outside+ app available now on iOS devices for members! Download the app.
Don't feel too badly if you haven't heard of Andrew Talansky. But it's a name you'll want to know in coming years.

Talansky takes an exultant win at Stage 3 of Paris-Nice.

Talansky at the head of the race on Stage 5 at Paris-Nice.

Talansky in yellow at Paris-Nice.
The 24-year-old Garmin-Sharp rider is only in his third year as a professional racer, but he's already shown himself to be savvy for his age and a talented all-arounder. Having won the Under-23 Road Racing Championships in 2010, Talansky quickly racked up some impressive results upon signing with Garmin, including first overall at the 2011 Tour de l'Ain and second overall at last year's Tour de Romandie. Last month, he rode wheel-for-wheel with some of the biggest names in the peloton at Paris-Nice and scored an admirable second overall after he wasn't quite up to taking on the Team Sky juggernaut. With these results, the Florida native has shown that rare combination of time-trialing strength and climbing talent that could presage a grand tour contender. He confirmed those chops last year when he powered to 7th overall at the Vuelta a España, only his second-ever grand tour and reputedly one of the hardest three-week races in years.
On Tuesday, he lined up at his third Tour de Romandie with his eyes on the podium, just missing the top spot. If all goes well, he's also slated to start his first Tour de France in July.
We caught up with the Floridian at his home-away-from-home in Girona, Spain, as he put the final touches on his form for Romandie. 
How did you get into cycling?
I started later than most professional cyclists, when I was 17 years old. I swam and ran cross-country in high school, and I loved running, but I got injured a lot. So I started riding to stay in shape. I grew up in Miami, and there are lots of group rides there, and at one of my first ones, somebody said, "Hey, you're good. You should try racing." It just kind of clicked from there.
Because I started late, I didn't come up through the USA National cycling team, so I sort of had to do it myself. I first raced on a local Florida team, then in college I went to the U.S. domestic team, Toshiba. It was like diving into the deep end. They folded, and I went to Europe and raced a few months at a pro continental team called, Amore e Vita. It made me realize that I wanted to race in Europe, but I wanted it to do the right way like I am now: Riding for a real team, making a salary, setting myself up with a retirement. I stopped going to college and decided to focus on cycling. In 2010, in my last year as an Under 23 racer, I decided it was going to be my last year, and I was either going to get some results and make it work or I was going to move on to something else. Fortunately, I had a good year.
You hear how hard it is to go from domestic racing to a Pro Tour team—it's faster, positioning is difficult, it's so competitive. How have you found the transition?
Everything that everybody says is true. The madness of it and the fighting for position, that's what makes it so great. That's what makes it great for the spectators. I love the history of it and the fact that you really have to fight to be here. It was tough at first, but now I love it. I can't imagine racing anywhere else. When you sign as a neo pro, you have to sign a two-year contract, and that's a good thing. I think most neo pros need at least that time to really get their feet underneath them. I was lucky to get some results early. But a lot of pros that come over might take 7 or 8 years and never get on a podium. It really is that hard.
You rode your first grand tour, the 2011 Vuelta a España, in your first season as a pro.
That first year was just about finishing. I ended up somewhere in the 70s or 80s. Finishing a grand tour, just having that in your legs, it does something for you that you physiologically just can't get from training. That first year, I felt good sometimes and terrible a lot of the time. The stage before the last day, I was not sure I was going to be able to finish. If I had thought logically, I would have known I was going to make it. But in that moment, during that stage, I really felt like I might not make it. That's how bad I felt.
You came back to the Vuelta in 2012 and finished 7th place. Was last year's race as hard as everyone said it was?
It was way more difficult than 2011. I think it was the probably the hardest they've ever done, and it was probably the most competitive. You had Joaquim Rodriguez, Alberto Contador, Chris Froome. The field was just stacked. The good thing was they weren't just making a bunch of dumb hard stages to make them hard, with 40 kilometers of flat riding at the end. There were lots of hilltop finishes, which was good for me. And one thing I realized last year is that grand tours are much more enjoyable when you are at the front of the race. You are suffering, but you know you're doing it for a reason. When you're riding in the groupetto on those big climbing stages, you're just riding to survive. But at the front of the race, you switch on and really focus. It makes it much more fun.
Arguably your biggest result so far came last month, when you finished second overall at Paris-Nice. Were you happy with the result?
Yeah, I was happy. The previous year, I took second at Tour de Romandie. They are both World Tour events, but Paris Nice is so much more prestigious. Everybody shows up there the best that they can be, so to end up second felt pretty good. I trained all winter with a top five finish in mind, and we exceeded that.
I also won a stage, Stage 3, which was something new in my career. Some racers' whole seasons would float on that. And it was especially good because of the way I won. A small group of us went away on a wet, technical descent. It was a cold, wet, typical Paris-Nice day—you might call it epic. When you solo to a win, it's one thing because you know it's going to happen for a little while and you get to savor it. But when you're in a group of six like we were, and you sprint for the win, it's raw emotion. It felt like the culmination of lots of work. It really proved to everyone that that they were right to put their faith in me.
You took the yellow jersey with that win, and it looked like going into Stage 5 that you were in the driver's seat to win the overall. What happened?
There is often a lot more to bike racing than appears. When I got the jersey on stage 3, the team really stepped up and rode beyond themselves. They did an amazing job. But the truth is we didn't come with the best GC team. We didn't have a team of climbers. We knew going into Stage 5, with the climbing finish at La Montagne de Lure, the only way we could hold the jersey is with a really strong team that could sit on the front and keep things calm for me for the end. That's what Sky did. They had two guys at the end with Richie Porte, and it made the difference. It was just too much work for me to do on my own, and Richie rode a great race and got 33 seconds on me. [Editor: Porte won the stage, and Talansky finished third on the day.] I was frustrated, not because I lost the jersey but because I lost so much time. But in the end it didn't matter. Two days later, Richie beat me in the TT by a healthy margin [23 seconds] so the time gap didn't make a difference. It ended up how it should have. The best rider won the race.
Tour de Romandie starts next Tuesday. You finished second in 2012. What is your objective this year?
You always go to races with the goal of improving, but to do that it means I have to win. That's obviously… It's always been a good race for me. Romandie my first year, I ended up 9th, and that was with a crash in the prologue. I love racing in that area of Switzerland. I don't know what it is, but the climbs there treat me well. I don't say this about many races, but with this one, I would really love to win. When you have guys like Chris Froome and others coming, it's hard. I'd be happy at the end of the week to be on the podium.
Most Americans see a young racer like you with such a strong all-around ability, and the first thought is Tour de France. Is that your aspiration?
Yeah, it absolutely is. Getting top 10 in the Vuelta shows that I have what it takes to be consistent for three weeks. At the Vuelta I learned that there are two types of riders. Past 15 or 16 days, guys either come apart or they hold up. And I learned that I hold up. But the Tour de France is a different kind of race. It's a different level. That's what I'm working toward—maybe in four or five years.
So is it a big deal for you to ride your first Tour this year?
I think it might be a big deal when I get there, but right now it's really not. Having done the Vuelta twice has given me confidence. The Tour is the Tour, it's a different beast. There's so much stress that even getting through the early stages is hard. You have to just get through so you can actually race your bike in the mountains. If you get to the mountains, then it's man against man. That's the easy part for me.
Some of the other young Americans, like Taylor Phinney and Tejay Van Garderen, have gotten more press than you. How does that make you feel?
For me there's no resentment or misgivings. I don't do this to be in the spotlight. There are definitely guys who are maybe in the press a bit more. Taylor is a big personality and he enjoys the spotlight. It's kind of nice for me because it means I'm not always answering questions. I love the sport because of the process you go through. I love trying to succeed. For me it's about the process and racing. I'm a pretty quiet, simple person.
Have all the doping scandals and bad press in cycling tarnished your experience as a young rider?
Not at all. In a convoluted way, it has actually enhanced my time as a racer. We are being given the opportunity to change the sport and to be at the forefront of this. Guys like Taylor and Tejay and me, we have the chance to bring American road cycling back to the forefront. I'd say, "back to what it was," except we are going to get there in an honest, transparent, clean way. Ten years ago maybe guys wanted to do that, but it wasn't possible. Now the chance to do it right is there. And the fact that we get to be the face of change, I think it's a really exciting opportunity.
What do you say to cynics who don't trust cyclists to be clean anymore?
I completely understand if people have questions. Please, continue to ask the questions. But remember, the same way that they were duped by the past generation of riders, it's the same for us. We young riders were lied to and tricked as well. We all watched Lance race, and we all believed in something that wasn't real, too. In a way, it hurt us even more because this is our livelihood and now we're tied to those lies. Guys like Tejay and Taylor and me, we didn't create the situation, but it's now our responsibility. I'm fine with that. I actually think it's an opportunity.
The only thing that I'd ask of the fans or journalists who are skeptical is just be open to believing. If you're a true fan of the sport, it means that you want a clean sport and that you're open to seeing that it's possible. The people who can't believe it, who are just so cynical, they motivate me more. It makes me train harder and ride harder to show people that great results can be achieved honestly.
Lead Photo: Team Garmin-Sharp Photos