The Young Americans: Tejay van Garderen
There's a new generation of U.S. riders emerging at the pointy end of the peloton—hopefully in an honest manner. This is the final installment in a series of interviews with these young Americans.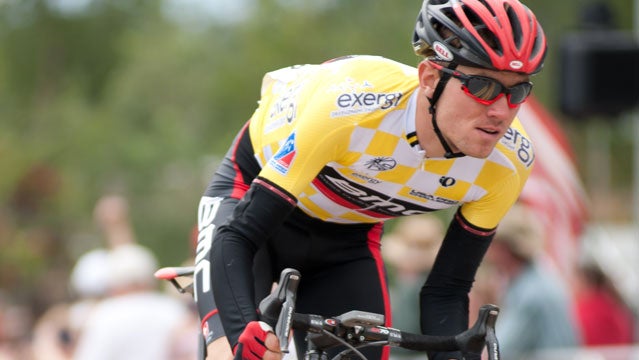 lukeurbine/Shutterstock(Photo)
Heading out the door? Read this article on the new Outside+ app available now on iOS devices for members! Download the app.
Of all the up-and-coming Americans in the pro peloton, Tejay van Garderen is probably the best known. That's because he has the all-around abilities of a stage racer—he can climb with the mountain goats and time trial with the diesel engines—and he continues to develop into a rider who can contest the grand tours. 
Ahead of last year's Tour de France, we named him the race's dark horse. When his BMC Racing team leader Cadel Evans faltered, the American stepped up, eventually finishing 5th overall and in the white jersey of best young rider. Other notable results include third at the 2010 Critérium du Dauphiné, third at the 2011 USA Pro Cycling Challenge, and second at the 2012 edition of that race. That's an impressive list of results for a 24-year-old in just his fifth year as a professional, though as much promise as he's shown, victory at a stage race has been elusive.
Until this year, that is. Last month, van Garderen won the Amgen Tour of California with a commanding performance that saw him easily control the mountain stages and dominate the individual time trial. He's also showing rising form at this week's Tour de Suisse, taking major pulls on the front of the peloton.
Those performances presage good things to come for the Washingtonian at this year's Tour de France, where he'll once again be buttressing Cadel Evans' victory bid. Given the team pecking order and van Garderen's youth, it's probably still too early to list him among the favorites at the Tour. Then again, as we saw last year, anything can happen in a three-week stage race.
We caught up with van Garderen at the Tour de Suisse as the young American was fighting to help BMC win the overall and simultaneously putting the finishing touches on his Tour form.
OUTSIDE: The Amgen Tour of California (ATOC) was your first win in a major stage race. Does it feel like the monkey's off your back?
Yeah it's definitely a big relief having gotten my first stage race win. It hasn't changed a lot in my day-to-day life. But it makes me a bit more relaxed. It gives me confidence. I always believed that I was capable of winning stage races. I have come so close on so many occasions. It's good to know that I can put it all together.
You've had races in the past where you looked to be in control but then underperformed on a key stage, like in the Vail TT at the USAPC two years ago or on Flagstaff in Boulder last year. Were you worried about that in California?
I started working with our team coach, Max Testa, over the winter, and that changed up my training program quite a bit. So I maybe had some new confidence from that. But I was pretty confident that everything was going to go okay. I had a strong team to rely on. We were able to keep things under good control. On that Diablo climb [Editor: Stage 7, the queen stage of the race], the guys just kept it under total control so I never really had to worry about it. And I had one minute 47 seconds going into that stage. So I could stay relaxed. I didn't have to worry about fighting for seconds.
There were only three riders at ATOC from the top 20 finishers last year. Did it feel less competitive?
No. I mean, you had Michael Rogers, who has won the race before, and he ended up second. Acevedo was definitely performing well on the climbs, and he wasn't completely easy to control. You had Dave Zabriskie, who has been second in that race like five times, though he struggled on one day this year. There was Francisco Mancebo and Lieuwe Westra. I wouldn't say it was a weak field at all.
Heading to the Tour de Suisse, you said you were looking for "a good result or even a win." With Mathias Frank in the lead, what are your goals now?
We just have to make sure that Mathias gets the win. That's the most important thing, and yeah, absolutely he can do it. For me it becomes less about getting my own result and more about making final preparations for the Tour de France. 
You lost time on Stage 1 and Stage 2. Is that a reflection of a lack of form, and does it worry you for the Tour de France?
No, form is good. The legs are good. The wind and the weather affected me in the prologue. Then the legs fell flat on the second stage. But they came around the next day, and I was able to put in some big, hard pulls on the front for Mathias. I can feel that I am good. I am getting better and better with every day of the race.
Speaking of the Tour, given that you finished fifth in 2012, do you go into the race looking to improve on that this year?
Yes, of course. I'm always looking to get better and improve.
How does that dovetail with Cadel and his goals?
It's simple. If Cadel is in contention to win the Tour, I'm obviously going to help him do it. That's what I'm there for. But if for some reason Cadel is not there, whether it's because of a crash or he doesn't have the legs or whatever, then I will have a bit more freedom.
Let's talk doping. Jaimie Fuller, the Skins CEO who is funding the organization Change Cycling Now, recently said, "It's been worrying me for a while now, some of the comments that we're hearing, that 'the new guys don't dope…' You'd have to be pretty fucking stupid to believe that." How do you respond?
No, fans are not stupid for thinking that we're clean. I feel sorry for the people who don't believe in what we are doing. All I can tell you is that all of my results have been achieved in a correct way. I can also tell you that I have complete faith in my team leaders, whether it's Mathias Frank at the Tour de Suisse or Cadel at the Tour de France. Our riders are clean. Cycling…it's clean. I don't know how else to put it.
So what do you say to the detractors?
I understand that riders have continually and repeatedly lied in the past. I know that guys have said exactly what I'm saying right now. So to the fans it probably sounds like a broken record. It probably seems like the same thing. But it is not. The only thing I can do is to continue to train and race in the right ways. If people believe me, they believe me. If they don't, they don't. I can't control that. All I can do is control the way that I'm racing.
If I never win the Tour de France but I stay clean for the rest of my career, then I'll look at that as a success. That's how important it is to me to stay clean. As for the sport as a whole, I can tell you that I don't feel like I've ever been cheated out of a result by someone wasn't clean. I've come second lots of times, and I don't feel like anyone has cheated me. That would piss me off, and I would say something. But it's just not happening.
Lead Photo: lukeurbine/Shutterstock
Trending on Outside Online