Born in the USA
From Ibex wool to Princeton Tec headlamps, outdoor gear is increasingly being manufactured in American factories. Tom Vanderbilt explores the amazing new economics of insourcing.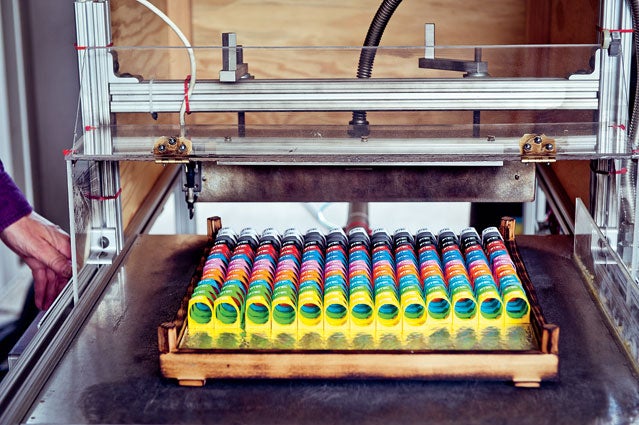 Gabriela Herman
Heading out the door? Read this article on the new Outside+ app available now on iOS devices for members! Download the app.
LIKE ITS HOME state of Vermont, with its woodstoves and Subarus, the apparel maker Ibex has always had a pragmatic contrarianism about it. The company, which makes wool-based outdoor clothing, launched in the late 1990s—right when advanced synthetics were taking off. "People thought we were nuts," says CEO John Fernsell, who sits across from me at Ibex's headquarters in White River Junction, his bare feet poking out from under his desk.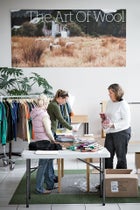 Ibex's Vermont headquarters.
Fernsell, who was an investment banker in Boston before starting Ibex with his friend Peter Helmetag, wore a wool suit every day but switched to synthetics for bike rides. "I couldn't reconcile why, if polyester didn't work in a business suit, the outdoor industry was so completely wedded to it."
Fernsell's hunch paid off. By 2006, Ibex had grown from two employees to twelve and had moved into an old warehouse in Woodstock; today the company has revenues exceeding $20 million per year. One unorthodox key to Ibex's success is the ultra-soft, nonscratchy merino fiber it imports from New Zealand. Another, even more radical: it manufactures most of its goods in California and began doing so at a time when production was typically sent overseas. "In the investment business my mantra was, When everyone else is doing something, you don't want to go that route," says Fernsell, pausing briefly to glance over at a golden retriever named Shackleton that has padded into the office, one of a dozen or so canines on the premises. "Everyone was going to China; it would've been a complete layup," he says. But "we wanted at least 50 percent of our production to be done in the U.S.—and we've never strayed from that."
Not that it was easy. Casting about for a factory in the Bay Area—the manufacturing base at that time for outdoor giants like the North Face and Sierra Designs—the tiny startup had trouble getting attention from contractors with much bigger clients. "We begged factories to make our stuff, 100 to 200 pieces," he says. Fernsell no longer has to beg, and the reason has less to do with Ibex's growth than with the departure of all those other companies to China. About six months ago, he visited one of those factories. "The owner came up and hugged me and basically started crying," he says. "She told me, 'I'd be out of business if it wasn't for you guys.' We're about 90 percent of her factory now."
On paper, there's no reason why Ibex shouldn't make all of its products in China. New Zealand wool is an expensive raw material with a complex supply chain. Saving on labor would be a boon, and big Chinese producers can finance production. Then there are the duties: when Ibex sells its U.S.–made products in Canada, for example, it gets hit with a 37 percent tax. It would pay less if it sent goods to Canada directly from China.
Despite all this, Ibex is about to double down on Made in America. By 2014, the company will be out of China, though Fernsell downplays any flag-waving agenda. "It's not a political thing," he says, but he does admit some Ibex customers "beat us up" over the Chinese production the company still has. Rather, as if he were addressing his neighbors at a Vermont town-hall meeting, Fernsell makes it sound practical: "We feel like we a get a really good-quality product in the U.S."
AS MUCH AS Ibex's move runs counter to the dominant narrative in manufacturing, the company is not alone. Whether referred to as reshoring or insourcing, the return of U.S. manufacturing is emerging as a serious topic in the national conversation. Earlier this year, the White House sponsored a well-publicized forum called Insourcing American Jobs. A recent report by the Boston Group, a consulting firm, notes that more than a third of large U.S. companies plan to return some production to the United States, or are at least considering it. Meanwhile, U.S. manufacturing jobs, long in decline, have actually rebounded since 2010.
Whether it's because of rising Chinese labor costs, the increasing value of China's fiercely protected yuan, the desire for nimbler supply chains, or simply a need to guard against patent theft, some companies are finding U.S. manufacturing to be not only possible but profitable. That seems especially true in the outdoor industry. In 2009, footwear giant Keen, which still does the bulk of its manufacturing overseas, began taking another look at the numbers. "Seventy percent of Keen's sales are in the U.S.," says James Curleigh, until recently the company's CEO. (He was hired away by Levi Strauss.) Among other things, Curleigh realized he could avoid transportation costs and the 37.5 percent duty for imported leather. Pair those advantages with new, highly automated direct-injection machines from Germany—which do away with stitching and toxic adhesives—and insourcing made sense. Keen opened a factory in Portland, Oregon, in 2010.
In addition to Keen, there are several small-scale insourcing stories: Buck Knives, Horton Archery, and Bluehouse Skis have all recently returned production to the U.S. after offshoring it. And Swedish kayak maker Point 65°N recently announced that it would move production from China to Syracuse to be closer to its U.S. market. "It is real," says Alex Boian, director of trade policy for the Outdoor Industry Association. "I don't know if it's going to be long term or sustainable, but I'll say this: sourcing execs know that the era of low-cost labor—of just being able to throw more labor hours at a problem—is over."
Interestingly, all this talk about manufacturing returning to the U.S. overlooks a key point: most of it never left to begin with. According to the Department of Commerce, roughly 75 percent of what Americans consume is produced here. But many U.S. manufacturers still assume they have to locate new factories in China, says Harold Sirkin, a consultant with the Boston Group. "That might have been true in 2010," he says, "but what about in 2015?"
Part of the reason we often think nothing gets made here anymore is that clothing, a giant category, is the sector where foreign production looms largest. "It's hard to automate," says Sirkin. "There's a high labor content, and companies are very sensitive to labor costs." So, over the past few decades, the U.S. apparel industry migrated toward the 72 cents an hour that was the average wage paid in Yangtze River Delta factories in 2000, versus $15.81 an hour in the American South. At the peak of outsourcing, in 2010, Chinese workers were making 40 percent of the clothes Americans bought.
Those economics are changing. The Boston Group notes that, adjusted for productivity, Chinese labor costs in 2010 had grown to nearly a third of U.S. levels. And for many companies, labor isn't necessarily the most important variable. "The reasons why companies reshore is they want to make more money," says Sirkin. "They make more money because they're closer to their customers and can supply them more quickly."
IN A CORNER of the factory floor at Princeton Tec, maker of headlamps and bike and dive lights, marketing coordinator George Chevalier, 28, points to a neatly arrayed grouping of bins, each piled high with brightly colored plastic parts.
These small injection-molded pieces all go into creating the company's custom headlamp, the Spectrum. For a small surcharge, customers choose configurations on Princeton Tec's website. The parts are plucked from the bins and assembled and shipped the same day. "You know why this is possible?" says Chevalier. "Because we make it right here."
So-called mass customization is one of the value-added things you can offer by having production close at hand. Giving the customer the power to control the creation of his product is a kind of parable for the company's relationship with its suppliers. As we sit in a conference room in Princeton Tec's low-slung headquarters in suburban New Jersey, global marketing director Gerard Armendinger tells me that, a few years ago, the company, which had been manufacturing in the Garden State since the 1970s, shifted some production to China. "It was the right moment," he says. "We were hitting critical mass, our capacity was maxed out, and LED costs were coming down." The move worked well—until it didn't.
For one, Chinese labor costs were rising. Factories couldn't keep up with rapidly changing LED technology, and circuit-board manufacturers were being shuttered as part of government-driven consolidation. "We were losing two or three production cycles to be able to catch up with the changes in technology," Armendinger says. "We had the capacity to produce the stuff here, and we just started to pull things back." Higher U.S. labor costs are offset by other benefits, he says. "We can produce smaller batches, we can control our inventories better, and we can take care of problems as they arise because the batches are more isolated."
Today, Princeton Tec once again makes and assembles everything in New Jersey and has managed to double its manufacturing capacity. Small teams of workers produce headlamps in batches of roughly 500 per day, each unit assembled in about 30 seconds. "There are so many things that happen in a production run," says Armendinger. "If we do a run in China of 100,000 pieces, let's say, and there's a problem in the process, that's 100,000 pieces that have now been affected."
Daniel Emerson, the CEO of Monterey, California-based Light and Motion—which also manufactures headlamps and bike lights and has recently doubled its U.S. production—knows full well the hazards of committing to a big production run overseas. In the 1990s, Emerson helped the snowshoe companies Atlas and Tubbs move factories from the United States to Shenzhen. Then, in 2008, at Light and Motion, he decided to return to China to produce a lower-priced bike light, the Vega. The Chinese company would pay to build the molds, tools, and machines. "Tooling on a new bike light is $50,000," he says. "They were able to absorb that."
There was just one problem. The light didn't sell, which Emerson blames on his own company's poor design. But Light and Motion had committed to the factory for a 10,000-lamp order. If he'd produced it in the U.S., he says, Light and Motion could have done a midstream redesign.
"It's a false economy," says Emerson, though he still hasn't written off China as a manufacturing option. "The product was 10 percent less in China, but what's the total cost of that product if, at the end of the year, I didn't make any money on it?" I heard this sort of thing often—people focused too much on labor instead of myriad other cost factors. This is why Harry Kazazian, CEO of Exxel Outdoors, moved production of its high-end sleeping bags from Mexico to Alabama. In his case, it was because of the costs imposed by local officials. "People don't look at corruption; they just look at the labor. But they're not thinking that there are people above those factory workers, that they are leeches and drive up your cost indirectly." Whereas in Alabama, he notes, when the state's tax officials visited, they said, "We're here to help you figure out what not to pay." With new equipment installed, Exxel now plans to make roughly 95 percent of its bags domestically. "Obviously, not every product can be made in the U.S.," Kazazian says, "but you need to look at those formulas, because they could tip the scale in a different direction."
IBEX, AS IT happens, is bringing more than just production back to the U.S. It's bringing sheep. While most of its wool is sourced from New Zealand and some from Uruguay, about eight percent now comes from the Lehfeldt family ranch in Lavina, Montana. A short film on Ibex's website shows Bob Lehfeldt, the creased and tan patriarch of the ranching family, presiding over a pastoral landscape upon which Rambouillet sheep, bearing ultra-fine 21-micron wool, languorously graze.
While it might seem like an image campaign, studies have shown that American consumers aren't willing to pay more for a product just because it's made in the USA. No, the move to bring raw materials closer to factories has to do with an industrial process called superwashing—preshrinking yarn to make it laundry safe. Superwashing wasn't available in the U.S. until the late 2000s, when French textile processor Chargeurs opened a facility in South Carolina at the behest of the U.S. military.
Why the Pentagon's sudden interest in wool? The answer is surprising—and grisly. "The military is changing its stance on synthetics," says Keith Anderson, Ibex's VP of marketing. "So many guys were coming back with synthetics literally welded to their skin," he says, due to the intense heat of IEDs and other explosives. Wool, says Anderson, offers a superior melt point. This accidental fact, as well as the 2009 Kissell Amendment—which requires that all military apparel be made in America—is why, for the first time ever, wool can be superwashed domestically.
The superwashing story underscores a larger issue: industries are like ecosystems, comprising many symbiotic parts. Just as the U.S. military's shift in materials can help kick-start a domestic supply chain, when you take one key piece away, like highly educated workers, you can begin to lose entire networks that are hard to rebuild when companies want to bring production home.
Losing manufacturing is not, argues Light and Motion's Emerson, about simply shedding low-cost, low-value jobs. "DuPont is now moving its large research facilities to China, next to the factories—that's where the white-collar jobs are going," he says. U.S. engineers out of school are hired to "babysit," as he puts it, Chinese factories. "The next step," says the former K2 executive, "is to just hire a Chinese student—even though the kid has no idea what a ski does."
Certain fields have already seen this type of outsourcing drain the talent pool. Emerson despairs of being able to find qualified toolmakers. "My lead toolmaker is probably going to retire in 10 years, and it scares the hell out of me. I advertised for toolmakers for six months, and most people don't even know what one is." In the end, he decided it was easier to have his toolmaker train someone in-house.
It hardly helps domestic manufacturing that the IRS allows companies offshoring to treat their moving expenses as a tax deduction—a practice that politicians refer to as paying American businesses to move away. And negotiators working on the Trans-Pacific Partnership, a landmark trade agreement, are currently working to eliminate the 20 percent tariff on shoes made in Vietnam, a move opposed by companies like New Balance, which makes a quarter of its shoes in New England. Although Congress hasn't passed a budget in three years, President Obama's 2013 budget proposal replaces that loophole with a 20 percent tax credit for companies returning production to the U.S.
But just as much as financial incentive, American production requires a leap of imagination, as Keen veteran Curleigh describes it. "I think people get locked into a supply-chain loop that's hard to get out of," he says. "You're fighting for capacity, fighting for materials—most companies don't have the wherewithal to step off that train.
"One of my biggest concerns," Curleigh continues, "is that if America forgets how to make things, we'll be at the mercy of those who do know how to make things. And then who writes the rules of the game? Not us."
No one, not even the most red-blooded protectionist patriot, is predicting a wholesale return to the postwar decades of American industrial might. But the numbers on the sourcing spreadsheets are continuing to shift. By 2015, for example, notes MIT supply-chain guru Bruce Arntzen, the Chinese middle class will be larger than the entire U.S. population. Demographic shifts like these may change things in as yet undetermined ways. Back in Vermont, John Fernsell explains that he's been told a number of times to expand to China—not to manufacture, but to sell. "Made in the USA is very important to China," he says, shaking his head. "It's totally ironic."
Trending on Outside Online