Seven Things You Need to Sleep Better at Camp
Enjoying a night in a tent shouldn't be a challenge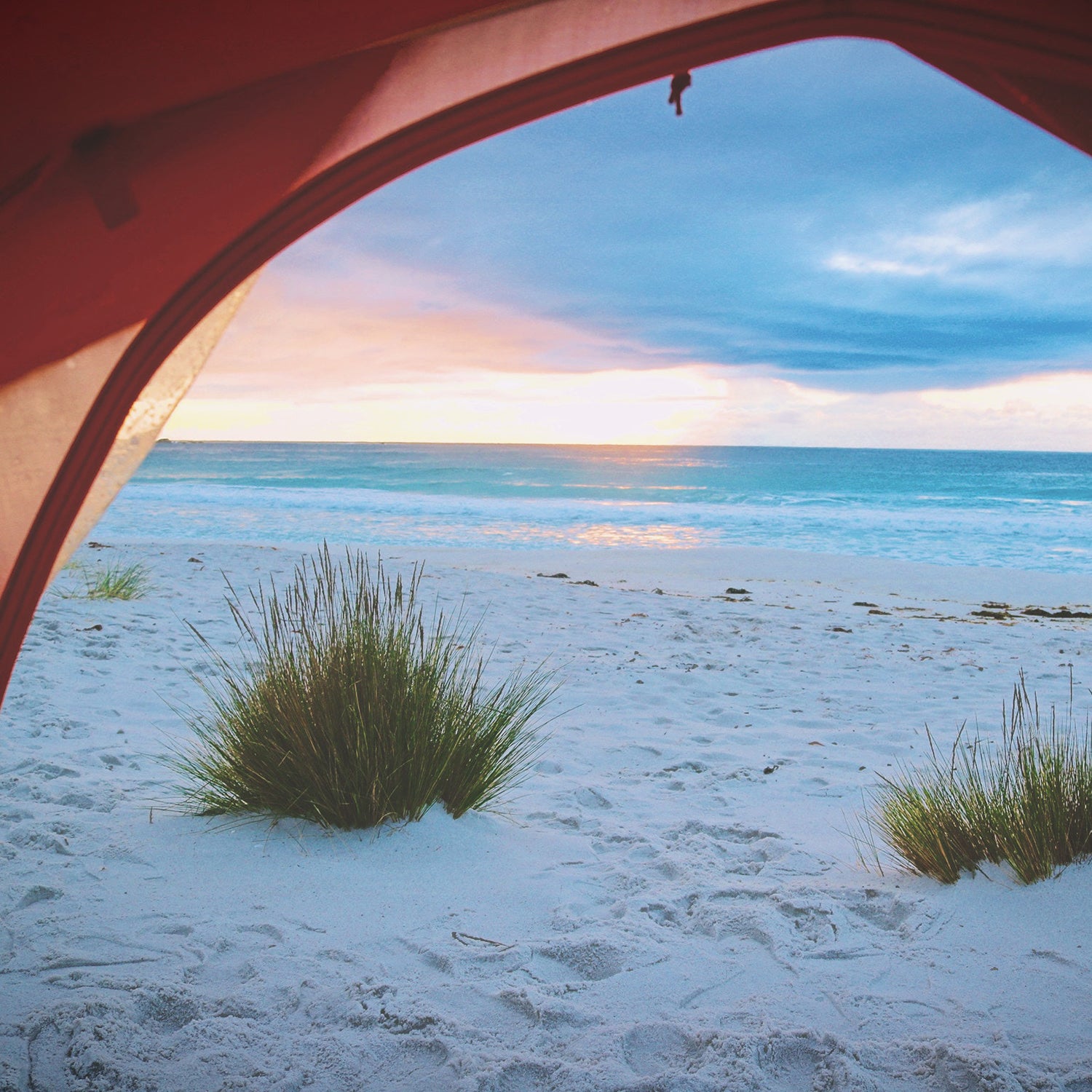 Heading out the door? Read this article on the new Outside+ app available now on iOS devices for members! Download the app.
Getting a good night's sleep while camping can be a real pain in the ass. The first time I camped solo, I spent most of the night tossing and turning in a cold, uncomfortable backpacking hammock, trying my best to tune out the sounds of nature. The next day, I was bleary-eyed and groggy.
Thankfully, deep sleep outside doesn't have to be so elusive. With a few upgrades to your camping kit, you'll enjoy your daytime activities a lot more and come back from a weekend camping trip feeling well rested. Here are seven things you need to get some decent shuteye in the woods. 
Sleeping Pad
I recommend a Thermarest Z Lite Mattress to most people starting out, but there are more comfortable pads out there. The hands-down, most comfortable mattress I've used for car camping is the Exped Mega Mat Duo—a 10-centimeter-thick air pad with foam insulation and support. It's pricey, but it's the closest I've come to feeling like I was in my bed at home while camping.
For backpacking, the Sea to Summit Comfort Plus Insulated Mat is one of the most comfortable pads you can buy. (And they make great pads at a variety of different price points, too.)
Sleeping Bag
Mummy bags are warmer and lighter than their rectangular brethren, but they're usually a lot less comfortable. They're also more constricting for folks like me who sleep on their sides and like to stretch out. That's where Montbell's Down Hugger line of sleeping bags comes in. The sacks use what Montbell calls a "Super Spiral Stretch System" that gives the fabric some play and allows the bag to move with you when you roll in the night. Klymit also makes a great down bag with stretch in it that's super comfy and a great price. 
Pillow 
An inflatable pillow is small enough to bring with you just about anywhere—whether you're backpacking or car camping—and it beats stuffing extra clothes into a stuff sack.
Base Layers and Thick Socks
There's an old myth that you'll stay warmer in your sleeping bag if you strip down to just your underwear. That's bullshit. If it's cool out at night, you'll want to sleep in at least some lightweight base layers and a thick pair of socks. Pro tip: if it's really cold, heat up some water before going to bed, pour it into a Nalgene, and put it at your feet. 
Whiskey
If you're new to camping, a little booze can go a long way toward relaxing and warming you. I prefer Bulleit Rye for its superior noise-cancelling properties. 
A Good Podcast 
Download a few podcasts onto your phone so that if you can't get to sleep, you'll have something to do that doesn't involve reading by headlamp. Your tent mates will thank you. 
Ear Plugs
When you're still awake after listening to the latest iteration of "Science of Survival," drown out the noise with some ear plugs.  
Bonus: a Tent with Enough Space for Everyone
When you're starting out, you should do everything possible to make sure you're comfortable and sleep well—that way you'll want to camp more often. An ultralight, super minimalist tent is nice on your back when trekking, but opt for something with a bit more room for you and your tent mates to stretch out in, like the Sierra Designs Flash 2, for shorter trips and car-camping. 
Lead Photo: Roxanne Desgagnes/Unsplash