Why I'm Obsessed with Backpacking Tarps 
After enduring a wet, cold hunting trip, I'm going to make a versatile, ultra-lightweight shelter an essential piece of my backpacking kit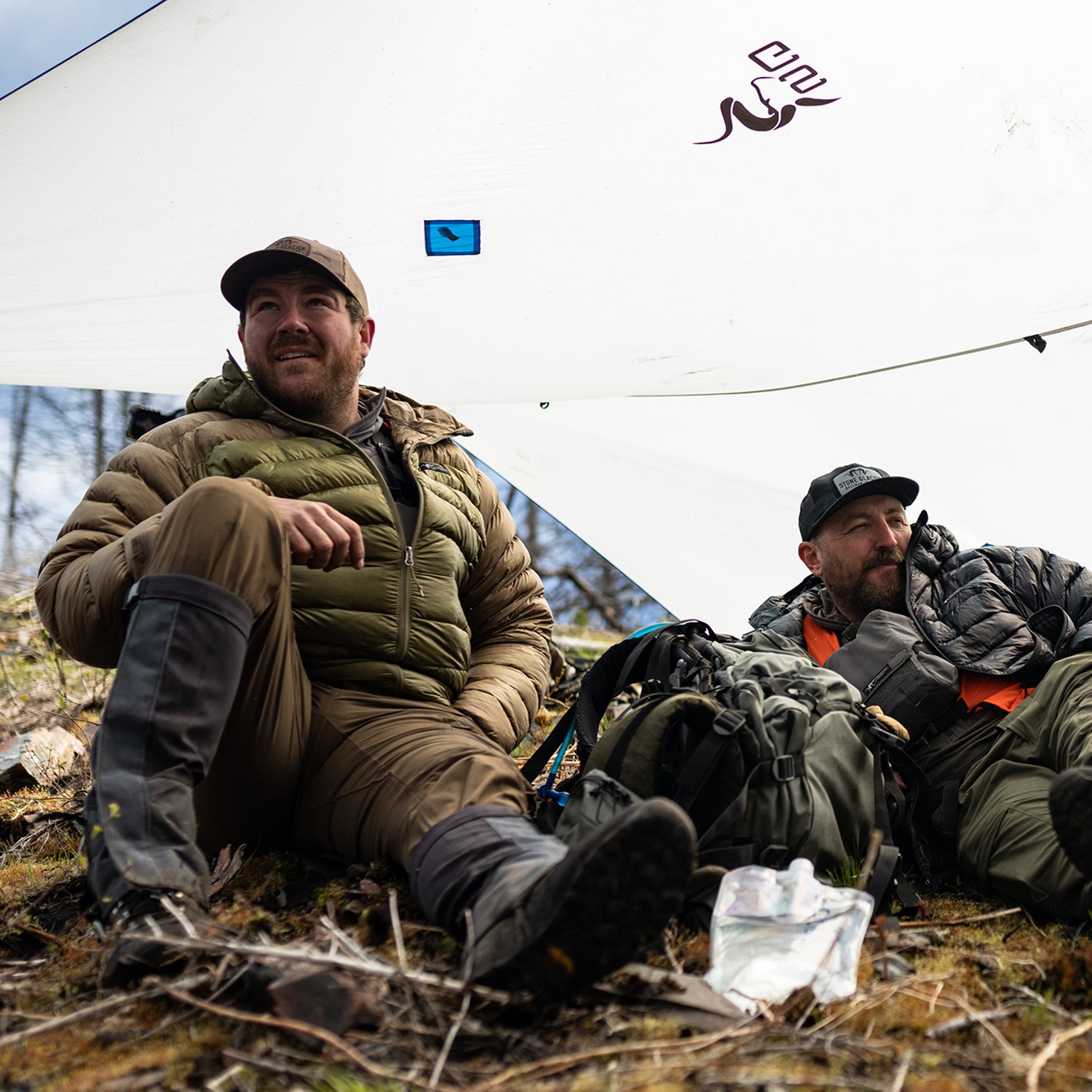 Courtesy Stone Glacier
Heading out the door? Read this article on the new Outside+ app available now on iOS devices for members! Download the app.
This past fall, two friends and I spent four days elk hunting at 12,000 feet in the Sangre de Cristo mountains north of Santa Fe. The first day was warm and mild, but on the second morning, we woke to six inches of snow. It was still coming down, and it didn't stop for the next 48 hours.
We spent most of the first 24 hours hunkered in our tents reading the New Yorkers I'd hauled along. But after that, cabin fever set in and we had to get out to stretch, breathe some fresh air, and cook a hot meal. We put on every layer we owned and knelt or sat under a pine tree's bottom branches for cover from the falling snow. We were uncomfortable, but drier, and eventually returned to our tents for another snowy night of sleep.
The next morning, it was still snowing but we'd had enough. It was time to see if the elk were moving as well. While cooking breakfast, we again hunkered under the tree, and then headed out. All day we climbed ridges and waited for the fog and snow to clear for a few seconds so that we could glass the meadows below for any signs of animals. Although we were wearing high-end waterproof hunting gear from companies including First Lite and Sitka, sitting in the snow all day left us colder than we would have preferred.
Free Gear Upcycling
When it's time to upgrade your gear, don't let the old stuff go to waste–donate it for a good cause and divert it from the landfill. Outside's partner, Gear Fix, will repair and resell your stuff for free! Just box up your retired items, print a free shipping label, and send them off. We'll donate 100 percent of the proceeds to The Outdoorist Oath.

On the fourth day, it stopped snowing and we headed home. On the hike down to our car, I considered our gear list. The one thing I wished we'd brought was some kind of tarp to shelter us from the snow while we hung out at camp and glassed for elk. Sitting in the falling snow for days had a certain adventurous feel at first, but after a while it became annoying, bordering on dangerous, because even the best waterproof gear eventually wets out.

As a gear tester, this problem sent me down a rabbit hole, of course, and I quickly learned that plenty of companies offer what appear to be really smart solutions. The market is filled with lightweight tarps, and the ultra-light backpacking community has been keyed into the advantages of this simple piece of gear for a long time now.

I started my research with the Stone Glacier SkyTarp 10, which is created specifically for hunters by a Montana-based company. It's about ten feet square (nine feet, eight inches by nine feet, four inches to be exact) and is made from a silicone-impregnated nylon so it's completely waterproof and windproof. The tarp, with included guylines, weighs just 13.5 ounces. With 12 stakes, extra guylines, and a stuff sack the whole thing comes in at 19.5 ounces, or just over a pound.

Many square(ish) tarps like this, I quickly learned, are designed to be set up in an A-frame configuration with trekking poles used to anchor the front and back openings. Lightweight backpackers use this as a base-less tent of sorts and sleep under the A-frame on milder nights.

For my purposes, however, I was more interested in how the SkyTarp 10 could also be set up in a lean-to design, with the back anchored to the ground and the front propped up on two hiking poles to create a 45-degree slope. For hunting, this would be the perfect solution for creating a windbreak and shelter over our heads while glassing on a ridge.

There's also something called the modified A-frame where the SkyTarp 10 provides even more coverage. The tarp is still spread out with the back fully anchored to the ground. But instead of angling the entire tarp up at a 45-degree angle, just the back third is angled up, and then the rest becomes a square roof that sits on four trekking poles. There isn't as much headroom, but there's more coverage if it's really raining or snowing. For reference, you can watch this video and fast forward to 9:28 to see both of the configurations.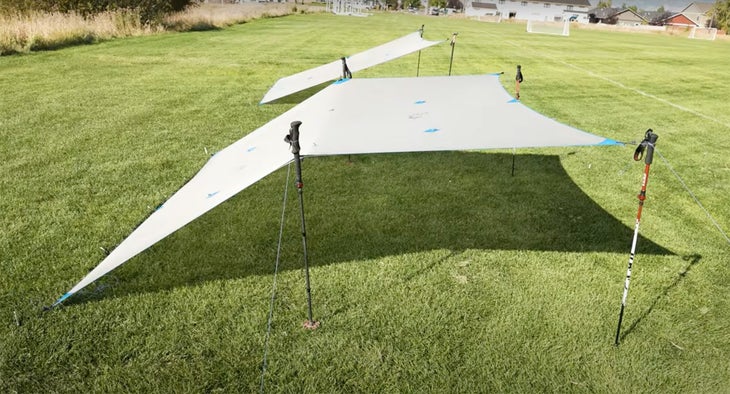 Back at our hunting base camp, a square tarp like the SkyTarp 10 could have been used to shelter us from the snow while we were cooking and hanging out. Our camp was plenty wooded, and with all the included guylines we could have easily found a way to attach it to various trees, high enough to keep the flames from reaching it. I would have much preferred to cook food under a tarp that was seven or eight feet off the ground instead of kneeling under tree branches that were just four feet high.
For anyone who wants to nerd out like I did, there are several varieties of tarps beyond the SkyTarp 10. Hyperlite Mountain Gear makes an eight-foot, six-inch square tarp from Dyneema Composite fabric that's not only waterproof but nearly indestructible. When trying to anchor a tarp to a rocky mountainside, a nylon version could come away with knicks, but the Dyneema version can handle the roughest surfaces. At $390, Hyperlite's version is pricey, but it will likely be the last lightweight tarp you ever have to buy.
Rab's version is called the SilTarp Plus Duo ($180) and if you watch this video you'll see that the engineers have designed it so that it can be set up in any number of clever geometric shapes that fit the terrain, weather, and use. The tarp is like a piece of origami that, combined with a pair of trekking poles, is endlessly modifiable.
To be honest, I'm a bit intimidated about mastering the art of the tarp, but also excited. Over the next month I'll be practicing some setups in my backyard before testing them on a January hunting trip and some backcountry ski days. I'm sure it will take me months, if not years, to become a tarp origami expert, but I'm up for the challenge. Especially if it means keeping me warm, dry, and safe on my next elk hunt.
Lead Photo: Courtesy Stone Glacier
Trending on Outside Online