Gear Guy
The Best Tips for Maintaining Your Tent
Tried-and-true practices to prevent an early death for your tent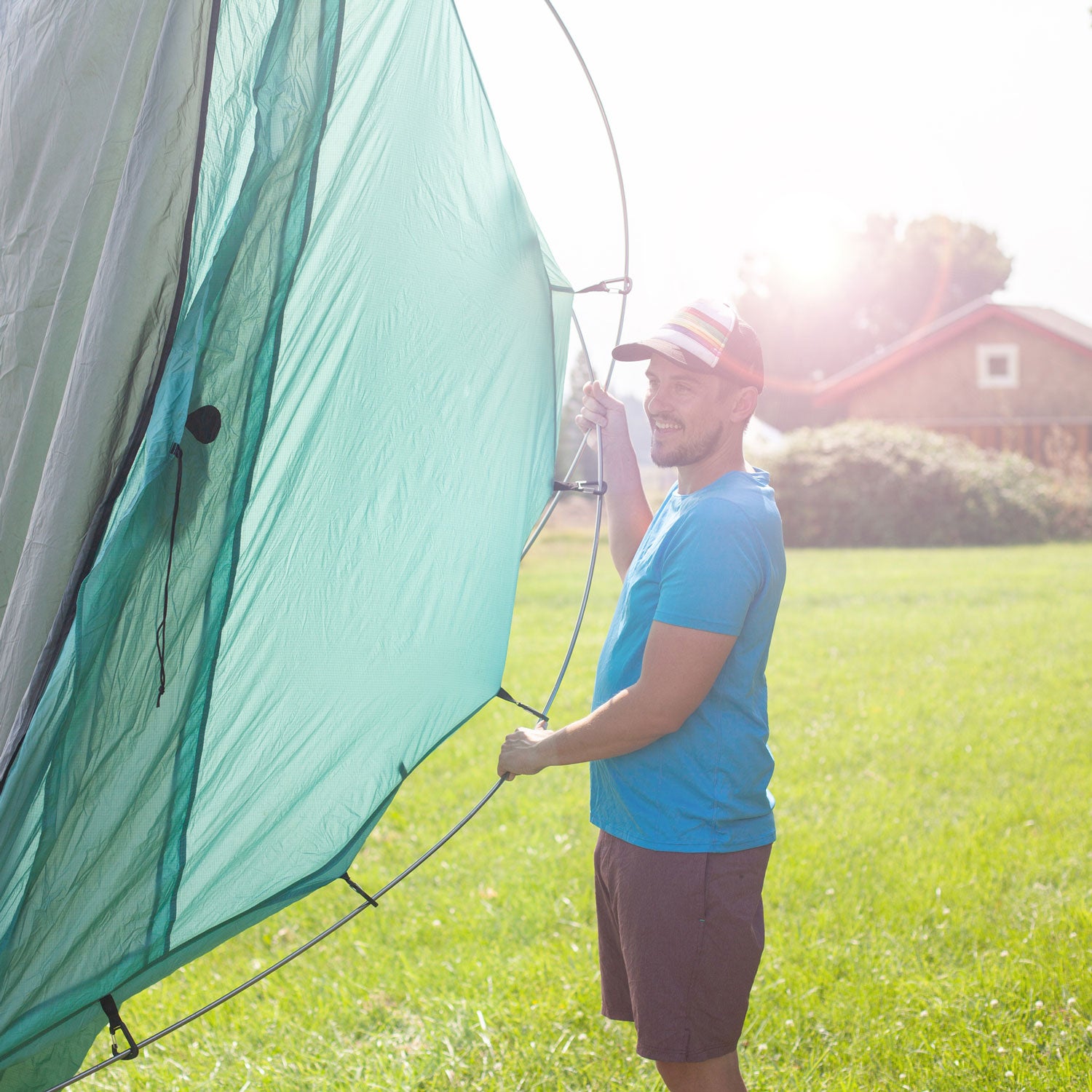 Sarah Jackson(Photo)
Heading out the door? Read this article on the new Outside+ app available now on iOS devices for members! Download the app.
Tents are expensive. Forking over the money to buy a new one after your old model met a premature demise because you didn't take care of it is a pain in the wallet. Lindsey Stone, outreach director for Seattle-based Rainy Pass Repairs, has overseen about 5,000 tent fixes, so she's witnessed a lot—like sun damage so strong it turned rain flies into brittle tissue paper. I picked her brain for the most common tent-care mistakes people make so you can avoid them.
#1. Mind the Sun
Sun rot, or UV damage, is more common than you'd think. "We often see this when people camp in very sunny places, especially at elevation," Stone says. "The UV can degrade the fabric so much that it tears." You don't have to find a completely shady spot to pitch your tent every time, but don't store it in direct sunlight or leave it up for weeks at a time. Nikwax Tent and Gear SolarProof Waterproofing Spray ($19) is a spray-on treatment that acts like a sunscreen and can double a tent's life span.
#2. Watch Out for Dogs
Your pet will often do more damage to your tent than wildlife. "We see a lot of tents from people who leave their dog in it while they go do something else," Stone says. "That nylon is nothing for a dog to scratch and chew through in minutes."
#3. Pitch It Far from the Fire Pit and Always Stake It Down
"Make sure you're putting your tent far enough away from the campfire so ashes and embers don't get blown onto it," Stone says. "And throw some gear in your tent for weight and stake it down if you're going to leave it. A lot can happen when you aren't looking"—like the wind picking up and crashing your shelter into the nearest tree.
#4. Wipe Down the Zippers
"We see a lot of zipper problems when the teeth get filled with dust and dirt and debris," Stone says. "When you use the zipper over and over with all of this grit, it wears the teeth down more quickly." She suggests that when you come home after a trip where your tent may have picked up a lot of dirt, set it up and wipe the zippers down with a damp rag. Then try it out a few times. If you feel the zipper start to catch, use Gear Aid Zipper Cleaner and Lubricant ($7). It's never a bad idea to lube the zipper up after every trip if you're camping somewhere particularly dusty or sandy, but Stone suggests giving the zippers a little TLC at least once a year before you put the tent in storage for winter.
#5. Take Your Time Drying It
"We get a lot of calls when people pull their tent out in the spring—but didn't realize it was wet when they put it away for winter—and it has a little mold or mildew," Stone says. "If you don't have a yard, set up the tent in a park and let it dry." Setting the tent up is key, since, if it's laid flat, some of the fabric could overlap and leave wet spots. Flip the tent over after a while so the floor can dry too. (Throwing a few moisture-quashing silica packets in the tent as you're rolling it up can't hurt either.)
#6. Stay on Top of Mold and Mildew
If you didn't follow step five, your tent might've picked up some mold. Breathing it in can be unhealthy, and a small amount can grow quickly during a winter in a warm, dark storage bin. The repair team at Rainy Pass uses Gear Aid ReviveX Odor Eliminator ($7) to treat tents with small amounts of mold. "It's an organic enzyme cleaner that's safe to use on any sports or outdoor gear," Stone says. Spray the mold with Mirazyme and rub the spot down with a washcloth. Word to the wise: the Mirazyme will kill the mold and scrub out the smell, but any mold stains will remain.
Lead Photo: Sarah Jackson
Trending on Outside Online