Our Favorite Two-Person Tents for Every Adventure
One should be a staple in your outdoor kit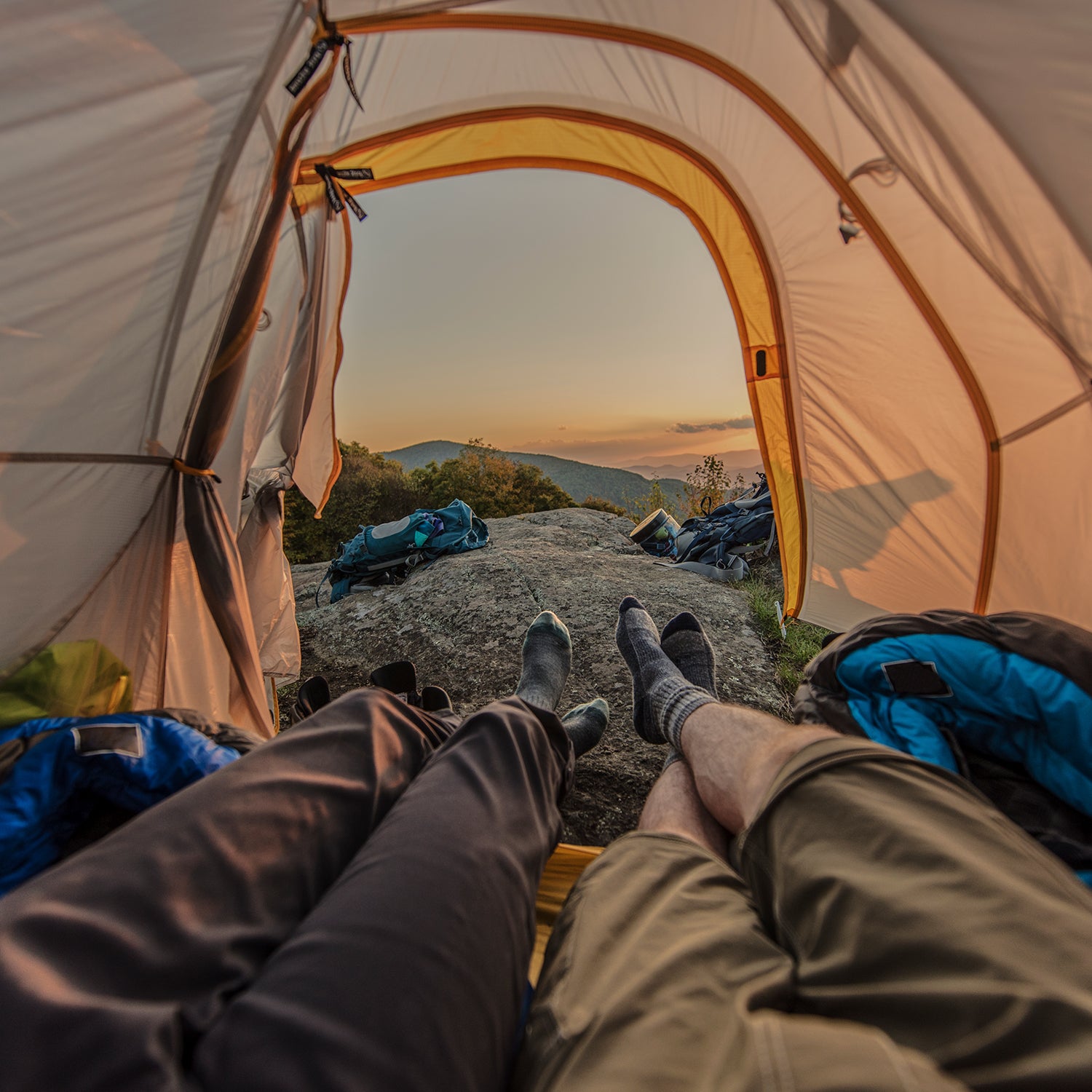 Isaac Lane Koval/Cavan
Heading out the door? Read this article on the new Outside+ app available now on iOS devices for members! Download the app.
The two-person tent is a pillar of my gear arsenal. It's a foundational piece of equipment right up there with my mountain bike and go-to daypack. I reach for my two-person tent often, whether I'm getting set for a backpacking adventure, an impromptu backyard campout, or a car-camping excursion when I don't have the space or energy to bust out the massive six-person palace. Two-person tents often top many best tents reviews. I remember the first two-person tent I ever owned: an inexpensive model from the North Face that I picked up at a steep discount at an REI Garage Sale. I spent countless nights in that thing all over the country during my teens and early twenties. I get emotional thinking about it, the same way I get emotional thinking about my first car (a late 1970s model Cadillac). But man, have two-person tents evolved since I bought that original shelter 25 years ago. They are lightweight marvels of engineering and design, and everyone should have one. Here are three of my favorite two-person tents, each designed for a different purpose, and all good enough to anchor your gear closet.
For the Bikepacker: Big Agnes Fly Creek HV UL2 ($380)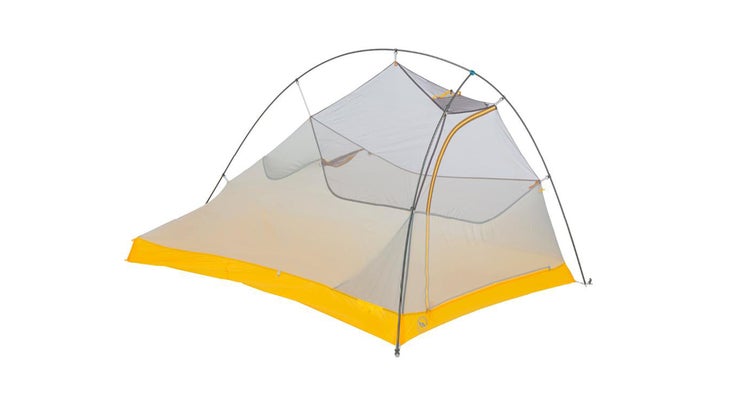 Weight is a legitimate concern when packing for a backcountry adventure, but so is the actual size of your gear. Even if a tent is light, if it's not compact, it could take up too much room in your pack. The bikepacking-specific Fly Creek HV UL2 is both light (2.1 pounds) and compact, thanks to the Shortstik pole system, designed to keep the overall package of the tent small enough to fit on the bars of a bike. I've used this tent on numerous gravel and singletrack bikepacking trips over the past two years, and it's become my favorite shelter. Most of the tent is mesh, which helps cut down on weight and creates a breezy experience on warm nights, while the fly and floor are made from nylon ripstop with a waterproof coating. I've never had an issue with durability. And it's a legitimate two-person tent—52 inches wide and 86 inches long—with a vestibule that's just big enough for shoes and a pack. One detail that I think is smart, even if you're not a cyclist, are the daisy chains on the outside of the tent fly, which allow you to secure and dry dirty, wet clothes like socks or shirts. A couple of things to consider, though: the fly doesn't have a hood vent, and some people have complained about condensation (though that hasn't been an issue for me). Also, there's only one door, so if you're going to use this tent with a partner, be prepared to crawl over that person in the middle of the night to go to the bathroom.
---
For the Budding Outdoorsperson: REI Groundbreaker ($75)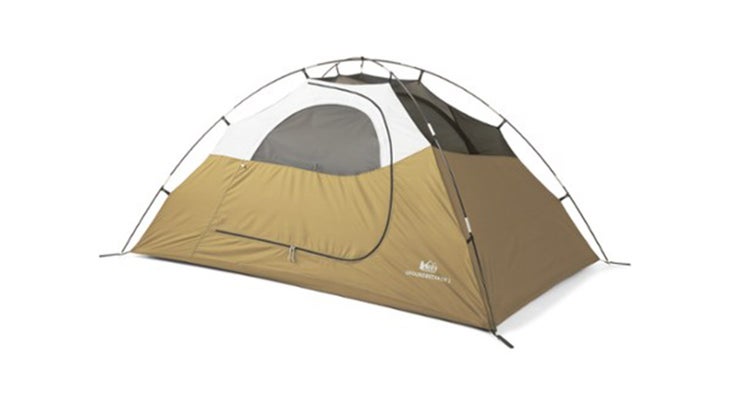 No, that price tag is not a typo. The Groundbreaker actually costs less than a trip to Whole Foods. This two-person tent was designed specifically for first-time backpackers who have never pitched a tent before. It's meant to be affordable and easy to use—kudos to REI for the concept and the execution. I had my 12-year-old son use it on a campout with one of his friends recently. He put it up entirely on his own in less than five minutes, which is impressive because (a) he'd never pitched a tent before and (b) he refuses to read directions. This tent does have its drawbacks, however: it weighs 4.8 pounds, and it doesn't have a lot of design innovations that help separate modern tents from previous iterations. For instance, the Groundbreaker has ample floor space (31.8 square feet), but because of the pole design, there isn't a ton of vertical space, so it feels smaller than it actually is. That said, it does offer storage pockets and gear loops, which are hard to find on some tents three times the price. The only thing that truly bugs me about this tent is the size of it when it's packed into the stuffsack. It's huge (22 inches by 7.5 inches), which might be a bigger turnoff than its weight. So, no, the Groundbreaker won't satisfy ounce counters and seasoned backpackers, but if you're looking for an easy tent to break into overnight adventures, this is it.
---
For the Backpacker: Sea to Summit Alto TR2 ($449)
There are a lot of two-person tents on the market that are really only big enough for an adult and a small puppy, but the Alto TR2 isn't one of them. With 25 square feet of floor space (84.5 inches by 53 inches at its widest) and an innovative design that maximizes vertical space, there's plenty of room for two people in this featherweight shelter. And at 2.5 pounds, it's approaching ultralight territory but includes some features you wouldn't expect for a tent in that category, like two big doors, double vestibules to match, and storage pockets to keep all your camp accessories from getting lost in the middle of the night. And the vestibules are spacious, so you can stick any wet, smelly, bulky gear outside the tent while still protecting it from the rain. The Alto TR2 doesn't pack down as small as the Fly Creek, but it comes with separate sacks for the poles, tent body, and fly, so two people can easily divvy up the weight. A single-pole design keeps things simple from an instruction standpoint (just match the colors of the poles with the colors of the tabs on the tent), but that can also be a bit overwhelming, as that single pole has many of arms to manage (imagine wrangling a stiff octopus). Yet the effort is worth it, because the tension ridge pole at the top of the tent adds vertical space, while the matching venting system on the rain fly adds airflow, even in a storm. It's probably one of the more "livable" two-person ultralight tents on the market, so if comfort's a premium, think of this as your new home away from home.