Indefinitely Wild
The Ultimate Car-Camping Starter Kit
Stay comfortable, safe, and prepared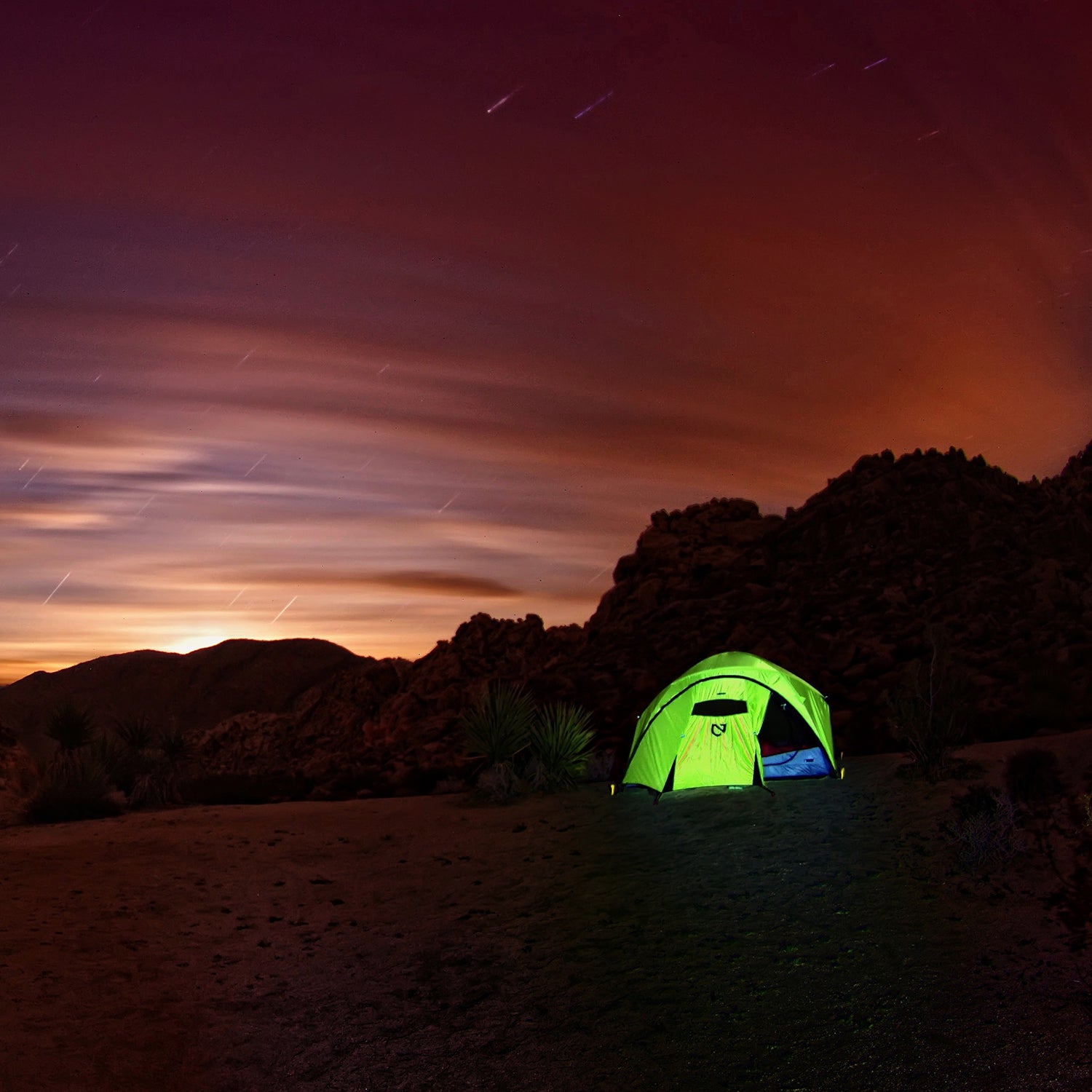 ALTUS(Photo)
Heading out the door? Read this article on the new Outside+ app available now on iOS devices for members! Download the app.
One of my friends decided to take up camping, and I'm helping her get started. Because I want to set her up for success, I'm equipping her and her nine-year-old son with the most effective equipment possible. So I compiled a dream list of camping gear.
Does your first camping kit need to be as expensive as some of the products on this list? Of course not. But investing in quality gear won't just make you more comfortable. It will often last longer too, representing much greater value in the long run.
Sleep Systems
You can go without most of the other stuff on this list, visit a campground, and still have a good time. But camping will not be enjoyable if you can't sleep well. Prioritizing comfort and preparing for conditions that may be worse than you anticipate is the most effective way to ensure you have a good time.
Tent: Nemo Wagtontop 4P ($500)
A good car camping tent is one that is spacious, able to withstand inclement weather (including high winds), and easy to setup. Nothing I've tried has met those requirements better than the Nemo Wagontop. A cube measuring six-and-a-half feet on each side, it provides plenty of room to stand up while you change clothes, and you'll be able to do that in privacy thanks to windows built into the tent's top perimeter, that allow ventilation without enabling people to see in. A single-wall design (there's no separate rain fly), the interior of the Wagontop remains dry even if you set it up in pouring rain. And, while its massive external pole structure may look intimidating, it's actually incredibly user friendly, and quick to deploy. But the best part is how strong the resulting structure is. Five years ago, mine was caught in a windstorm in Baja that destroyed all of my friends' tents, yet I continue to use the Wagtontop today.
Adult Sleeping Pad: Nemo Roamer XL Wide ($250)
At four inches thick, the Roamer matches the comfort of the Exped MegaMat (the OG lux camping pad), but using perforated rather than monolithic foam, it's able to pack down much smaller, much faster. Despite those perforations, the Roamer still manages to achieve a 6.0 R-Value—more than enough insulation to sleep in even the coldest weather.
Child Sleeping Pad: Big Agnes Two Track Petite ($80)
I figured it'd make sense to equip my friend's son with versatile gear that will work while car camping, at summer camp, and when I take him on his first backpacking trip. Self-inflating pads like the Two Track aren't nearly as light or as comfortable as air pads, but they are more robust, which is an important consideration for children's gear. Still, at two inches, the Two Track is a half-inch thicker than what I used when I was his age. The 3.3 R-value is marginal though, so in below-freezing temperatures, it'd make sense to add a closed cell foam pad underneath for added warmth.
Adult Sleeping Bag: Nemo Jazz Luxury Long ($230)
While sleeping bags made with down insulation pack smaller and lighter, they also lose their ability to insulate if they get wet. Water can invade your gear in more ways than just through rain; camping on a beach, for instance, often involves heavy fog, which will wet out down insulation. So, for a dedicated car camping bag, it makes sense to go with synthetic insulation.
The Jazz Luxury Long is a square mummy bag sized to the dimensions of the Roamer XL Wide pad. It features a pad sleeve that securely connects the two items together, creating a unified sleep system that stays in place as you roll around at night. The Jazz's 20-degree comfort rating is right at the sweet spot for three-season camping trips.
Unfortunately, due to supply chain issues created by the pandemic, no Jazz Luxury Longs are in-stock at any retailers. I managed to find a lightly used one on eBay, and ordered my friend some Nikwax TechWash ($10) to clean it with.
Child Sleeping Bag: Big Agnes Sunbeam 15 ($180)
My friend's son is four feet, four inches tall, and growing rapidly. That puts him at the upper limit of children's bags already, so it doesn't make sense to invest in a quality sleeping bag he'll grow out of by next summer. The Sunbeam is a women's bag, and is available in a petite size that accommodates people up to five feet, six inches; it'll allow plenty of room for growth, without adding too much weight or unused space.
As a part of Big Agnes' unified sleep system range, this bag includes a sleeve on the back designed to accommodate the Two Track pad, and does away with insulation on its underside. Because your bodyweight compresses the insulation underneath you when you sleep, it's the pad, not the bag, that provides insulation in that area. Despite being made from synthetic insulation, cutting that unnecessary portion also cuts weight and packed size; this thing weighs just three pounds.
Tent Floor: Nemo Victory Blanket ($90)
Sized exactly to the footprint of the four-person Wagontop, the Victory Blanket is waterproof and topped with flannel. That adds a considerable degree of comfort inside a tent, blocking moisture invading from the ground, and protecting the tent floor from dirt, abrasion, and dog paws.
Blankets: Cheap Amazon Polyester Fleece ($12)
If you have your car along, you might as well carry a few extra blankets. They'll add some insulation inside your tent and by the campfire. Plus, they make great dog beds. The polyester fleece used in these blankets is thick enough to provide appreciable warmth, capable of drying quickly, and is easy to clean.
Vehicle Capability and Preparedness
My friend already owns a Ford Bronco Sport, the top-end Badlands version with four-wheel drive, a rear differential lock, and Falken Wildpeak A/T Trail tires. Those features make that vehicle the most capable in the crossover space, and a good choice for people who live in a city, but still tackle dirt roads and winter weather. But no matter what you drive, getting a car ready to go camping doesn't stop with the vehicle itself.
Recovery Boards: Maxtrax Minis ($200)
If you get stuck in sand, mud, or snow, just shove these things under your driven wheels and drive out. Over knockoffs, genuine Maxtrax are made from a virtually indestructible nylon material that'll stand up to a lifetime of use. Compared to the full-size originals, the Minis are just 25-inches long, so they're easy to carry in a compact crossover like the Bronco Sport. I ordered my friend a set the second she mentioned her camping plans.
Recovery Straps and Shackles: ARB Weekender Kit ($132)
There will be situations where the Maxtrax won't be enough. And, since the Bronco Sport provides safe, accessible recovery points at the front and rear, its drivers will be able to take advantage of real recovery gear should they ever get seriously stuck. The Weekender includes a kinetic recovery strap and two 3/4-inch shackles. Hook up another vehicle, and drive it slowly away from the stuck one. That'll stretch the strap, and when it rebounds, the stuck vehicle will be gently tugged out of the obstacle. Is gear this serious necessary? Getting a tow truck to come get you way down a dirt road can cost as much as $5,000, and they typically demand payment in full, up front. Consider this kit cheap insurance.
Tire Repair
Watch the video above, then click this link for complete instructions and a shopping list. Never leave home without this stuff; tires are the most frequently damaged component on any vehicle.
Air Down Tool: ARB EZ Deflator ($40)
Once you're on dirt, you're going to want to drop your tire pressures to 20 PSI or lower to improve ride quality, increase grip, and prevent punctures. This tool is made from the same brass as your tire valves so it won't damage them. You screw it on, remove the valve core (safely inside the tool) to rapidly drop pressures, then re-install the core, and remove the tool. It sounds complicated, but it's way faster than trying to let out air by pressing on the valve. Make sure you use the air compressor you bought for tire repair to air back up before returning to pavement. You'll find the correct on-road tire pressures on a chart inside your driver's door jamb.
Camp Accessories
Having a place to sit and another to set stuff is handy. If, like my friend, you're going to be spending a lot of time camping on beaches and in deserts, a shade structure should be considered essential.
Table: Mountain Summit Heavy-Duty Roll-Top Table ($100)
Roll-up aluminum camp tables like Mountain Summit's pack down into a small carry bag, but are surprisingly robust once set up. To clean it, you simply wipe it off or hose it down. At just under four-feet long, this one's big enough for two people to comfortably perform camp kitchen tasks on.
Chairs: Mountain Summit Love Seat ($100)
Being able to sit together while watching a sunset or reading a book is really nice, and folding love seats make that possible in a package you can still fit in your car.
Shade: REI Co-Op Outward Shade Shelter ($125)
Built like a backpacking tent, the Outward Shade Shelter weighs only four pounds, yet provides a perfect amount of shade for two people. Make sure you stake it down well so it doesn't blow away.
Cooler: Igloo Mission 50 Quart ($140)
Igloo's mission range of hard coolers delivers most of the ice retention of more expensive brands, at a much more reasonable price. Fifty quarts is the right size for two people, for up to three or four nights. Use ice packs instead of frozen water, chill stuff that's going in it ahead of time, minimize the amount of time the cooler is opened, and keep the cooler outside of the hot car when you're parked in camp, preferably somewhere shady.
Lead Photo: ALTUS
Trending on Outside Online