Do plastic water bottles really pose a health risk?
I was told to avoid plastic water bottles containing Bisphenol-A (e.g., Nalgene bottles) because of the health risk they are thought to pose. So, I recently acquired a Laken aluminum bottle. Is this really an improvement, health-wise? Ron Orleans, Ontario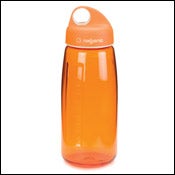 Heading out the door? Read this article on the new Outside+ app available now on iOS devices for members! Download the app.
Well, I think my first bit of advice would be to take a deep breath. It's true that contact with the Bisphenol-A—used in hard plastic bottles made with polycarbonate—has been linked to cancer, and it also can mimic human estrogen and cause genetic problems. But the link between Bisphenol-A and the use of Nalgene bottles isn't all that clear. In fact, earlier this year the European Food Safety Authority changed its guidelines to basically say that normal daily use of a plastic bottle made with polycarbonate doesn't pose any additional risk. Nalgene stands behind the safety of its bottles, but of course it would.
Nalgene N-Gen Bottle

N-Gen Bottle
You don't mention what you use the bottle for. If for occasional use, such as when hiking or biking, my own view is that the risk is, for all intents and purposes, zero. That's especially true if the bottle is in good shape, not scratched on the interior, and not exposed to heat or harsh chemicals. Use it, rinse it out, let it dry, and you're good to go.
As for Laken bottles, I should think they'd be fine. They're coated on the interior, and putting water into a bottle such as that would hardly cause aluminum to leach out.
Also keep in mind that bottles made with HDPE (high-density polyethylene) have not been associated with Bisphenol-A leakage and are widely regarded as extremely safe. This summer I've been using Nalgene's 96-ounce collapsible Wide-Mouth Cantene ($10.50; nalgene-outdoor.com) and have been very happy with its versatility. HDPE also can be found in hard bottles; it's the cloudy ones, as opposed to the clear or colored polycarbonate used in other bottles.
So, drink up.
You've seen our picks for 2007 Gear of the Year, and now the entire
Outside Summer Buyer's Guide is online. Check out this year's more than 400 must-have gear items, including hydration systems.