The Gear to Outfit an Arctic Expedition
Explorer Eric Larsen sets out next month for a 48-day unaided journey to the North Pole—one of the planet's most extreme environments. This is the potentially life-saving gear he'll be bringing along.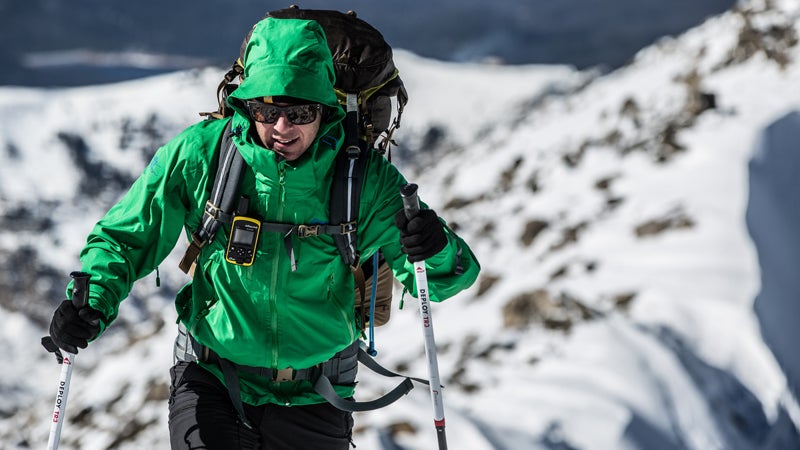 Heading out the door? Read this article on the new Outside+ app available now on iOS devices for members! Download the app.
On March 7th, Ryan Waters and I will depart for the North Pole to hopefully break the current unsupported speed record (49 days). To achieve this feat, we'll rely on a combination of careful planning, teamwork, quality equipment, and sheer will.
This journey to the North Pole is one of the most difficult expeditions on the planet. While there have been about 6,000 Everest summits, fewer than 300 people have completed the full trip from land to the North Pole.
Sure, Everest climbers must contend with avalanches and altitude, but those intrepid enough to make the traverse across the Arctic Ocean encounter polar bears, razor-thin moving ice, open water, and bitter cold—temperatures average around 55 degrees below zero. There are no Sherpas to carry the gear and forget about cozy base camps. Each day we'll be pulling all of our equipment—which weighs 350 pounds at the start—over some of the worst surface conditions designed by Mother Nature. We'll then set up our small tent on a (hopefully) stable piece of ice.
If we run out of food or fuel or break something that we can't repair, we're done. Our ability to survive is directly linked to the quality, durability, and weight of our gear.
This environment literally destroys gear. Plastic becomes brittle and cracks, nylon tears like paper, tent poles snap, and everything from Clif Bars to zipper pulls freeze. And it's not just cold temperatures that pose a problem. The Arctic Ocean—the iciest place on the planet—is so humid that moisture will build up and freeze in sleeping bags, clothes, and camera gear.
We'll have to cope with these elements for more than a month. Our journey from northern Ellesmere Island to the North Pole will span roughly 48 days. We're traveling unaided and unassisted, which means we'll pull all of our supplies—food, fuel, and gear—in lightweight Kevlar sleds for the entire trip.  
If we run out of food or fuel or break something that we can't repair, we're done (and not done as in, "Oh, by the way I think I'm going to call my mom and have her pick me up now.") Our ability to survive is directly linked to the quality, durability, and weight of our gear.
While I could fill volumes about our overall travel strategy, I wanted to highlight some of the equipment that we will be taking along.
---
DeLorme inReach SE
The inReach is by far the most important piece of gear I own. I spend months of my life at the ends of the earth (the North and South poles) and have used DeLorme's inReach extensively all over the globe—it runs on the Iridium network. Mostly I rely on the inReach as an emergency beacon. Should the worst happen, not only do I have the ability to send out a call for help, but I can also send and receive messages. There's an easy-to-use tracking function, downloadable maps (for when I'm not mucking about the poles), and I can even update my Facebook and Twitter accounts. Plus, I can pair the inReach with my smart phone, which makes accessing all those functions that much, well, smarter.
---
MSR Lightning Ascents
Imagine the last time you were in the mountains and had to cross a slope of misshapen boulders. Now imagine doing that same traverse in snowshoes while pulling a 350-pound sled, and you'll begin to understand why snowshoes play such an important role in our journey. Snowshoes spread our weight out on thin ice and provide the maneuverability and traction that skis can't. I like the Lightning Ascent because it offers a lot of traction. The snowshoes' two cross beams are positioned perfectly underfoot and the burly crampons give me the stability I need while clawing my way north. Strapping my feet into these is like engaging four-wheel drive.
---
 MSR Flight Poles
On this expedition, our ski poles perform a variety of very important tasks. First, they provide support and balance—especially in white-outs when just standing upright is tricky. Our poles also give us additional traction—we stab, push, pull, and shove against the poles to gain a few millimeters of extra leverage. Plus, we use the poles to test how safe the ice is. If the ice can withstand three stout jabs from the tip and basket, it's generally safe…enough. Finally we use poles to communicate when we're far apart. For example, poles stretched horizontally means everything is okay.
I like the MSR Flight because it's aluminum—unlike carbon fiber poles, it can be bent back into shape after I fall on it. It has a large strap to accommodate my big mittens and a low foam grip that lets me switch my hand position. 
---
MSR XGK EX Stove
This is the most bomber stove ever made. Simply put, the XGK always works. It's never given me any problems, and I've never had to clean it on an expedition. It cranks the BTUs, has sturdy legs and solid pot supports. It's also totally field-repairable (if a problem were to suddenly occur). It sounds like a jet engine, but that only helps our team dynamics—Ryan doesn't have to listen to my bad jokes in the tent. 
---
Granite Gear Packing Systems 
Granite Gear stuff sacks have transformed how I pack and organize gear. I actually use the air pockets in place of zip lock bags because they're roughly the same weight, but substantially more durable. I no longer use hard Pelican-style cases because I store all my electronics in the Air Cell Blocks, which are padded enough to protect things like my satellite phone and camera equipment. Basically, everything in my sled is stored, stashed, and colored coded in something made by Granite Gear. 
---
Wigwam The Ice Sock
Wearing The Ice Sock means you'll have a warm foot. Not only are these retro throwbacks super warm, they're also extraordinarily durable. I've been wearing the same exact pair of socks for almost three years now.
---
Nokia Lumia 1020 Windows Phone
On my expeditions, I'm all about getting the most I can out of my gear. So having a smartphone, MP3 player, and amazing camera all in one package means a lot. I know, uniting those three devices into one isn't a new idea, but as a serious amateur photographer, I find it hard to take pictures with anything except my DLSR. That's where the Nokia 1020's 41 megapixels come in, which make for stunning images. The camera can shoot in a manual mode and I even have a camera grip with an extra battery that snaps onto the phone. 
---
Stanley Vacuum Bottle
This bottle keeps water hot for 10 hours in temperatures 40 degrees below zero. What else do you really need to know? 
---
Yaktrax Thermal Insole
Most people don't realize how much heat you loose through the bottom of your feet. The Yaktrax Thermal Insole is dense enough to insulate your foot and it won't pack out. Plus, it combines natural and synthetic fibers to give you some extra cushioning no matter how far you trek.