This Teardrop Trailer Is More Capable than Your Truck
The Extreme Off-Road Deluxe Camper from Hiker Trailer packs a ton of features into a surprisingly wallet-friendly package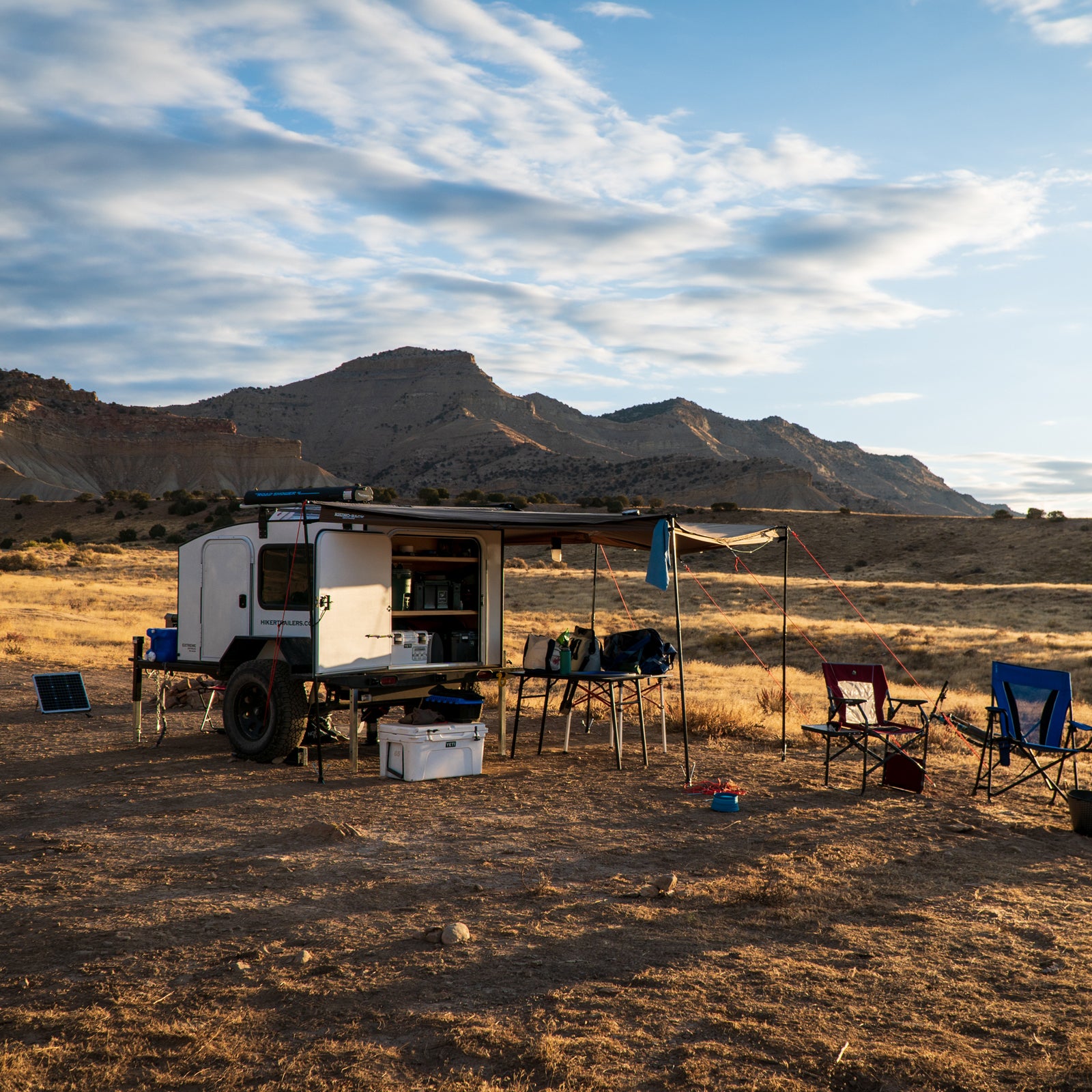 Bryan Rogala(Photo)
Heading out the door? Read this article on the new Outside+ app available now on iOS devices for members! Download the app.
A few years ago, my wife and I demoed an affordable teardrop trailer from a company called Hiker Trailer. In my review, I wrote that it was one of the best options available for anyone who wants to camp in comfort without spending a fortune on a Sprinter or some other tricked-out rig. With a teardrop, you get an inside sleeping area, a separate rear galley, and a front storage area, and I really liked Hiker Trailer's version.
I've wanted to check out the company's fully customizable Extreme Off-Road Deluxe model ever since. It promised considerably more capability than the regular version, while still remaining a great value, starting at just $7,995. As someone who hosts a video series for Outside dedicated to adventure vehicles, I spend a lot of time thinking about what the best rigs out there are and wondered where the Extreme Off-Road Deluxe would fit into the ever growing list of available options. Here's what I found after four months of testing.
Off-Road Capability
For me, the means to get off the beaten path and away from crowded campgrounds is priority number one when considering adventure rigs. When I think about off-road capability, I'm really just concerned with my setup's ability to make it down an unmaintained, rough dirt road in remote sections of national forest or BLM land. That requires maneuverability, ground clearance, and good suspension. 
If you've looked at any travel trailers or pop-ups at an RV dealer, you've probably noticed that most don't check those boxes: they have very little ground clearance, small pavement-oriented trailer tires, and suspension systems best suited for the highway. That's great if you only plan to back into a paved spot with RV hookups, but you'd better think twice about dragging one of those down a rugged Forest Service road in the West.
Hiker Trailer's Extreme Off-Road Deluxe model is small enough to maneuver on tight trails (there are three size options, from four by eight feet to five by nine feet), and it weighs under 2,000 pounds, so you can pull it with just about any vehicle. There are a good number of trailers that fit those specifications on the market, but the suspension is what really sets the Extreme Off-Road Deluxe apart. Instead of commonly used torsion axles, or the Timbren axle-less suspension used on some off-road models, Hiker uses leaf springs and shocks. It works similarly to a Jeep's suspension and handles bumps and serious off-road terrain incredibly well.
There are pros and cons to every type of suspension, but leaf springs and shocks have some serious benefits. For one, since they aren't trailer-specific parts, they're easier and cheaper to repair, and you can find parts more readily than for most other trailers. You can also add more leaves to the spring pack, if you end up loading your trailer down with extra weight on a regular basis, which Hiker Trailer owner Rob Reeve tells me isn't something you can do with axle-less suspension systems. 
The suspension also allows the trailer to fit 33-inch off-road tires, which are far larger than what comes most trailers. They help navigate rocks and bumps smoothly. With tires this size, you get 14 inches of ground clearance under the axle (24 inches to the frame itself), so you won't have to worry about it catching on anything. It also makes room for an in-floor storage pan. I was able to fit camp chairs, a table, a solar panel, and some other odds and ends in there easily, which freed up space in the separate rear galley and front storage platform.
The other standout off-road feature was a max coupler articulating hitch. Not only was it much quieter than a traditional ball hitch, but it eliminated binding in tricky spots and was a total game changer off-road. Once during testing, I was driving too quickly down a seriously rutted road, and my truck and everything inside were bouncing all over the place, but when I looked in the rearview mirror, the Hiker seemed to be floating along effortlessly, totally unphased by the bumps. 
The Extreme Off-Road Deluxe's steel frame has some other features that I really enjoyed over the midrange I tried several years ago. Two front jacks and two rear drop-down legs allow you to level the trailer on uneven ground and get it off the suspension to eliminate any movement while you're sleeping. Its built-in rock sliders and fenders protect the trailer from damage and double as both a table and steps that make accessing the roof rack easier. I also found the front storage platform incredibly useful for hauling coolers and other bulky equipment that I took on an elk hunt last fall. 
Comfort and Livability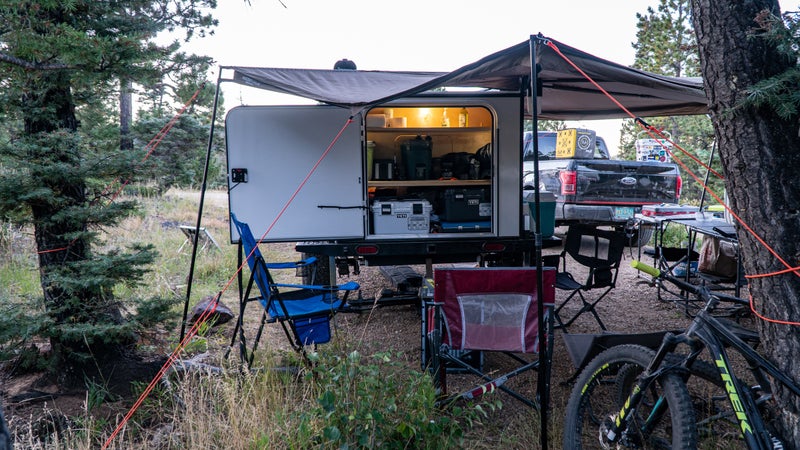 The inside of the Extreme Off-Road Deluxe is nearly identical to the midrange model I demoed before. This one had two doors, two sliding windows (plus a MaxxAir MaxxFan for ventilation), a few USB and 12-volt charging ports, some basic lighting and storage cabinets, and a small window at the front of the trailer. The five-inch memory-foam mattress was very comfortable and folded up into a couch, so you can get out of the elements without lying in bed. 
The galley consists of a few shelves for storing all of your camp-kitchen items, plus some LED lights and additional charging ports. It's not as fancy as the kitchens you find in some more expensive trailers, but if you're buying a camping trailer, you likely already have a camp stove and a cooler—do you really need a built-in stove and drawers for your silverware? If the answer is yes, you can add those to your build. We like that Hiker Trailer doesn't make you pay for things you might not need. 
This particular trailer also came with a 21-gallon water tank and pump, with a hose that attached to the side of the trailer. It's an upgrade ($890) that I'd highly recommend if you're looking at a Hiker, because water goes quickly at camp, and always having enough for drinking, washing dishes, and cleaning makes life easier. 
I also can't say enough about the Rhino Rack Batwing Awning ($794) that came on the test trailer. A 270-degree awning gives you a ton of protection from the weather and makes a smaller, teardrop-style trailer feel immensely more livable. It's a highly recommended upgrade.
Should You Buy One?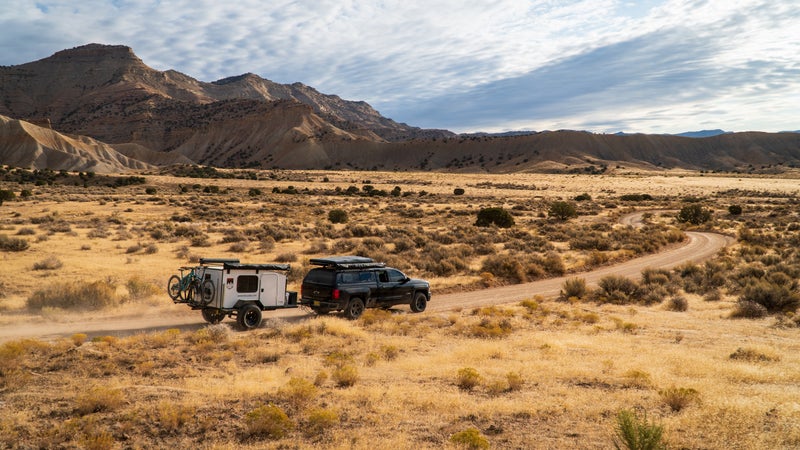 Overall, Hiker Trailer's Extreme Off-Road Deluxe model is built like a tank. I haven't had any issues with it, even after beating it thoroughly on some seriously rough roads. I didn't take it rock crawling in Moab, Utah, but with an experienced driver, I'd bet this little trailer could handle that.
Aside from the beefiness of the steel frame and the other solid materials it's built with, that durability stems from the fact that these are fairly simple trailers without much to break. There isn't really a kitchen, and there aren't any fancy pop-out walls or other items that might fail over time. You can trick one out with a fridge box, furnace, solar panels, and hot-water heater if you want to, or you can keep it simple.
The Extreme Off-Road Deluxe is the most expensive model that Hiker Trailer makes. Prices start at $7,995, and that's an incredible value for any teardrop, let alone an off-road-oriented trailer. Once you add on accessories like the awning, in-floor storage, electrical package, or 21-gallon water tank and pump, Reeve says the average Extreme Off-Road Deluxe that he sells comes in at around $13,000 (the one I tested goes for $14,359). Even with all of that, it's still far less than the $20,000 base price of most other off-road teardrop-style trailers. I've done a lot of searching and haven't been able to find anything that offers more for the price, especially when you factor in the backcountry performance of this trailer. My only gripes are that you can't stand up inside, and it's not insulated well enough to be a true winter camper, but those have more to do with a teardrop style than this particular model. 
Perhaps even more important than the specs of the trailer are what it allows you to do. I've tried many different adventure-rig configurations over the years. I've spent nights in massive car-camping tents, pop-up trailers, and rooftop tents, and even had a wedge-style pop-up camper on my truck for a while. As a mountain biker, skier, and hunter, these are the things that are important to me: the ability to get to remote locations, sleeping inside something with hard sides, always having my camping gear packed, little to no setup time at camp, and something that won't compromise the performance of my vehicle. Hiker Trailer's Extreme Off-Road Deluxe allowed me to have all of those, and it also let me leave a base camp set up while I drove to a trailhead—something the other options I've tried have not.
There's no perfect adventure rig, but if you're in the market for a truly off-road-worthy camper and don't want to spend a fortune, I've yet to find a better solution.
Lead Photo: Bryan Rogala