How can I clean my Sweetwater water filter?
I've had my MSR Sweetwater Microfilter for about four or five years now. I used it two or three times without incident right after I got it, but it has been in storage ever since. Now I would like to start using it again. Do I need to worry about mildew or bacteria in the filter and tubes? Is there an easy way to clean the entire apparatus? Eric Pittsburgh, PA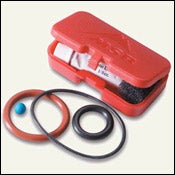 Heading out the door? Read this article on the new Outside+ app available now on iOS devices for members! Download the app.
You're probably perfectly fine. It certainly has completely dried out by now, and bad bugs need moisture in which to survive.

The Sweetwater maintenance kit
But sure, you want to be safe. I'd simply run water through it—clean, fresh water. Pump it for five minutes or so. If you're feeling unlucky, first make up a 10-to-1 mix of water and bleach, pump that through for a few seconds, let it sit for a minute, then pump it through with regular tap water. You also can take the filter core out and clean it with a brush.
Do check the O-rings on the filter. While yours is not that old, O-rings get dry and will crack. So make sure they're all look good. Maybe even replace them, just for luck. MSR's maintenance kit for the Sweetwater ($20) has all the stuff you need, although you can buy the right O-rings and silicone grease at your local home improvement store for $5.
So, no worries. A few precautionary steps, perhaps a little preventative maintenance, and your Sweetwater is fine. Drink up!