How to Choose a Sleeping Pad
Not all camping mattresses are built the same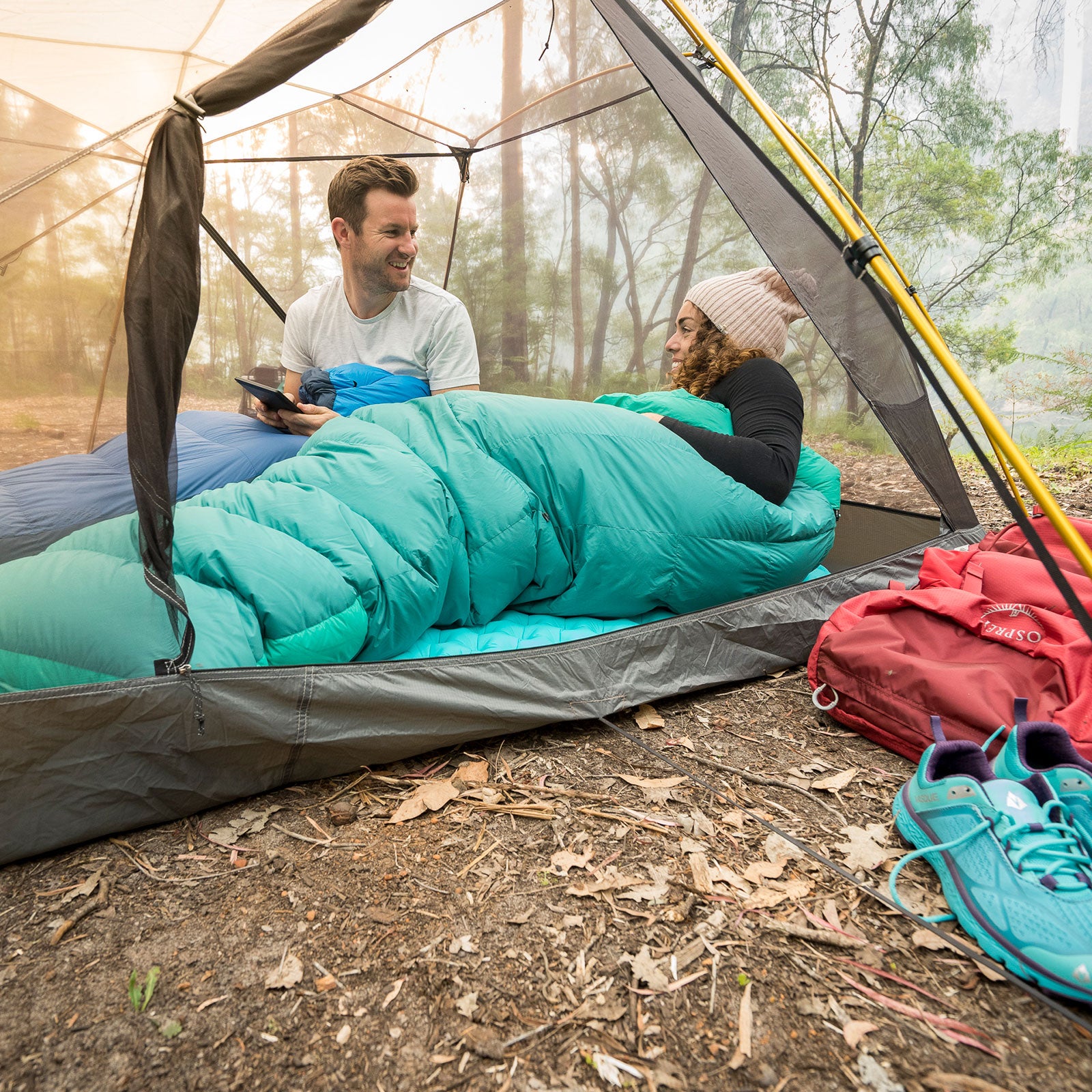 Courtesy Sea to Summit(Photo)
Heading out the door? Read this article on the new Outside+ app available now on iOS devices for members! Download the app.
All it takes is one restless night in a tent with a crummy sleeping pad to realize it: the pad you lie on might be the most important item in your camping kit. It's the thing that makes the difference between feeling every stick and rock on the ground jammed into your back or snoozing like a bear in midwinter. But not every camp mattress is made the same, as various constructions are designed for different purposes. Choose wisely and you'll never have an uncomfortable night under the stars again.
Types of Pads
Generally speaking, there are three categories of sleeping pads: air construction, self-inflating, and closed-cell foam.
Air Pads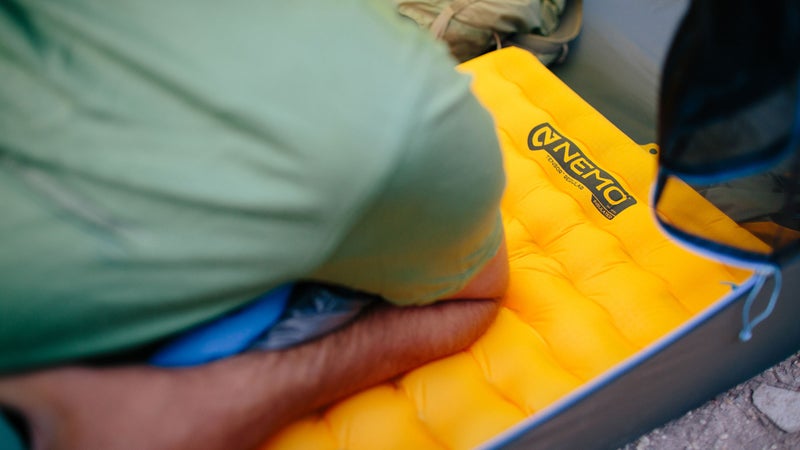 Air pads, like Therm-a-Rest's NeoAir UberLite ($195), require you to inflate them before sleeping on them—most require blowing into them with your mouth. Others, like NEMO's Cosmo 3D ($140), come with built-in pumps. The Cosmo's integrated foot pump is a nice feature if you don't mind the extra weight and want to save your breath.
When deflated, air pads are packable and light. When inflated, they are supremely comfortable. The bummer with these types of pads is they can be ripped or punctured, which will really spoil your night. So carry something to patch it with, like Therm-a-Rest's Instant Field Repair Kit ($10).
These mattresses can also be a little colder to sleep on since they're filled with air. But if you're in frigid temperatures or, say, a snow cave, many pads in this construction—such as REI Co-op's Flash Insulated Air ($100)—come with thicker fibers and added liners for better heat retention. Only the most hardcore of us will need something like the Exped DownMat XP 9 ($229), which has down insulation.
Self-Inflating Pads
These pads—see Mountain Summit Gear's Self-Inflating 3.5 Camp Pad ($90)—can be the thickest, warmest, and most comfortable. But they can also be the biggest and bulkiest. You don't have to blow them up; just open the valve and they'll inflate on their own, thanks to an open-cell foam insulation that expands with air (though it may take a few puffs to top it off).
Foam Pads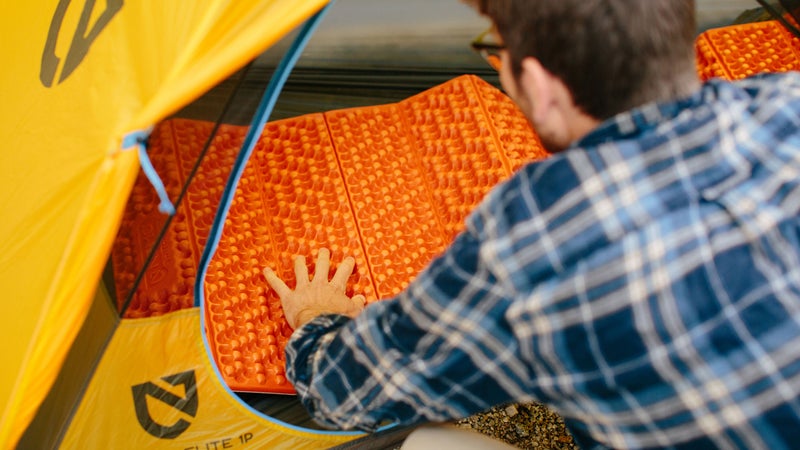 Closed-cell foam pads, like NEMO's Switchback ($50), look like squishy egg cartons. They're very lightweight and durable for the backcountry—they won't pop or rip and thus don't need any patchwork. Plus, they're easy to unfold and lay down flat, no setup or heavy breathing required. They also tend to be the most affordable type of pad. The drawback? The foam variety is not nearly as padded and comfortable as the air and self-inflating kinds.
Type of Camping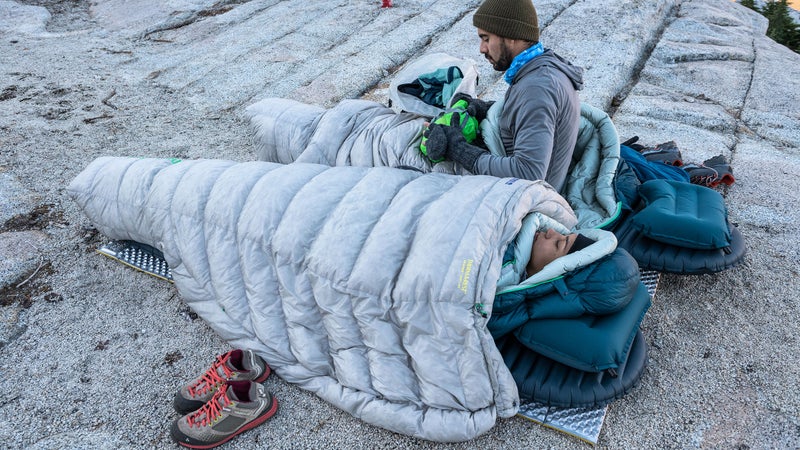 What type of pad you need depends on what kind of camping you'll be doing. If you're thru-hiking the Pacific Crest Trail or another long-distance backpacking trip where every gram in your pack counts, you'll want the most lightweight one out there, like an ultralight air mattress or a minimalist closed-cell foam pad.
If you're primarily car camping or taking a multi-day river trip where you can store your gear in an oar rig or a canoe, you don't have to skimp on weight—you can get a bulkier, more comfortable self-inflating pad. There are other things to consider around water, too: you may want a pad built for getting wet, like the ultra-comfy NRS River Bed Sleeping Pad ($220). It'll cost more, but it's better than sleeping on a soggy mattress, and it has the added benefit of lasting forever.
Winter camping? You'll want a warmer, sturdier pad, like a self-inflating or an insulated option.
Other Things to Consider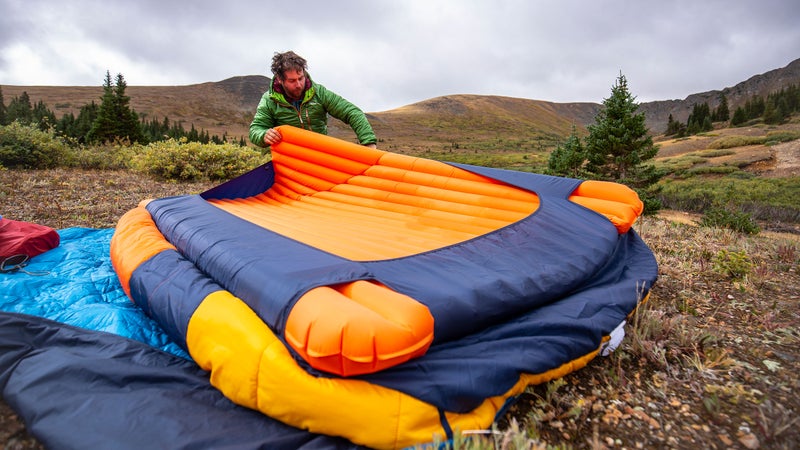 Pad Size
Most pads are around six feet long, so they'll fit the average person just fine. But taller people may want an extralong pad, like Klymit's Inertia XL ($80), which is six and a half feet long. If you're short and/or don't mind having your feet hang off the end, you can save weight with a three-quarter-length pad, like Klymit's Static V Junior ($55), which is just over four feet long.
And there are wide options for folks who like to roll. Exped's MegaMat 10 ($199) is over 30 inches wide, a good ten inches broader than standard mats. Two-person pads, like Big Agnes's SLX Tent Floor Pad ($300), are good for couples or one person who wants even more wiggle room.
R-Value
This denotes how well a sleeping pad (or other kinds of insulation) resists the flow of heat. The higher the number, the better it'll be at keeping you warm. There are pads on the market with R-values around ten, but those are usually overkill. Look for an R-value of around one if you mostly camp in warmer months and locations and around four for colder temperatures.
Sleep Systems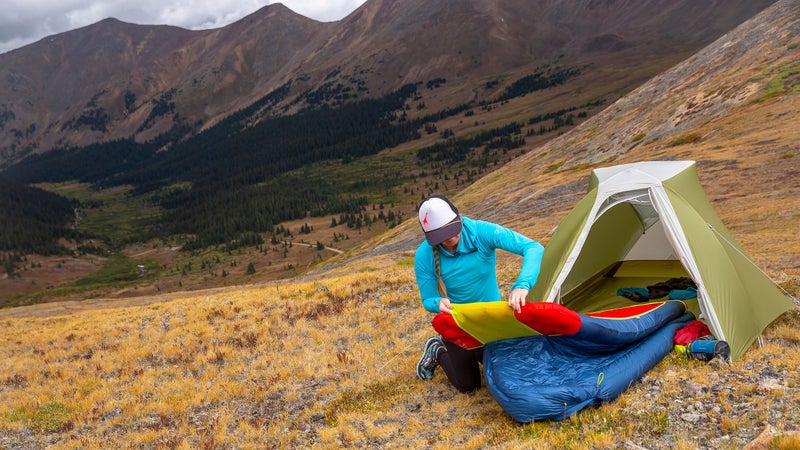 Speaking of rolling, if you do it a lot, you may want to consider a bag-mat combo. Big Agnes's System Bags have built-in sleeves for the pad, so you'll never wake up on the ground again.
Pads Built for Women and Kids
There's very little reason that men or women would need a different sleeping pad, so unisex pads work totally fine for either gender. But women-specific models do exist, like Sea to Summit's Women's Ether Light XT Insulated ($190), which has more insulation than the unisex version and is narrower in the shoulders and wider in the hips to better fit women's bodies.
Camping with kids and trying to save room and weight? Children can use three-quarter-length pads or kid-specific camping pads, like REI Co-op's Kindercamp Sleeping Pad ($50), which is five feet long.
Lead Photo: Courtesy Sea to Summit