How to Pack for a Family Camping Trip
Having fun on an overnight adventure with your kids is all about preparation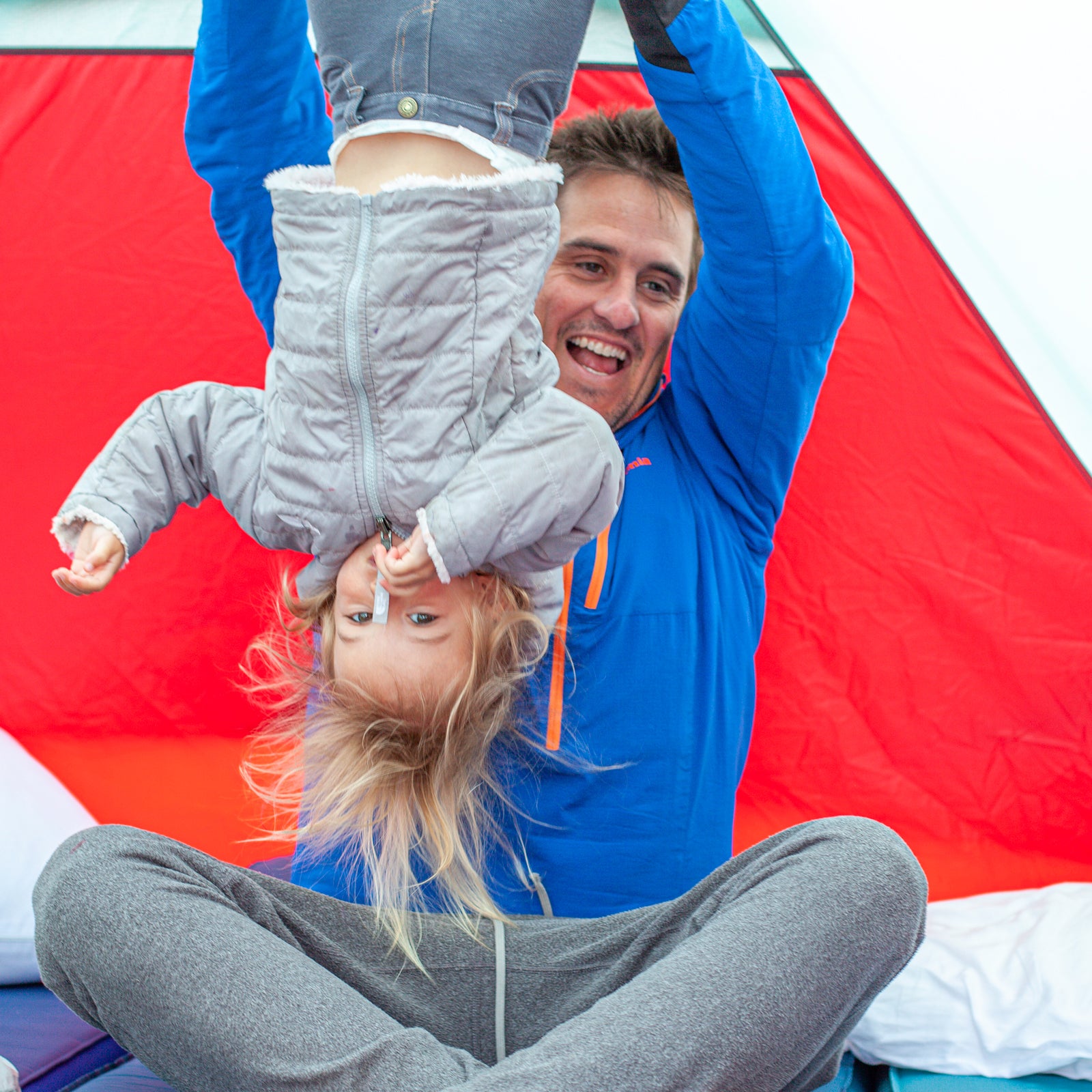 Sarah Jackson(Photo)
Heading out the door? Read this article on the new Outside+ app available now on iOS devices for members! Download the app.
I lived in my truck for years and spent a decade of summers sleeping under the stars as a raft guide. As a result, I was supremely confident in my car-camping skills. I maintained that hubris until October of 2017, when my daughter was born. Since then, I've talked to friends who have kids for dozens of hours about how they pull off overnight family trips. That's in addition to the countless time I've spent personally refining our car-camping process to accommodate the whole gang. Our socially distant campouts this summer have been a success thanks to the following process and gear.
What to Bring
For Shelter
Tent: Protection from the elements is obviously important. If you're purchasing a family car-camping tent, go huge. We use the MSR Habitude 6 ($600), even though it's just me, my wife, and our wee one, Jojo. If they had a Habitude 7 or 8, I would happily use it. I like to keep everything but food, the kitchen, and big toys in the tent. If the weather turns inclement, a tight tent is a claustrophobic nightmare, whereas an oversize one can make an excellent wrestling ring or tea house. We set up the Habitude 6 in the backyard during the early days of Oregon's shutdown and used it daily for months, and my daughter and I never got tired of playing inside.
To Sleep
Play Space: This recommendation is age dependent, but bringing a safe enclosure for our two-and-a-half-year-old to sleep in with her familiar blanket, pillow, and stuffed animals makes it simple to put her down to sleep, even when it's still light out. This gives my wife and me a little time to ourselves before calling it a night. We've brought the Chicco Fast Asleep Go on every camping and road trip we've been on since my daughter was born. It's extremely easy to use and packs down small while still being large enough to accommodate our tall toddler when deployed. That specific model isn't on sale anymore, but Chicco's Playard ($180) is very similar.
Mattress: I've tested quite a few car-camping sleeping pads, and the one that works best for my family is the REI Kingdom ($150). We bring the aforementioned play space for our daughter to snooze in the majority of the night, but we've yet to spend a night camping in which she doesn't end up in bed with us before sunup. This pad has plenty of room for us all, retains 100 percent of its air through the night, and is a cinch to set up with its capable pump.
Books: When we're camping, we make bedtime as similar as possible to our routine at home. My wife and I read three or four books to Jojo before she goes to sleep. We let her pick the books to take on the trip, which plays an important role in the magic of calling it a night in the tent.
Lovies: Our daughter is a big-time snuggler, so bringing along the stuffed animals she sleeps with at home helps her sleep when we are camping.
Pillows: I highly suggest not skimping on pillows when you're car camping. Bring your favorite ones and sleep well. Yes, they are bulky, but you're transporting them with a vehicle. If you're worried about them getting dirty, use old pillowcases or cover them with T-shirts.
For Cooking
Stove: Any two-burner stove can get the job done, but I'm partial to Camp Chef's Everest ($130), because it has an extremely hearty build to withstand bouncing around in the back of the car, an impressively high 20,000 BTU output, and controls that are sensitive enough to really dial in ideal cooking temperatures.
A Sauce Pot and a Frying Pan: I've tested multiple fancy camp cooksets for work, and while they are packable, light, and easy to clean, I've also found them to be superfluous for family car camping. I simply use the same sauce pot and frying pan that I've had for almost 20 years. If I have access to a grill grate, a pot big enough for five or six servings of pasta, and a frying pan that can accommodate two eggs, there isn't much I can't cook.
Kitchen Bin: Having one Rubbermaid bin that houses all of your spices, oils, cooking and eating utensils, and kitchen-cleaning paraphernalia makes packing and unpacking much easier. Taking the time to put together a bin—and keeping it cleaned and restocked—can save hours of running around trying to find the bits and pieces of your mobile kitchen each time you camp.
To Stay Clean
Hand-Washing Station: Good hand hygiene is always important on a camping trip but considerably more important right now with COVID-19. Having your own station to use off the back of your car is a huge step in staying out of public bathrooms or other frequently used spaces. A Reliance Aqua-Tainer ($19), with soap and a little bucket to catch gray water, works great for this. The extra water is nice to have on hand, and the spigot and catch make a great sink. If you don't have space for the Aqua-Tainer, a water bottle like you'd keep on a bike delivers a great wash when squirted on your hands by a partner.
Bleach Spray and Paper Towels: I added Clorox spray to my camp box this summer so I can disinfect and wipe down surfaces others might have used.
To Stay Hydrated
Water Jug: Even before we minimized our use of communal places, like potable water refill areas, due to the pandemic, I found that bringing our own water meant we all drank more because we could keep it in camp. I've been using the Stanley Fast Flow water jug ($50) for two years. It keeps things nice and cool if I throw in a few trays of ice cubes while we pack.
What Not to Bring
Difficult Meals: Now is not the occasion to try and master a classic French cooking technique. Yes, you may have extra time to play in your camp kitchen, but if you fail, the stakes are high.
Gear You Haven't Tried: Figuring out your new camp stove is much easier while tinkering around in your backyard than when your hungry family awaits dinner. User error accounts for the majority of gear failure in the field, so learning how your tent or bedding sets up before you leave home can save you heaps of time and stress when you're depending on it.
Gadgets: One of my mentors taught me that anything can be turned into a game when you're camping. Highlights include: Who can find the roundest stone? What stick looks the most like a letter? Keeping things like phones and iPads charged when camping is a hassle—and can be a bummer to police.
How to Organize
Bin: I suggest putting every piece of gear you possibly can in a bin. Having them prepacked in different gear categories (kitchen, campfire, activities, etc.) makes the act of loading up the car the easiest part of our camping trips.
One Bag per Family Member: For packing purposes, I like to minimize the number of bags we bring on trips, but the convenience of everyone having their own storage space once in camp has outweighed my nitpickiness around an efficient pack job. Also, my daughter loves to pack her own bag (which we double-check).
Unpack with Purpose
Unpacking is arguably as important as packing. Taking the time to do it properly, which means cleaning and storing everything with some semblance of order, is the secret sauce to staying organized in the long run. It's so important that I wrote an entire article about it.
Lead Photo: Sarah Jackson