Indefinitely Wild
How Sex Can Make Backpacking Lighter
Finally, ultralight couple's gear is not just good—it's better than the one-person alternatives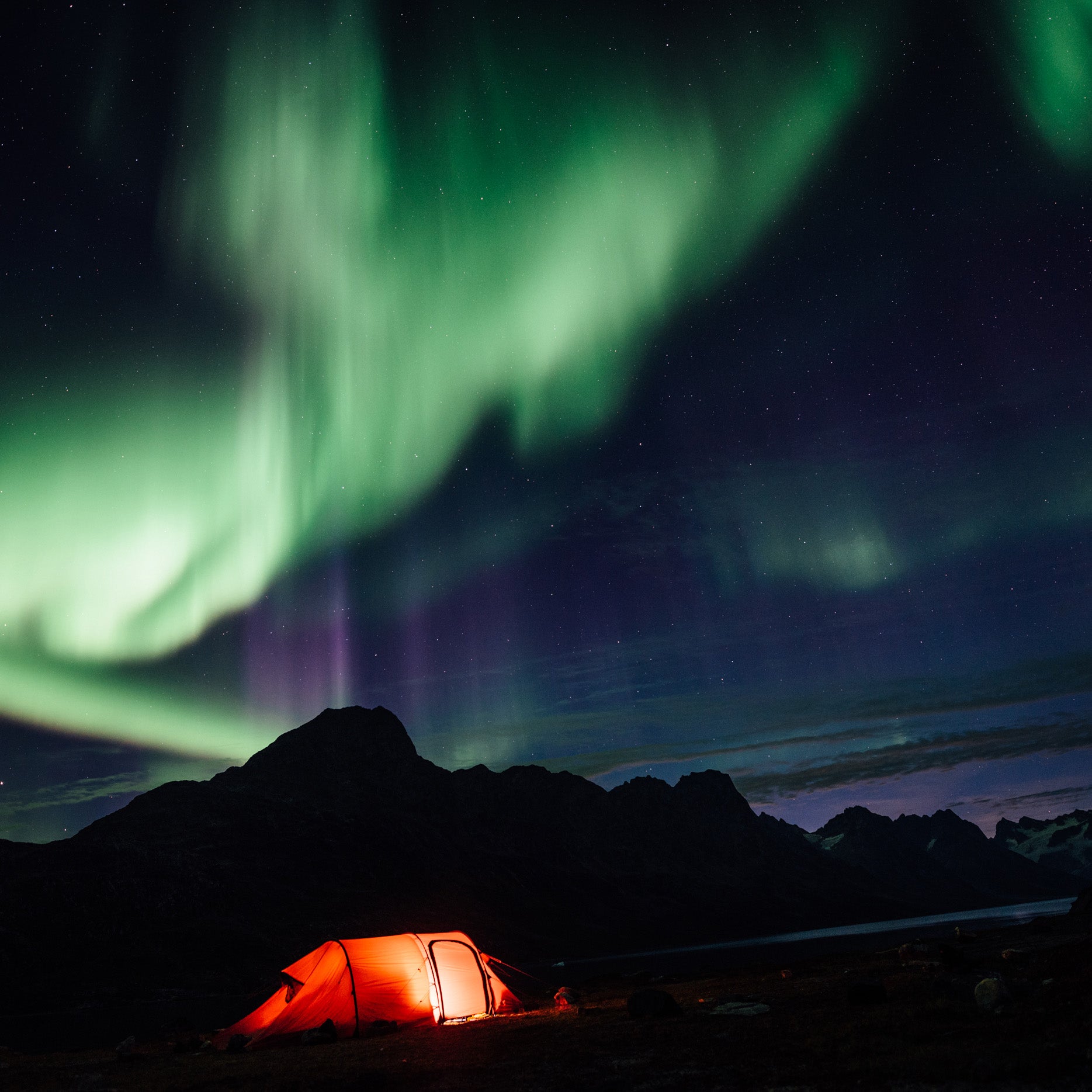 Heading out the door? Read this article on the new Outside+ app available now on iOS devices for members! Download the app.
Want to pare away weight on your next backpacking trip? Thanks to technical innovations in couple's gear, the best way to do that is to take your partner with you. Here's why.
A few years back, I remember reading a story on GearJunkie about two guys doing a ski circumnavigation of Washington's Mt Rainier. To minimize weight and maximize nighttime warmth, they opted to use a single two-person sleeping bag. And that got me thinking: Could a 2P sleep system really be the next step in reducing backpacking base weights?
I really like backpacking. I really like having sex. Pairing the two well requires a lightweight unified sleep system for two (or more!) people. But, until now, there just haven't been any good ones. Slowly though, the various outdoor brands have been making progress.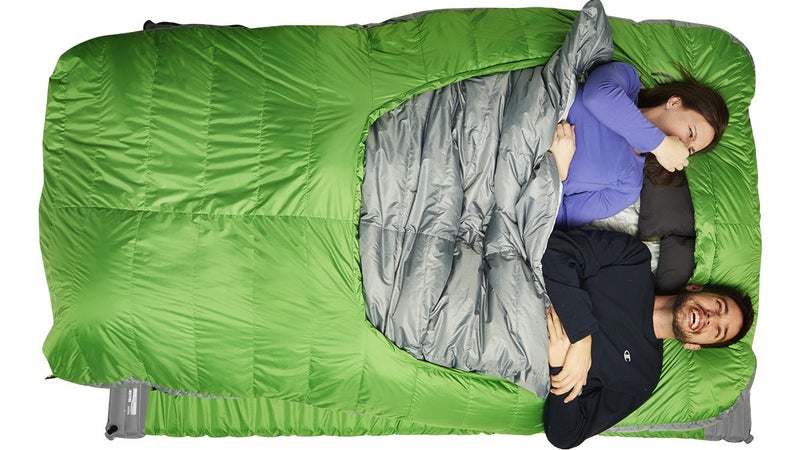 The Sierra Designs Backcountry Bed Duo those guys used on Rainier was a good try. (Two of my best friends even got pregnant in one.) It's basically a double-wide mummy bag. Two people climb inside and stay warm, but unlike previous 2P bags, it's also lightweight and highly compressible. What it gets wrong is that it's designed to work with two standard sleeping pads. Those fit into sleeves, and are pressed tightly together, but you still end up with a crack down the middle. As GearJunkie notes, it's also not as light or as warm as you'd want a true ultralight bag to be.
The Backcountry Bed Duo's biggest problem is that Sierra Designs doesn't make pads, so it's forced to design its bag for the industry standard. New Hampshire's Nemo Equipment does make pads, as well as sleeping bags. Last year, they released a 2P version of their popular Cosmo pad and made a handful of bags to go with it. What it gets wrong is that the integrated foam pump on the Cosmo adds enough weight and bulk that it rules itself out for truly light backpacking. And, because the rest of it is built like a lightweight pad, it's too thin and uncomfortable to make much sense for car camping.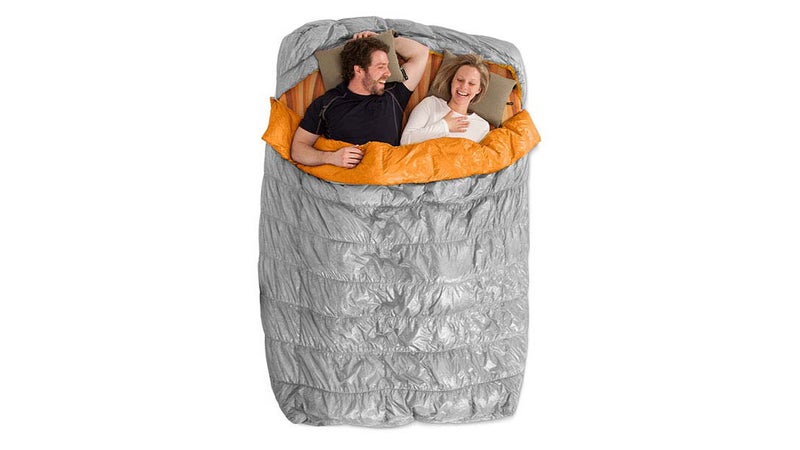 Nemo also makes an excellent ultralight 2P quilt called the Tango Duo Slim. At 2.6 pounds with a 30-degree temperature rating, it's ideal for three-season backpacking. But, without an equivalent pad to pair it with, it's difficult to find the right use for it.
I took the Tango on a trip in the high Sierra a few years back. A backless quilt, it relies on your sleeping pads to provide insulation under your bodies. I used matching Therm-a-Rest Neo Air All Season pads. They're one of the best one-person pads out there, and should have provided ample insulation, but even with the quilt secured to the pads with paracord, they shifted throughout the night, allowing cold air to enter. We slept in our layers and no sex was had as a result.
Therm-A-Rest makes a few types of couplers designed to secure two pads together, avoiding the nighttime shifting. They can also add a little insulation and attach to the brand's quilts, which maximizes the warmth and stability of backless designs, helping to save weight. But, couplers still have two problems: they do nothing about that crack in the middle; and they add more weight.
What was needed to truly realize the potential for ultralight sexytime was a doublewide sleeping pad and a quilt designed to integrate with it. Not bullshit budget gear, but rather high-tech stuff built to stand up to the abuse any good backpacker would put it through.
Finally, someone made just that. Big Agnes just released a 40-inch wide version of its plush-yet-ultralight Q-Core SLX pad, and has a few bag options designed to work with it. The pad fits perfectly into a slot on the bag's bottom and is heavily insulated, which enables Big Agnes to leave insulation out of the bottom of its bags entirely. The sides of the pads are raised a little, to keep you in the center as you sleep, and the bag's insulation extends down the pad's sides, sealing out drafts. Keeping insulation out of the underside of the bag also enables the brand to deliver a very light, compressible bag that's still spacious and comfortable. Pair that pad with a Sentinel 30 2P bag, and you get an exceptionally comfortable, true two-person sleep system that weighs just under six pounds. One of you carries the bag, one of you carries the pad.
Let's run some numbers. A 20-inch wide Q-Core SLX weighs 15 ounces. An equivalent 1P Fish Hawk 30 bag weighs 2.4 pounds. Two of these systems together weigh 6.75 pounds—or nearly a pound more than the 2P version.
Thirteen ounces might not sound like a lot, but if you want to lighten your base, every ounce counts in the sum total. By shaving a little weight off every item you carry, you end up with a light pack. And within that system, 13 ounces is actually a huge number, even spread across two people. Let's take the weight savings camping with a cuddle buddy can deliver a little further. The fanciest ultralight tent on the market right now is the MSR Carbon Reflex. The 1P version is exceptionally light at 1.4 pounds But, the 2P version is 1.8 pounds, or just 14.5 ounces per person. More affordable tents will deliver similar differences.
Putting that together, with this setup my girlfriend and I have a shelter and sleep system that weighs in total 7.8 pounds. Or: 3.8 pounds per-person. Or: less than most cheap 2P tents, on their own.
We're talking about the latest, fanciest backpacking gear here—read: it's expensive. But going 2P is actually cheaper per person, too. The 1P bag/pad/tent system described above adds up to $790. The 2P is $1,120, or $560 per person.
Because our 2P system is so light, we'll be able to hike farther, faster, or, more likely, we'll be able to arrive in the same camp as before feeling fresher. Sex will be comfortable, supported, with plenty of insulation.
It's now not just a luxury to be able to bang in the backcountry: it's the technically superior solution.
Lead Photo: Chris Brinlee Jr