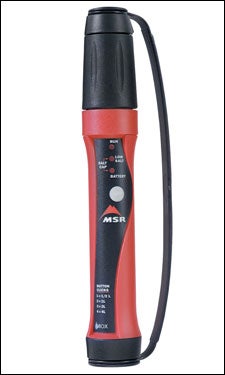 Heading out the door? Read this article on the new Outside+ app available now on iOS devices for members! Download the app.
After years of wrestling with old pump-action water filters, I've come to dread the nightly, arm-rubberizing ritual of filtering water while backpacking. So I decided to dump the pump and explore the less fatiguing world of filterless purifiers. MSR's Miox is about the size and weight of a jumbo permanent marker. You put a few drops of untreated stream water in a reservoir under the cap and … bing! It creates a concentrated disinfectant you pour in your Nalgene bottle. Half an hour later, it's ready to drink. It even kills cryptosporidia (which iodine doesn't) and viruses (which filters can't catch). It's an amazing product—especially for large groups trekking in developing countries and regular backcountry hikers.
MSR Miox purifier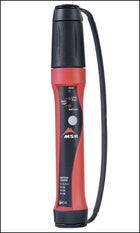 MSR Miox purifier
The magic solution is very similar to chlorine dioxide (a mixed oxidant solution that leaves water with a slight odor and taste of chlorine). When you put your untreated water in the reservoir and close it, the water mixes with salt in the cap. The salt water is then zapped with a few volts when you press a button on the Miox's shaft, and a chemical reaction occurs, creating a few drops of concentrated chlorine and hypochlorous acid. After 30 minutes in your Nalgene, that juice kills everything except cryptosporidia, which takes four hours to wipe out.
The Miox can treat four liters of water at a time. That's its real advantage: You can treat 20 gallons of water in about five minutes (plus the time to let the solution cook out the nasties). Which makes it best for Scout troops, rafting expeditions, disinfecting buckets of cistern water, etc. It won't get the dirt, oil, pesticides, or feces out of the water, but at least you won't come home with any parasites.
It can also work for backpackers and campers—one liter at a time. But there are faster, easier methods on the market for small amounts of water (like small UV lights that zap the bugs in about two minutes flat.) And if you are not going to spend a ton of time in the backcountry, you can buy chlorine dioxide tablets for about 50 cents each—much cheaper than buying a Miox.
For all its technological wizardry, I found the Miox a little clumsy to use. The reservoir is small and easy to spill (a problem, since the fluid it makes is an eye and skin irritant). Once you treat your water, you have to fumble with little strips of litmus paper to test your water—not once but twice—and make sure you put enough solution in it. More often then not, I didn't put enough in and had to run the process again. The caps (connected by a plastic handle) get dirt under them and become difficult to twist. And there's often a few dry runs before the water has mixed with the salt enough to make the electrical magic happen.
One thing you can count on, the Miox won't break. It's a sturdy design. I slammed it on the bathroom floor a few times at Outside, not to mention banging it around for several backpacking trips, and it still works fine. They say it's shock proof and freeze proof—and I believe it. This is an advantage over UV type lights that can easily break if dropped on a rock. Another smart feature is the battery warning light, which lets you know long before you are left high and dry with a dead Miox. (The batteries will last through about 200 liters).
In spite of the ways the Miox could be better, I still plan to take it on future backpacking trips. Even five minutes of fumbling with caps and salt and pH strips and four hours of disinfecting time is better, by far, than breaking my back pumping water from a stream in a rainstorm or a cloud of mosquitoes. $130; www.msrcorp.com