The Only Umbrella You'll Ever Need
The ShedRain WindJammer is the best umbrella for your money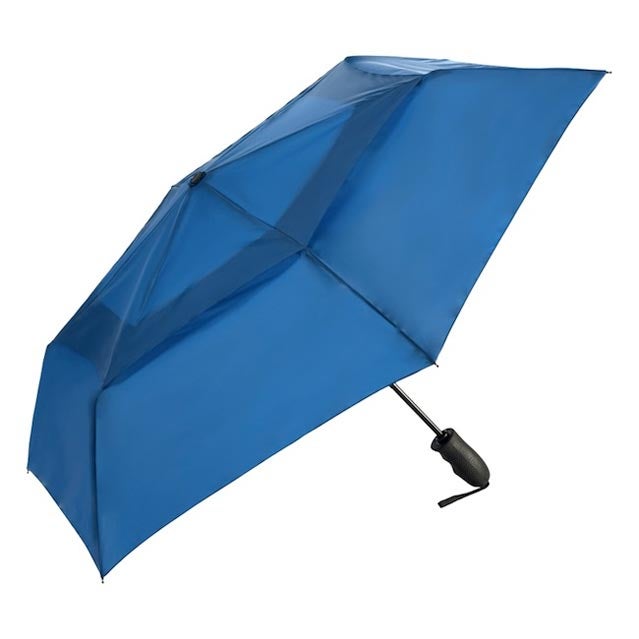 Heading out the door? Read this article on the new Outside+ app available now on iOS devices for members! Download the app.
Instead of buying dozens of the cheapo $4 umbrella from street vendors, I'm buying the ShedRain WindJammer Auto Open and Close Compact for $35.
Key Specs
Arc Size of Canopy: 43″
Closed Length: 12.5″
Build Materials:
Electrostatic steel shaft and ribs
Warranty: Full lifetime warranty against defects with repair and replacement guarantee

Think about what makes the piece-of-crap one-time-use umbrellas so useless and you'll understand what to expect by spending the extra money on something much better. For me, my umbrella needs to be compact enough to make carrying it (and not losing it) realistic. It needs an adequately sized canopy to cover my six-foot frame. It needs to be made of materials that will last through repeated use. And it must have a warranty or replacement policy that makes the premium price worth it. With those criteria and several hours of comparing specs (there are few comparisons or reviews out there) and talking to experts, I concluded that the ShedRain best meets those requirements while staying within a reasonable price range.

What makes the WindJammer Auto Open and Close Compact exceptional is that it opens from a small 12-inch unit to provide huge canopy coverage. The ShedRain will give you 43 inches of water-shedding fabric, then close down to a 12.5-inch cylinder. That's small enough to stuff into a jacket pocket or purse, which means you'll actually take it with you and not leave it in the umbrella bucket at the restaurant's foyer. The included cover keeps it from soaking your other pocket contents.

Of course, being compact isn't enough—I need am umbrella that works and this one does.

As the Wall Street Journal explains, if you've seen an umbrella from Gap or Kate Spade, it's likely a ShedRain, and for good reason. It has the popular dual-canopy design that keeps wind from inverting the fabric, but it'll flex open before pulling you Mary Poppins-style. Other manufacturers brag about how resistant their umbrellas are to gale-force winds, but you want it to eventually flex to avoid a parachute effect.

Most compact umbrellas that, like the ShedRain, open and close with one button are prone to breaking because there are so many moving parts, many more than a "stick" umbrella with a shaft that stays at its full inconvenient length. The ShedRain has a shaft and ribs (yes, the actual names for those parts) made of electrostatic steel, which keep them working through repeated use—Good Housekeeping opened and closed it 150 times without incident, extraordinary for a compact with so much automation. The bonus to this feature: no pinched fingers.

Mike Stachura, Golf Digest's product swami, told me that GustBuster's umbrellas always get a lot of hype. It's the official umbrella brand of the PGA Tour, and their hardware goes into most golf brands' umbrellas. As the New York Times said, even Arnold Palmer was "on the GustBuster bandwagon." Looking at the product stats and reviews, they seem solid but we're not convinced of the brand's self-assigned superlatives. I would say its Metro model isn't worth the $5 to $10 premium over the $32 ShedRain. It collapses down to a long 14 inches (16 inches on the automatic open-and-close model), and its plastic handle gets slippery in rain while the ShedRain's rubberized grip won't get slick. You also don't get a case, so you'll likely leave it outside your pockets or purse and up the chances of losing it.

If, unlike me, you're comfortable spending close to $100 on an umbrella, buy a Davek Traveler. This model, like all Daveks, has a solid steel shaft, 190-thread-count cover (the most taught possible), a lifetime guarantee, and half off a new purchase if you lose your umbrella. The Traveler gives 40 inches of coverage, and weighs less than a pound when folded up. The package adds up to the most structurally sound umbrella out there, but it'll cost you $80. Note that Davek also makes a $50 Mini model, but because its tiny size means so many moving parts, the Davek warranty does not apply. Not confidence inspiring and not worth $50.

In that same price range, the Blunt Umbrella, which Wired gave an eight out of 10 and included in their 2011 Wish List, is also a solid choice. The Wall Street Journal likes it, and so does Gizmodo. The Blunt looks streamlined and sophisticated next to other double-canopy models, and its rounded corners at the end of the canopy spines means the fabric won't rupture and you won't inadvertently poke any pedestrian's eye.

Knowing myself and most umbrella owners, though, because the Blunt models don't collapse, being stuck with a 2.5-foot stick means awkwardly stashing it in an umbrella bucket by the door, or slinging it over your shoulder like a musket. The $65 and up pricing hurts, too. I'm told they're releasing a new collapsible model (see below) that sounds like it could convince me to spend $60 on an umbrella, especially since it comes with a lifetime warranty.

The ShedRain Windjammer Auto Open and Close Compact, though not as fancy or as military-tough as the Davek, will be on-hand to keep you dry through many uses for less than half the price.

WHAT TO LOOK FORWARD TO
This fall, Blunt is releasing a collapsible umbrella that'll cost between $50 and $60. As the owner of a great soft shell which will last me through the San Francisco summer gloom, I'm planning to wait for this model. Sixty dollars for a meticulously engineered umbrella that's small enough to hold on to seems absolutely fair to me. But if you need to outfit yourself now, grab a ShedRain.

This review originally appeared on The Wirecutter.
Lead Photo: Courtesy of ShedRain