The Gear We've Tested for Half a Decade
Love affairs that span years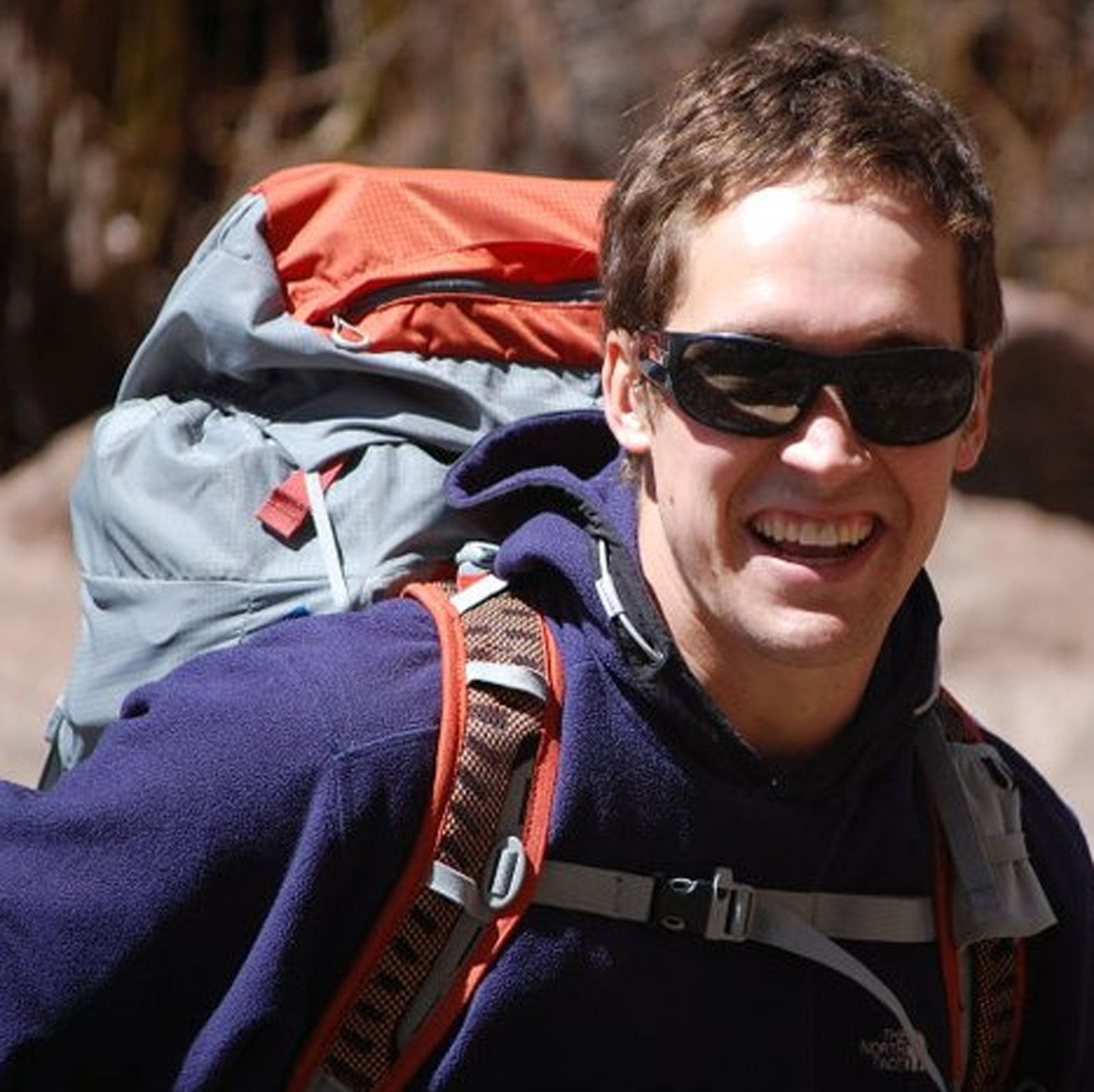 Heading out the door? Read this article on the new Outside+ app available now on iOS devices for members! Download the app.
As gear editors, our job is to test products that are brand-spanking new and then tell you what we think about them. We do this with the full gamut of outdoor equipment—from Hoka's newest running shoes to the latest advancements in ski bindings. Sometimes, though, our go-to gear isn't the newest or flashiest. We go for the items that work the best and have gotten scraped up and spilled on after being used time and again. In short: our most-trusted gear looks like it's seen some shit. Our emotional connection to these things isn't so much about the price tag or technical specs, but the fact that it's held up over the years and accompanied us on many adventures. We asked six editors what gear they've been testing for half a decade or more, and why they aren't looking to upgrade anytime soon.
Osprey Exos 58 Pack ($220)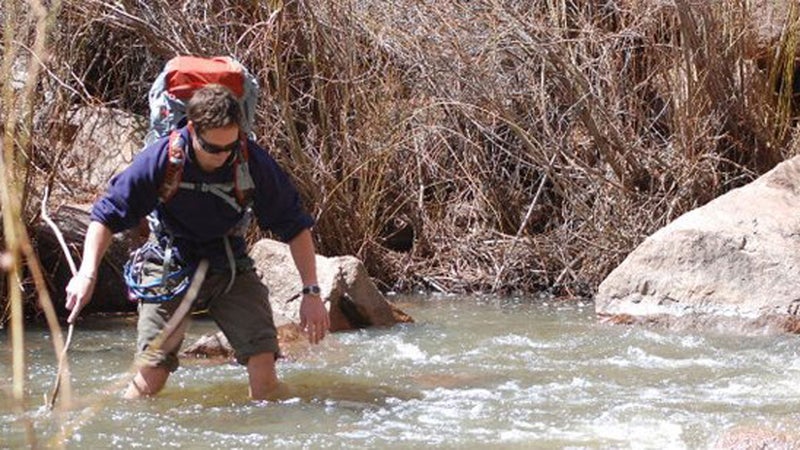 Ten years ago, I was an intern at Outside with virtually zero money in my bank account but the desire to be outdoors as much as possible. I'd just gotten into climbing and was looking for a crag pack when I came across the Exos 58 at an REI used gear sale. It was in like-new condition and cost a very steep (to me) $74. Gear lust being what it is, I bought it, figuring I could use it for climbing adventures as well as backpacking trips. And that's just what happened. This pack, which was made for ultralight backpacking, took countless trips to Joshua Tree and Idyllwild to help me scale rocks. It accompanied me and my wife on our honeymoon backpacking in Yosemite. Squirrels gnawed on it in the Pacific Northwest, tape gloves gunked it up in Indian Creek, and sunscreen, bug spray, and garbage have stained it on occasions too numerous to count. There aren't a lot of frills: it's a simple top-loader with a brain compartment and hipbelt pockets, but the suspension system is highly adjustable and always feels great on my back, even though there's minimal padding. And despite being made of mesh and relatively thin fabric, it's held up to ten years of rock abrasion, hard drops after long hikes, and branch stabbings. I have better packs in my closet now, but this one is still in rotation for weekend adventures, even though the zippers are crusty and there are plenty of tears in the mesh. There's just too much nostalgia here. —Will Taylor, gear director
---
Camp Chef Everest Stove ($148)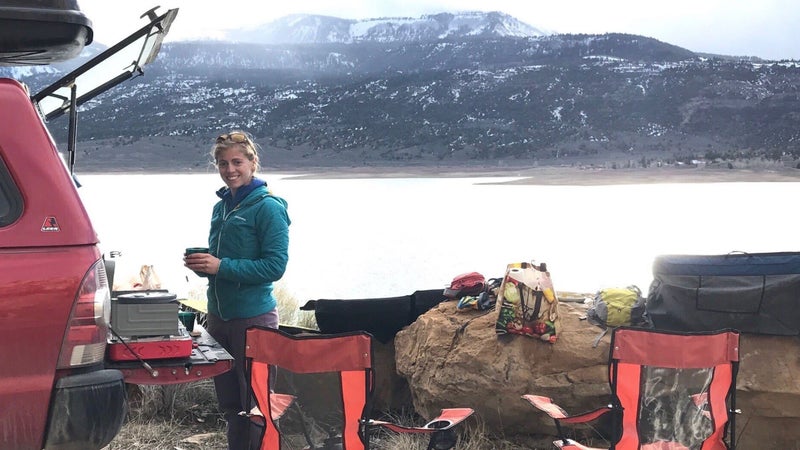 Until I went away to college, the only camping stove I'd used was my parents' MSR WhisperLite from the 1980s. Even if we were just car camping, we cooked all our meals on that single burner. So, when I bought my boyfriend the double-burner Everest for Christmas five years ago, I felt like I was investing in the outdoor equivalent of a luxury stainless-steel kitchen oven. Now I can't imagine how we ever lived without it. Having two places to cook is a complete game changer when it comes to easy, efficient meal prep. The Everest in particular puts out an impressive 20,000 BTUs, which is enough to boil water in minutes and make light work of whipping up breakfast burritos for a crowd. It has endured years of desert windstorms and bacon grease and looks none the worse for the wear. —Ariella Gintzler, associate editor
This item is currently out of stock.
---
Arc'teryx Atom LT Hoodie Jacket ($60)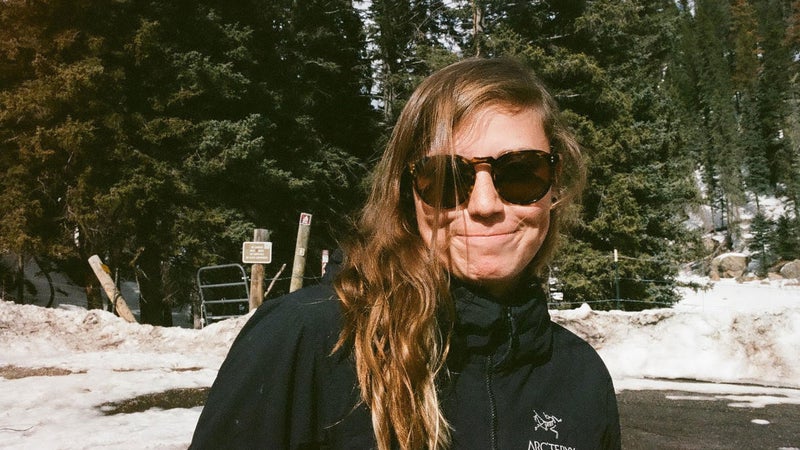 Six years ago, I spotted a glistening Atom jacket on the used gear rack at the famed Moab Gear Trader store—and it was only $60. Sure, it was a size too big, in a boring black color, and fit me like a loose old sock, but the jacket provides me with versatile warmth to this day. It's been all over the world with me and remains my go-to midlayer when I'm unsure about the forecast. It packs easily and provides ample room for layering underneath, and the zippers glide as smoothly as the day I brought it home. I'll be riding this horse until the day the zippers fall off. And then I'll gladly pay Arc'teryx to fix it. —Emily Reed, video producer
---
Herschel Supply Pop Quiz 22L Backpack ($60)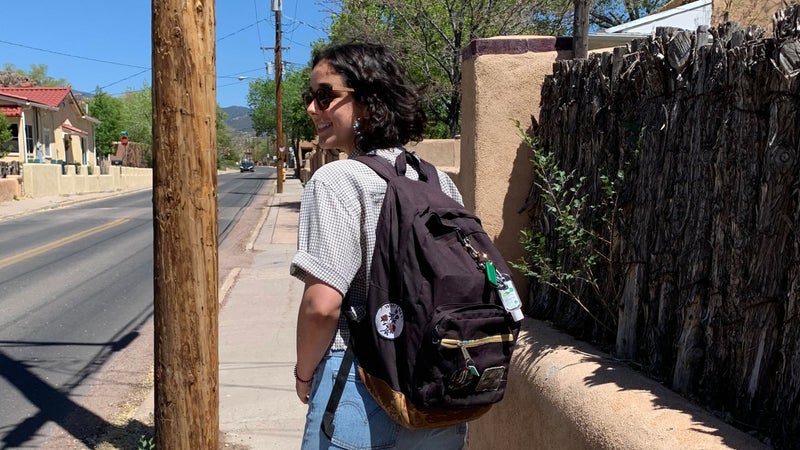 The Pop Quiz has been my everyday hauler for nearly seven years. It carried my essentials on flights to four continents, lugged my textbooks through high school and college, and accompanied me on car-camping trips. This backpack's simple design is one of the reasons I have no intention of upgrading. Besides a padded laptop sleeve, there aren't any spots in the main compartment for things to get lost in. The front pocket is easy to access and has pouches for organizing essentials. The other reason I'm loyal to this pack is its durability. The zippers have never gotten stuck or come off the tracks. And though the fabric has become more supple over the years, it hasn't ripped once. The leather bottom doesn't look as new as it did in 2014, but I prefer to think of the wear as a patina that gives the backpack character. —Claire Hyman, editorial assistant
---
Nike Dri Fit Tennis Cap ($125)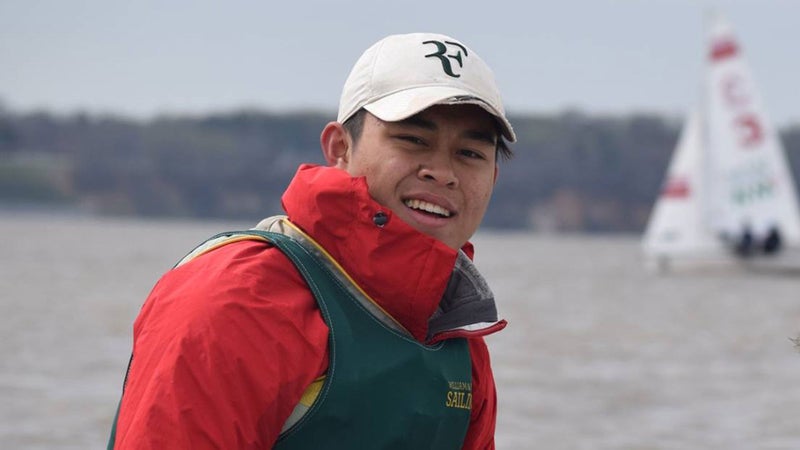 In 2011, I took a trip with my family to Switzerland—the home country of my favorite tennis player, Roger Federer. As a high schooler obsessed with the sport, this trip felt very much like a mecca. I bought this hat as a tribute to Federer at a sports store in Geneva and wore it as a lucky charm for every match I played thereafter. I continued to wear it years later in college, but it became my go-to cap for the years I was on a sailing team at William & Mary in Virginia. If we were practicing, it was on my head. I capsized for the first time in it, too. But its supposed luck proved true: I got my first bullet (first place in a regatta) while sporting it. You can tell it's been dunked in the James River dozens of times by its yellowish tint (it used to be white) and its subtle funk. It's lasted so long because of its cotton-polyester blend that dries quickly, and because of the sturdy Velcro strap that's kept it on my dome in the middle of surprise squalls. Now I wear it whenever Federer is playing in a contentious quarterfinal or when I'm in a situation that calls for an extra bit of luck. —Jeremy Rellosa, reviews editor
---
Mysterious Patagonia Capilene Quarter-Zip Long-Sleeve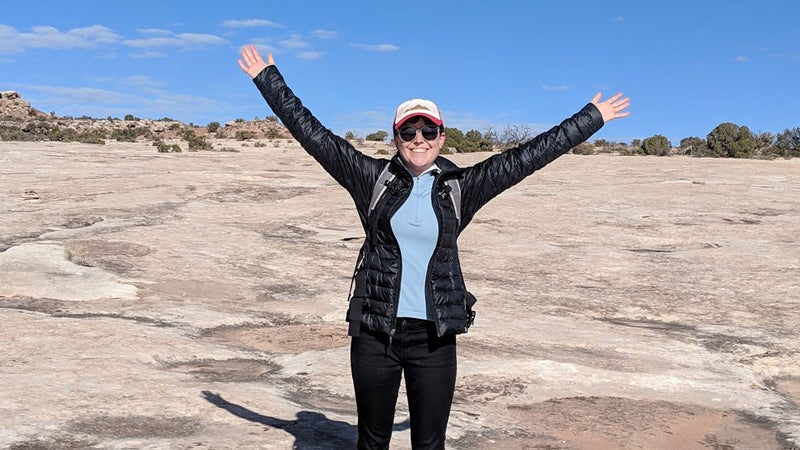 Sometime around 2009, my dad gave me this Patagonia zip-up. The tag is so bleached from washing that it can only be identified as an early iteration of Patagonia's Capilene line. This shirt entered my life before I had braces or knew how to drive. It has outlasted every romantic relationship and questionable haircut. Over the years, it's been my backcountry security blanket—the perfect weight to throw on as a midlayer when the air gets chilly, but thin enough to wear as a base layer. I've lent it to—and subsequently wrestled it back from—many underdressed friends. Despite more than a decade of heavy use, it's in good enough shape to wear to the bar after a hike or ski run—it looks nearly new aside from one quarter-inch hole near the hem. The telltale baby blue of this layer can be spotted in most photos of my happiest memories over the past 11 years—learning to backcountry ski, camping and backpacking with friends and family, and climbing in epic places. When I'm ready for my next adventure, it'll be the first thing on my packing list. —Maren Larsen, assistant editor