How the Water Filter Became an Affordable, Ultralight Backcountry Tool
We've come a long way from the chlorine troughs of yesteryear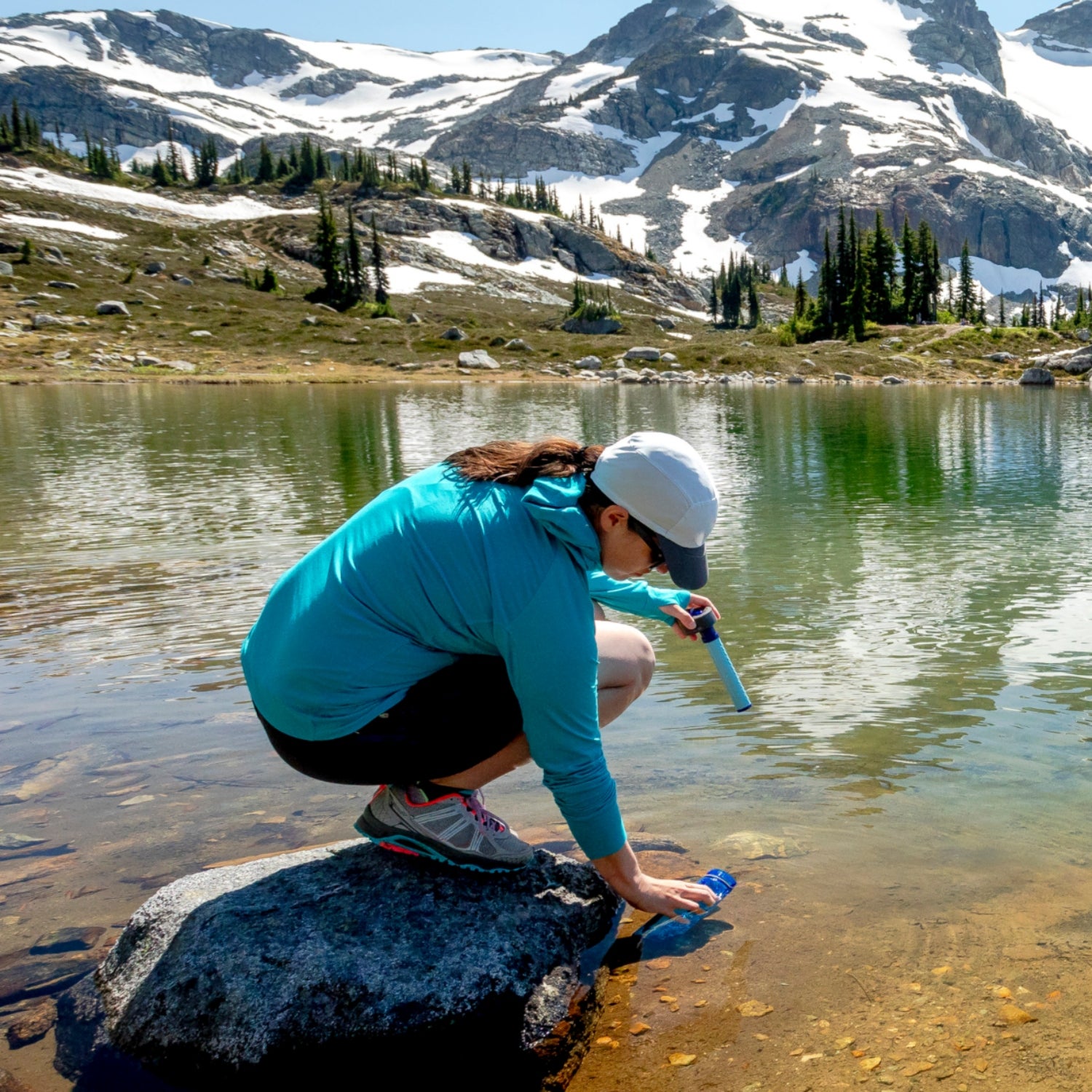 Heading out the door? Read this article on the new Outside+ app available now on iOS devices for members! Download the app.
Backpackers and hikers tend to take water filtration for granted: for $18, you can buy a straw-style filter that weighs less than two ounces, is small enough to stick in your pocket, and will provide safe drinking water from any stream, lake, or questionable puddle in the country.
It's nothing short of a miracle, however, considering what the average hiker is up against: organic and inorganic pollutants, chemicals, minerals, metals, and pathogenic organisms from the water and soil (or human waste). The most effective filters are capable of nanofiltration, protecting humans from viruses using pores as small as .001 micrometers.
We set out to discover the history of portable water filters, combing through academic literature, online forums, and archived magazines and interviewing representatives from the biggest manufacturers. Our findings? Although portable water filters were invented more than 90 years ago, they weren't widely used until the 1970s. And while technologies have advanced in the 50 years since, some of the oldest designs are still in use today.
Water filter tech took many years to advance to the point of being feasible for backcountry camping. Portability, of course, is relative. An early "portable" water purification device, the Lyster bag, was used in the early 1900s by the U.S. military and involved suspending 36 gallons of chlorinated water from a tripod. Early 20th-century documents from the U.S. Department of War make reference to portable water filtration with these parameters: "Because of both size and weight, a filter not over four feet high and about 18 inches in diameter is the largest that is practicable." Not exactly ultralight equipment.
The technological leap to portability in a backpack didn't happen until the 1920s. When it did, it came in the form of a pump-style Maglite-sized silver and ceramic device from Katadyn, believed by many to be the first true backcountry water filter. According to Katadyn, the Pocket Filter was developed in 1929 by Swiss professor and brand founder Georg Alexander Krause. "For us at Katadyn, that was really the innovation that launched us along the way," says John Wright, vice president of sales for Katadyn North America and Katadyn Desalination. The Katadyn Pocket is still for sale nearly 100 years later and continues to use a ceramic filter.
Still, portable water filters weren't widely used until the 1970s, when outbreaks of giardia forced recreationalists to reconsider the safety of untreated water. By 1979, the nasty intestinal parasite was beginning to gain attention as a public health concern, and a review published in the American Journal of Public Health documented 23 waterborne outbreaks in the United States from 1972 through 1977.
Henry Romer, a longtime member of the Olympia, Washington, branch of the Seattle Mountaineers, recalls drinking straight from mountain streams with a Sierra cup. "In the old days, nobody worried about filtering water," he says. "You didn't purify water, and nothing happened." A 1982 article in the New York Times similarly notes the careless abandon with which adventurers could drink wilderness water in the days of yore, before discussing various methods of protecting against giardia—notably Calco Ltd.'s Pocket Purifier.
The Calco Pocket Purifier (no relation to Katadyn's pump-style Pocket Filter) may have been the earliest straw filter sold to the public. An advertisement for it appeared in a March 1982 issue of Backpacker magazine with the claim of "instantly safe drinking water." It disappeared from the market in the late 1980s following a patent infringement lawsuit.
By that point, the portable water filter market exploded. Dozens of brands—many of which are now extinct, like Timberline, which sold the Eagle filter—vied for backpackers' attention and money. Among those new, competing brands was MSR, which entered the market in 1991 with its classic WaterWorks Total Filtration System. Some of the most enduringly popular water filters were invented during this decade, like the Hiker and Hiker Pro (invented by Pur, acquired by Katadyn) and the Guardian (invented by SweetWater, acquired by MSR).
By the mid-1990s, new materials had made their way into filters, including ceramic with a carbon core (MSR MiniWorks), glass fiber strands with a ceramic core (Pur Hiker), and glass fiber matrix with a carbon layer (SweetWater Guardian). Military funding played a role in the development of at least a few products. Kevin Weitz, testing manager for the MSR Water Lab, notes that MSR's hollow-fiber technology was produced through a relationship with the U.S. military. In the 2000s, pump-style filters saw competition from new designs, like the Platypus GravityWorks filter and the Katadyn Base Camp gravity filters. 
In 2005, history repeated itself: LifeStraw debuted its namesake product, repopularizing straw filters for the first time since the early 1980s. And while we wait for the next superfast, über-compact, hyperefficient water filter tech to be developed, you can rest assured that your trusty pump or straw design has been around the block at least a few times. 
Lead Photo: Ben Girardi/Cavan