Princeton Tec Eos headlamp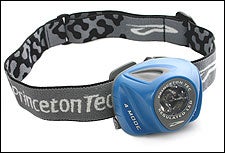 Heading out the door? Read this article on the new Outside+ app available now on iOS devices for members! Download the app.
Staring directly into the Princeton Tec Eos headlamp at its brightest level—creatively dubbed High Output Mode—is much akin to staring straight into the sun through a high powered telescope. The bright blast of light is followed by vision marred with lingering black spots, a quick reminder that the headlamp can be used both to illuminate and blind. But when used properly, illuminate it does. On high, the torch easily lights up street signs a city block away, and it shouldn't have any problems spotting tree-crawling possum from 100 feet. Except if, like me, you live in New Mexico, where there are no possum. But regardless of the Land of Enchantment's pathetic, tree-dwelling marsupial population, the beam is so powerful I felt like I was walking around with a miniature police spotlight strapped to my head, sans coppers.
Princeton Tec Eos headlamp

Princeton Tec Eos headlamp
The mid-level beam, summoned with just the push of a button, is better suited for campsite activities that don't call for light requirements reminiscent of a polar summer: Making fires, cooking, and setting bear-hangs should be cake under the milder lumens output. And Low Output Mode casts a perfect glow for reading in the tent before slumber—while your tentmate dreams of possum.
But Princeton Tec doesn't just stop with these three light settings; the Eos offers a fourth—what I call Dance Club Output Mode. This rapidly flashing light told motorists to watch out, so I didn't have to as I biked home one night, and if the range of the High Output Mode is any indication, this mode shouldn't have any problems hailing passenger planes cruising over at 30,000 feet, if you happen to be stuck on a desert island—well, maybe not. I really can't think of a better headlamp to be stuck on a desert island with. Not only does the Eos's robust construction indicate it probably could survive a catastrophic event (or at least a good pounding—this headlamp ain't petite); its waterproof in up to a meter of water. While my sink isn't three feet deep, this badass beam cut through the H2O like a hammerhead through a chum slick. And while a congressional proposal to extend daylight saving by two months will cut down on energy costs and give us more time to kayak after work, there is, at least, one downside: Longer days mean less time to use the Eos headlamp. $39; www.princetontec.com
Trending on Outside Online