These Gear Hacks Got Me Through a 30,000-Mile Road Trip
You don't have to spend a lot to improve your vehicle setup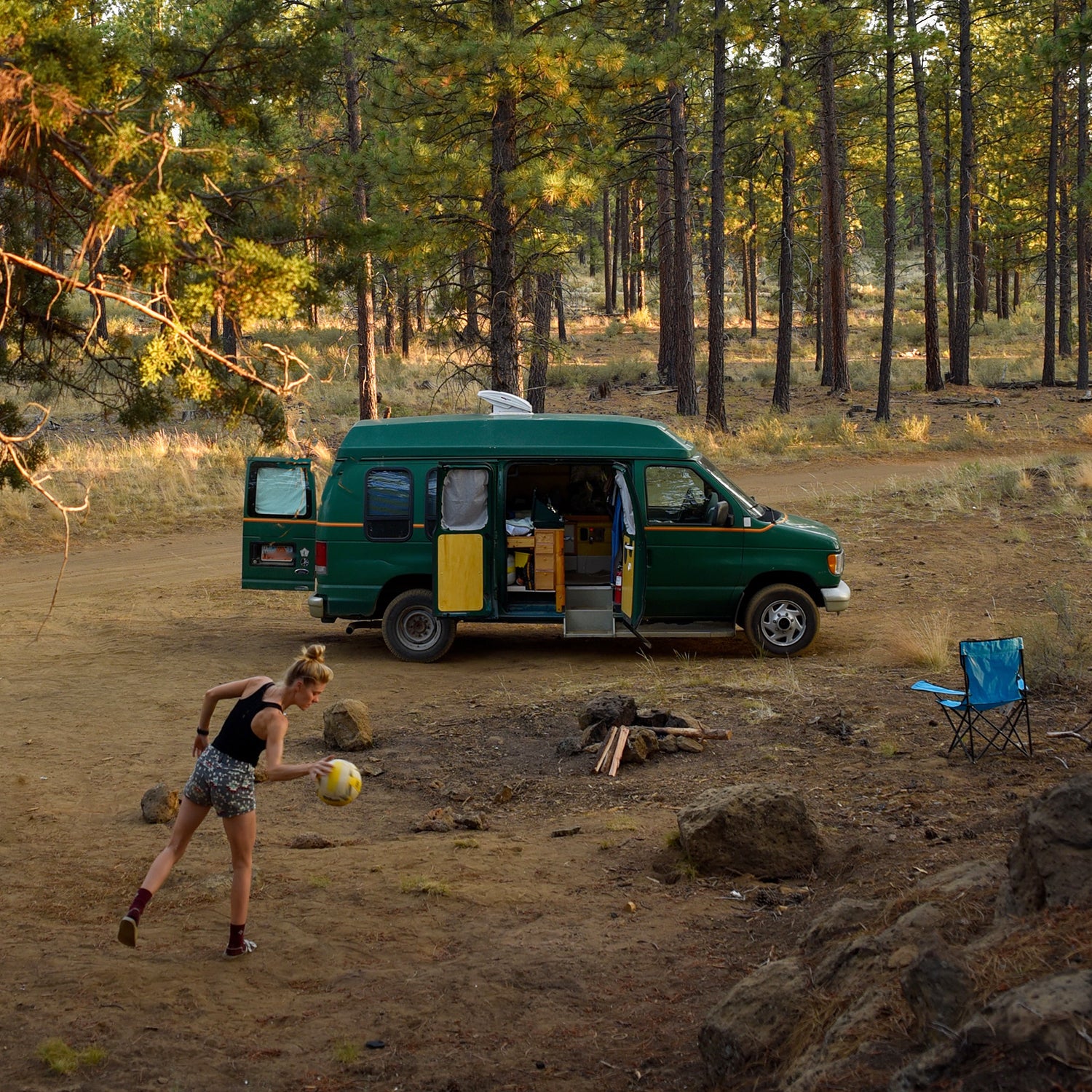 Hilary Bird/Unsplash
Heading out the door? Read this article on the new Outside+ app available now on iOS devices for members! Download the app.
If you're trying to live in your vehicle or head out for a weeks-long road trip, you've probably heard of popular hacks to make life easier: cheap gym memberships, baby wipes, quaint campsite string lights.
After five months in my truck during a cross-country road trip, I can confirm that those are all wonderful ways to make yourself more comfortable. But over the course of those 30,000-plus miles, I was constantly experimenting with my setup, tweaking and perfecting it. The smallest changes often made the biggest difference. 
Self-Adhesive Velcro Strips
Velcro is not just for kid's sneakers anymore. It's an incredible tool for keeping the things you need most in the exact same place every day. I used these self-adhesive strips to keep my sunscreen and bug spray stuck at the edge of my tailgate, within arm's reach for any hike or bike ride. I never had to dig for them, and the Velcro was strong enough for even the roughest roads.
Bungee Cords
Bungee cords are versatile, strong, and easy to use—an unbeatable combo in the cramped quarters of a vehicle. I brought a box of various lengths. They were essential for strapping down my clothing and food bins inside my truck so they didn't move. When my bike rack broke, I was able to use a few bungee cords to keep my ride tucked away inside my truck. If I knew I was going over rough road, I'd even throw one over my bed setup so my mattress, sheets, and pillow didn't spill onto the floor. 
Selfie Setup
Just because you're driving alone doesn't mean you don't want photos of yourself. I got really good at using the phone's self-timer, but leaning my phone against rocks has its limits. This mount has bendable legs that make the phone sit flat on uneven surfaces and even grip onto ledges and pipes. Once I upgraded, the quality of my photos vastly improved. 
Orca Cooler
Too often, people on road trips buy too much cooler. A massive ice chest takes up a lot of room whether it's full or not, and if you are living out of your car, space comes at a premium. I went for this modest 20-quart model from Orca. It had room for breakfast, lunch, and a few beers and only needed a little bit of ice to stay cool. Rather than buying five-pound bags of ice, I always asked for a cup of ice at whatever coffee shop I stopped at for Wi-Fi. Since my cooler was small, just this modest amount of ice was enough to keep everything cool. If you need something bigger, still try to keep it as compact and full as possible to maximize space and cold retention.
Bike Rack and Bicycle
When you live out of your vehicle, you don't want to move it after finding a good camping spot. That's why I loved having a bike with me. I wanted a versatile gravel rig that was equally apt on potholed city streets and forest service roads, and the Diamondback Haanjo 6c Carbon worked perfectly. I could park, set up my campsite, and then pedal into town for groceries without bringing my entire home with me. When I drove through cities, I could park my truck in cheap lots at the outskirts of town and bike in for baseball games and museums. This rack from Yakima withstood the roughest roads and made it easy to quickly and securely pack up my bike without having to take off the wheels.
Discrete Dopp Kit
If you're too embarrassed to bring your face wash, toothbrush, and washcloth into a grocery store bathroom, you may find yourself skimping on personal hygiene. I often spent my mornings using Walmart or grocery store bathrooms to brush my teeth. Since I didn't want people to think I was, well, heading in there to brush my teeth after sleeping in my truck, I made sure I used a discrete dopp kit rather than a toothpaste-stained plastic baggie. It helped me feel more confident walking into a store like it's the bathroom I shared with my siblings at home—and confidence is comfort. 
Audio Recorder
Everyone wants to keep a travel journal, but hardly anyone ever does. Rather than cursing myself for not sitting down and writing for an hour after a 12-mile hike, I got an audio recorder and recorded voice notes all day long. You can even turn it on, stick it in your cupholder, and talk to it as you drive. At the end of a trip, sit down and transcribe it into a journal, or just leave it as audio notes. 
Plastic Tubs
Keeping your gear dry is crucial when you're on the road. Wet boots and tents stink up a small living space very quickly, and there is no way to tell when you'll find a laundromat or a sunny day to air things out. That doesn't mean you need to buy expensive drybags. Cheap plastic storage bins are your best friend. They are easy to stack, and they nest together when they're empty. The clear ones also make it easy to see what's inside. Very important: they also keep mice out. 
Bear Spray
In many places, bear spray is an essential safety tool for hiking. But I found that I loved having it on me even when bears were nowhere to be found. When I went to sleep, I always felt more secure knowing I had strong pepper spray within reach should anyone be too curious about who or what was in the back of my truck. 
Black Felt and White Linen
Waking up to the sunrise in the forest is one of the best parts about living out of your truck. Waking up in a Walmart parking lot is not. I cut two sets of Velcro curtains for all my windows: one set made from thin white linen, and the other from heavy black felt. Both fabrics were exceptionally cheap. I put up the white curtains in crowded campgrounds to let in light while saving my privacy. In more public places, the black felt curtains kept anyone from knowing I was even in my truck at all. 
USB-Powered Fan
Sleeping in your car can get hot. Rather than getting some fancy rechargeable fan or cooling system, I bought a tiny USB-powered fan that could plug into the same battery bank I used to charge my phone. I never had to take the fan out of my truck. Instead, I just brought a charged battery bank to sleep with me to keep the air moving inside an otherwise stuffy flatbed.
Lead Photo: Hilary Bird/Unsplash