Save $20K! Rent a Rugged Teardrop Trailer.
Backcountry luxury without the sticker shock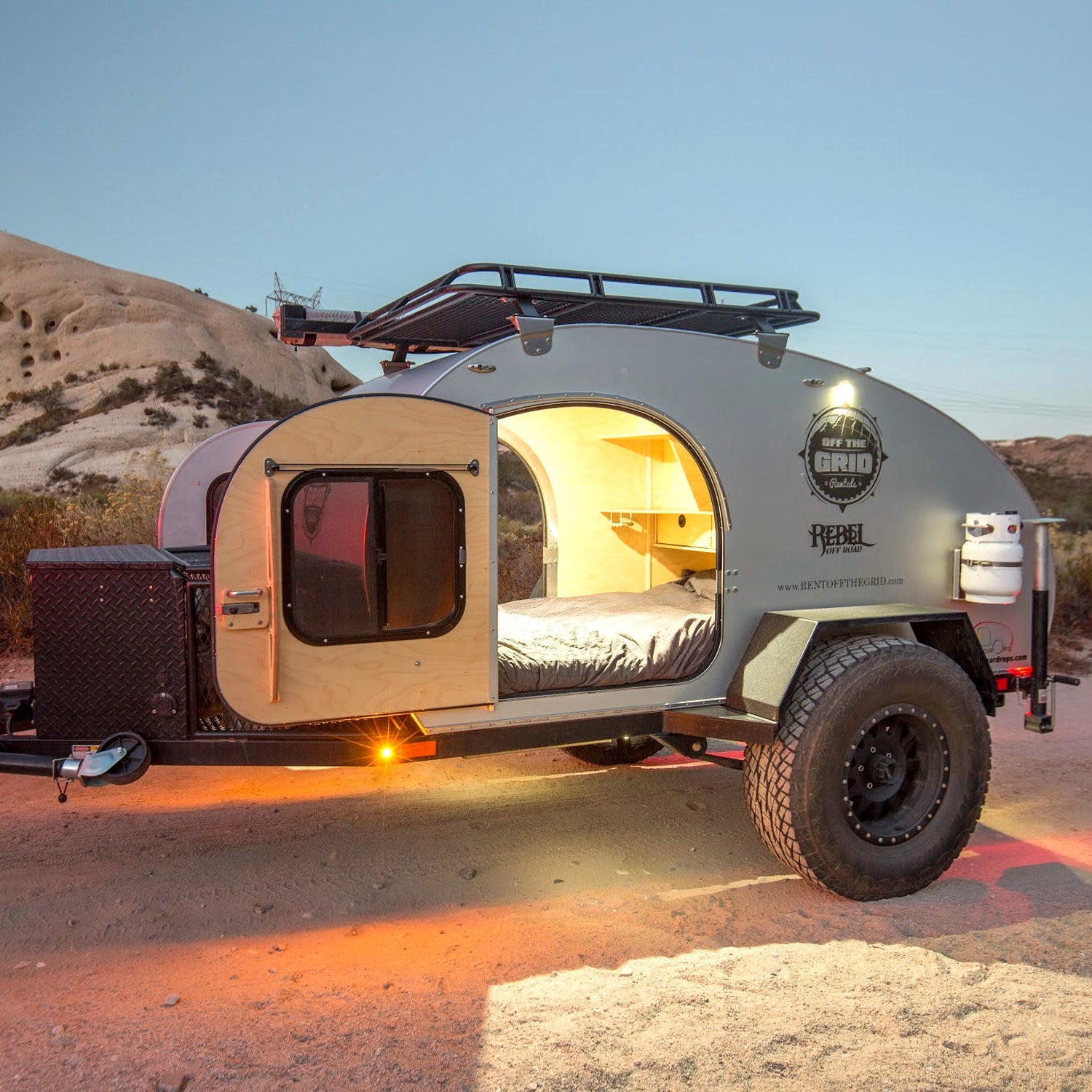 Off the Grid Rentals(Photo)
Heading out the door? Read this article on the new Outside+ app available now on iOS devices for members! Download the app.
Most off-road teardrop trailers will put a $20,000 dent in your bank account. Which makes renting a much more attractive option.
But while expedition-ready gear is easy to find in countries like South Africa and Australia, that wasn't the case in the U.S. Until now. A new crop of companies that rent high-end car camping gear is popping up across the country, and that means better, more affordable options for you to take into the wild.
One of the leaders in this space is Off the Grid rentals, which loans 4WD teardrops trailers, rooftop tents, and compact generators. Avid outdoorsman and Off the Grid Founder Nizar Najm couldn't find gear to rent when he wanted to take his children on a desert camping trip. He ended up buying a rugged teardrop trailer and a few tents, but was left wanting a more affordable option. So in April 2014, he set up his rental company in the corner of a friend's off-road supply store in Orange County, California.
"There is no off-season in So Cal," says Najm. "You can fish and camp in the Sierras in the summer, and ski in the winter. Death Valley excursions and Joshua Tree trips are fair game year round. But not everyone wants to rough it backpacker-style. And not everyone can justify the expense of buying his own trailer. So we provide what you need for a little bit of luxury on your next trip in a cost effective manner."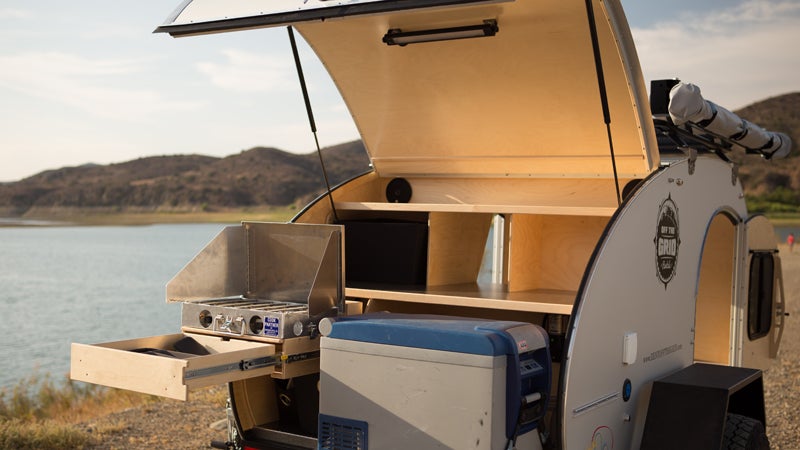 Off the Grid's rental teardrop is made by So Cal Teardrops and CNC-machined to be "super overbuilt," according to Najm. The suspension, tires, and low-slung body were designed to handle rough forest roads. The rear of the teardrop hinges open to reveal a stove, cooler, or fridge (depending on the model you select), and storage space. The interior and exterior both have full LED lighting. Trailer rental costs about $170 per night.
Najm also rents pop-up rooftop tents, which mount on the trailer's or your car's roofrack. They accommodate two adults.
Off the Grid Rental's fleet currently consists of one trailer, three tents, and a handful of ARB refrigerators and small generators. Currently, the gear is only available for trips around Orange County. But Najm is planning to expand his fleet and his locations in 2016. "We provide you the luxury camping experience without the upfront costs of ownership, like insurance, storage, and maintenance," says Najm. "It started as an experiment last April—and so far it's been a huge success."
Not interested in a teardrop trailer? Here are four more car-camping rental companies we like:
Adventure Travel Sport Rentals
For luxury 4WD adventures, Adventure Travel Sport Rentals offers Sportsmobiles, Tigers, and Toyota Four Runners for pickup in and around Boulder, Colorado.
Airstream 2 Go
The company rents current-model Airstream trailers from locations in Las Vegas, Nevada, Los Angeles, California, and Bozeman, Montana. Airstream 2 Go currently offers a 23- and a 28-foot rig, and you can even rent a GMC Yukon Denali to pull it. 
Lost Camper USA
On a budget? Book a rental camper van from Lost Camper USA. Its rides include souped-up minivans, (some even come with rooftop tents), to converted 15 passenger Ford E-350s with storage, beds, and dining areas.
Retro Rentals
If you're planning to stay on pavement, Retro Rentals in Grand Rapids, Michigan, offers vintage tow-behind campers, hailing from the 1930s to the 2000s, and each lovingly restored inside and out by the Austin family.
Vintage Surfari
This company rents its fleet of a dozen restored VW camper buses for California roadtrips starting in Los Angeles, with possible drop-off in San Francisco.
Lead Photo: Off the Grid Rentals