The Star of the Show
The Gear Guy Reports from Outdoor Retailer 2004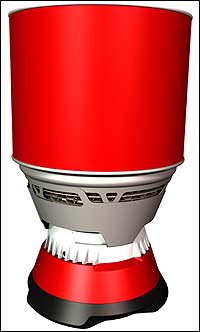 Heading out the door? Read this article on the new Outside+ app available now on iOS devices for members! Download the app.
Fifteen years ago, MSR transformed the stove market with its WhisperLite. Still a bestseller, the WhisperLite was easy to use, reliable, and, well, quiet—altogether, an enormous improvement over other stoves of the day that tended to be fussy and noisy.
camp stove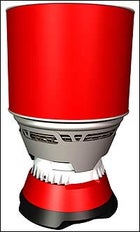 What Energy Crisis?: The futuristic "Capillary Technology Stove System," coming to a shelf near you next summer
Now MSR hopes to bottle lightning once more. At this year's Outdoor Retailer (OR) show in Salt Lake City—where almost 1,000 vendors trotted out their newest and best gear for 2005—MSR showed a liquid-gas stove that literally is like nothing else that's been seen before. It doesn't even have a catchy name yet. MSR simply billed it as the "Capillary Technology Stove System," which really doesn't roll trippingly off the tongue.
The CTSS (I'll abbreviate to save time) consists of an integrated stove and fuel tank with a one-liter cook pot designed to fit neatly atop the stove, which looks a little like a red lunar lander. The pot also has a built-in heat exchanger to speed boil times. Its big advance, though, is on the inside, where MSR has installed a ceramic cartridge the size of seven or eight stacked dimes. The cartridge uses capillary action (hence the name) to vacuum up fuel from the tank and vaporize it, eliminating the need for all the tubing, pumps, and assorted paraphernalia found on other white-gas stoves.
To start the CTSS, you simply push a priming button once or twice (MSR claims it will be once, though the prototype now needs several pushes) then toss in a match. No tank pumping, guesstimates on how much fuel has seeped into the priming cup, or singed eyebrows when you guess wrong and the whole thing goes "whoosh!!" in your face. At this point, you simply flip an "on" lever, and when the ceramic cartridge heats up the stove starts up. It's nearly as easy as starting a cartridge-fuel stove, except with all the benefits conferred by a liquid-gas setup.
The whole shebang—stove, fuel reservoir, and pot—weighs just over a pound when empty. Pretty good. Its boil time for a liter of water is competitive with any stove on the market (between three and four minutes) and the heat exchanger makes it extremely efficient.
But will it sell? It has a high price—MSR figures it will go for about $170 (www.msrcorp.com)—but the "wow" factor is huge, not to mention its ease of use and light weight. One downside is the fact the pot is specific to the stove; you can use other pots or skillets, but efficiency will drop. Still, I think MSR is onto a winner, so look out for this new technology, probably available to consumers next summer.
Waiting in the Wings
Future gear to look out for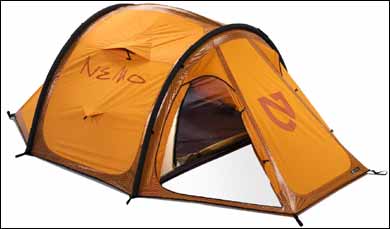 I had a few other "wow!" moments at OR—not including the Molé Negro at the Red Iguana, a wonderful Mexican restaurant about a half-mile from the Salt Palace Convention Center that has become my must-get-there destination when in SLC.
One came in the infamous tent hall that's put up each year to house those unlucky OR participants who are too new or too obscure to merit space in the Salt Palace proper. Over the years the tent has gained considerable cachet due its air of anarchic invention and camaraderie of the damned. I ducked in there for 20 minutes and was rewarded by spotting what might be the first serious pop-up tent to gain mainstream acceptance. It's from a little New Hampshire company called Nemo. The tent, called the Gato, looks a lot like a traditional pole-supported tent—until you push what appear to be the pole sleeves and it dawns on you that these are air-filled chambers rather than poles. Inflation is easy with a light foot pump, and the tent is up in less than a minute. And, these are serious tents—Nemo's founder, Cam Brensinger, had a previous gig designing space suits. We couldn't duplicate 60-mph winds at the show, of course, but the air chambers on the tents (which can be replaced in case of rupture) seem to offer plenty of stability without the risk of a broken pole. The Gato and four other Nemo tents are slated for release next year. They'll be pricey, however—in the $600 range (www.nemoequipment.com).
Fortunately, not everything has to be expensive to be good, or interesting. During another short break, I wandered past a booth for Armored Outdoor Gear. They were selling something called the Ratsack Cache Bag—a pouch made of a fine stainless-steel mesh with a two-inch hook-and-loop opening. Put food in it, hang it, and rats, mice, raccoons, and other varmints can't get to what's inside (bears can, although the mesh may deter them as they'd have to work to break in). The Cache Bag also can be used to secure cans of liquid refreshment—I'm thinking beer—when it's dunked in a cold stream to achieve proper drinking temperature. All in all, very clever. A 2,500-cubic-inch bag sells for $40 (www.armoredoutdoorgear.com).
What else? More than one can imagine. After all, OR is really three trade shows in one—a huge camping/hiking/outdoors show, a big climbing-gear show, and a paddling show. I had the notion of trying to walk every aisle and logging the time needed to make the transit, but was too busy looking inside booths. I'd guess an hour-plus at a brisk walk might do it. Following are just some of the products that caught my eye in amongst the orgy of spangly outdoor ware.
Friendly Confines
MSR Hubba & The North Face's Mountain Marathon
THE CLYDESDALE MSR Hubba, $220
Field Notes: The all-mesh 40-inch-tall canopy offers fully ventilated, unobstructed stargazing on warm nights—not to mention enough headroom to sit up and change clothes. And thanks to the large side door on this three-pound-seven-ounce freestanding shelter, one six-foot-four-inch tester could gracefully slip into his bag. A cavernous nine-square-foot vestibule kept his wet, muddy gear at arm's length. But: The high-profile Hubba takes a beating in strong winds. Contact: 800-531-9531, www.msrgear.com

THE WEATHER BEATER The North Face Mountain Marathon, $199
Field Notes: Anyone who's spent a blustery night hunkered down above tree line will appreciate this tent. During a storm in Utah's Paria Canyon, while other unoccupied shelters set sail, the low-profile Marathon held rock-steady. The all-mesh canopy breathes, and the fly, with its five-square-foot vestibule, seals out nasty weather. Packed, this two-pole marvel becomes a tidy 18-by-5-inch package that weighs all of three pounds. But: Beware of sand blowing through the mesh door. Contact: 800-447-2333, www.thenorthface.com
Sleep and Shelter
Tents, sleeping bags, and pads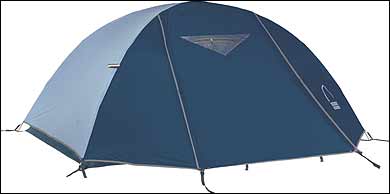 Weight savings are a continuing story in this category. Examples: the Pounder from Marmot, a 40-degree Primaloft-filled sleeping bag that weighs—you guessed it—a pound. It'll be $159 (www.marmot.com). Valandré, the French company whose high-end sleeping bags impressed me last year, was back with a new bag called the Mirage 350. It's billed as good to the 20-degree range, yet weighs just one pound six ounces. Price: $355 (www.valandre.com).
Of course, there were lots of new tents on display this year. Most emphasize light and fast, such as Sierra Designs's Reverse Combi, which uses variable-diameter poles and other ounce-saving features to produce a full-size, free-standing tent for two that weighs just over five pounds. A similar tent would have easily hit seven pounds three or four years ago. Price: $239 (www.sierradesigns.com). But big tents are becoming popular, too, as more families go camping. Hilleberg the Tentmaker showed a new tent concept called the Stalon Combi, modeled off its Stalon two- and four-person tents, both lightweight tents based on a tunnel-tent design. Buy an "extension roof" and join two tents together with a big vestibule in between. For that matter, keep joining them—you could set up a veritable tent city by joining Stalons end to end. Hilleberg tents are always light and impeccably made, but you do pay for that. The Stalon 2 runs $520, and the roof extension $135 (www.hilleberg.com).
Cascade Designs, of course, changed how people sleep in the woods with the introduction of the Therm-a-Rest back in… I don't know, 1876 or so. Lots of companies are chasing them now, and some of the new insulated inflatable pads are extremely impressive (example: Big Agnes's Air Core pads, from $55-$70; www.bigagnes.com). But for weight savings and decent comfort, the Therm-a-Rests still have a lot to offer. New in the lineup is the Women's ProLite 3, which has variable insulation to allow for the fact women lose heat from their feet and torso more quickly than men. Weight is one pound four ounces; price $80 (www.thermarest.com).
Dress Sense
Apparel and footwear
hiking boot

Lock Like a Lady: Lowa's Vertex Mesh Lady adds some techno-muscle with the award-winning Biomex system
It's really hard to imagine that clothing can get much better than it is now, but new stuff does keep popping up. For example, long underwear that makes you perform better, not just feel better. At least that's the claim of Holofiber Fabrics, which is billed as a material that enhances oxygen delivery to muscles. I admit, I'm skeptical. But Holofiber has tested the stuff intensively, and it'll soon be available in clothing from Sierra Designs and Eastern Mountain Sports.
Elsewhere, Mountain Hardwear introduced its latest rainwear made with Gore's PacLite. The Swift Jacket ($260; www.mountainhardwear.com) weighs in at only 13 ounces, the Swift Pant ($180) at ten. Malden Mills, maker of Polartec, is now marketing its own waterproof-breathable fabric, called Aqua Shell, that is aimed at the middle range of the rainwear market. Not quite so new but worth mentioning is the Polartec Power Dry with antimicrobial X-Static woven into the material. It's being used by InSport and other companies as a light base layer. Women will enjoy ContourWear's surprisingly fashionable yet technical Zip-Off Hiking Pants ($156) made with super-durable, fast-drying Schoeller fabric.
At the show, Merrell introduced a top-to-bottom revamp of its footwear line, including several light- to mid-weight hiking boots like the crampon-compatible Expedition, which has a specially designed Vibram sole and carbon-fiber shank ($250; www.merrell.com). Montrail, meanwhile, looks for big things from the new Blue Ridge GT ($175; www.montrail.com), which has stretchy Gore-Tex in the forefoot for a better fit. It's designed for off-trail hiking and backpacking. And Lowa showed new models of boot using the award-winning ankle-supporting Biomex system, including its Vertex Mesh Lady, a women's boot that will sell for $200 (www.lowaboots.com).
Pack Mentality
Packs, luggage, and gadgets
sport watch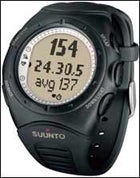 Hammer Time: Flog yourself on the slopes and trails, then let Suunto's T6 tell you that you sucked
Organization-impaired outdoors people should benefit from Mountainsmith's new Portable Storage Collection, an assortment of modular storage containers that fit into several sizes of covered and uncovered tote bags. Prices for the different components range from $15 to $75 (www.mountainsmith.com). Also on the organizational front, Eagle Creek (www.eaglecreek.com) has revamped its travel-luggage line, using new light fabrics and colors. Great stuff.
In backpacks, Osprey has a new hipbelt that can be heated, then molded to the wearer. They're standard on the redesigned Crescent and Luna men's and women's packs ($350; www.ospreypacks.com). And Granite Gear showed its new Nimbus Latitude Ki ($240; www.granitegear.com) a pack designed not only to fit women's bodies, but also to offer the organizational options that women like when they pack.
On the gadget horizon, look out for High Gear's TrailAudio 512 ($250; www.highgearusa.com), an MP3 player designed for the outdoors with a splash-proof design and detachable carabiner-style clip. It has up to 17 hours of play capacity, so obviously you'll hardly need to talk to your trail buddy the whole weekend. Responding to sport watches from Nike that download data wirelessly, Suunto rolled out its new T6. This watch is able to analyze a range of exercise parameters, including post-workout fatigue, to create a more accurate guide to the difficulty of your workout. It then can beam all data to a PC, on the way reaching into your wallet for the $499 needed to buy one (www.suunto.com).
MSR's new stove got lots of attention, but rival Brunton isn't about to quit, introducing a new super-lightweight cartridge-fuel stove called the Raptor ($40; www.brunton.com). Princeton Tec keeps moving LED lights forward with a new design employing a beam-focusing lens that brightens and whitens the light. It's called the Eos and will sell for $38 (www.princetontec.com). Finally, Motorola's newest handheld walkie-talkie offering, the Talkabout T7400, has a range of up to seven miles ($109; www.motorola.com).
Was there more? Um, did I mention the 1,000 vendors?