This Is the Nicest Sleeping Bag Our Climbing Editor Has Ever Used
I'll level with you, dear reader: while I don't trust gear reviews that don't name at least a few cons, the only con here is the hefty price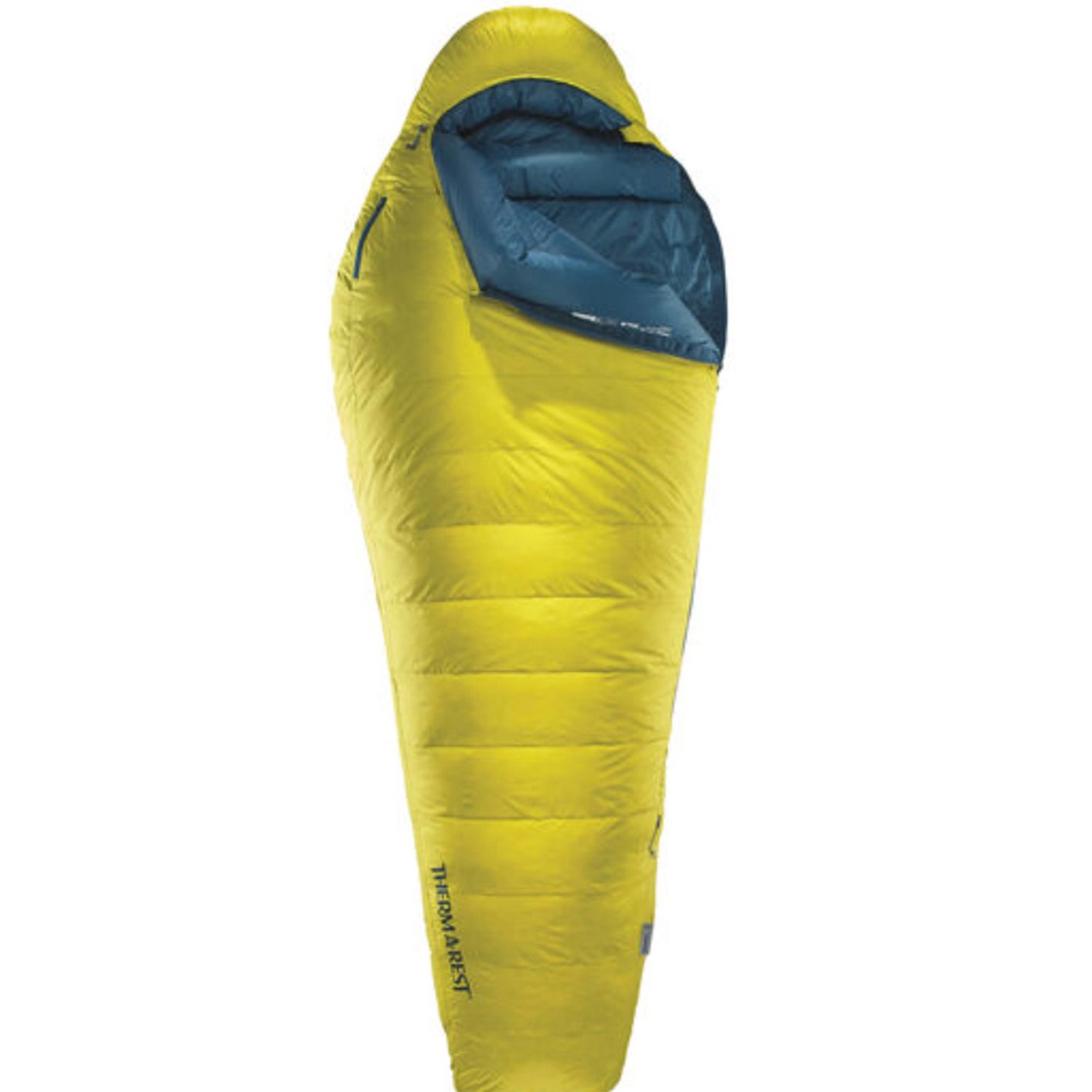 Heading out the door? Read this article on the new Outside+ app available now on iOS devices for members! Download the app.
The Basics
The Therm-a-Rest Parsec 0F/-18C Sleeping Bag is designed for fast and light pursuits. It is stuffed with 800-fill Nikwax Hydrophobic Down. Heat-mapped zone insulation combined with a boxed-baffle construction optimize weight and warmth. Spacious hood and foot zone. Side-zippered pocket. Removable straps to secure the bag to a pad.
Size: Regular
Weight: 2 lbs 6 oz
Price: $530
Brand: Therm-a-Rest
Pros
Warm (like

really

warm)

Face fabric is soft and silky

Made with recycled materials

Packs down to the size of a bread loaf 
Cons
Initial Thoughts
This just might be the nicest sleeping bag I've ever tested. It's just so much warmer than any other similarly rated bags I've used. And given its low weight and how much it packs down, it works great for any alpine or backcountry endeavor. 
The Lowdown
Big Yellow. That's what I've taken to calling this sleeping bag, Therm-a-Rest's Parsec 0F/-18C Sleeping Bag, which also just might be the nicest sleeping bag I've ever used. Let's start with the easy descriptions: warm, soft, oh so fluffy. 
The Parsec was designed for fast and light endeavors. It is light, coming in at just 2 pounds 6 ounces. Par for the course, it packs down to the size of a large bread loaf. 
Filled with a highly compressible 800-fill Nikwax Hydrophobic Down, the Parsec absorbs 90 percent less water and dries three times faster than untreated down. On more than one occasion when it was raining hard and the bedding on the perimeter of my truck bed got wet, I stayed warm and dry when my boyfriend, in his lesser bag, did not. Where the Parsec did get wet, it dried off quickly. 
I'm the type of person who wears puffy pants in 60-degree weather; I never leave the house without a coat; and I work next to heat spacers. You could say I run cold. Prior to owning this bag, I used to joke that sleeping bag temperature recommendations were accurate—if you added about 30 degrees. Not so with the Parsec. OK, so the coldest weather I've slept in this year was about 35 degrees, not 0, but I was toasty and in shorts and a tank—with the bag half unzipped. I could easily see myself sleeping in 0 degrees with this bag with a few added layers. It's just plain warmer than other bags I've owned with similar temperature recommendations. 
Therm-a-Rest's boxed baffling construction helps prevent cold spots. Likewise, the fill is distributed to the spots where heat is more likely to be lost: 60 percent on top and 40 percent beneath. Combined, these features optimize both warmth and weight.
I really can't overstate just how fluffy this bag is. Inside, you'll feel like you're lying in the clouds from My Little Pony. It may dawn on you that your comforter at home sucks. You may buy new pillows, like I did. Basically, you're going to rethink your definition of soft and fluffy.
It may dawn on you that your comforter at home sucks. You may buy new pillows, like I did.
Oh, and the best part? All that fluff is Responsible Down Standard Certified, meaning that the waterfowl were treated humanely. The shell and liner, too, are made with 100 percent recycled fabrics—they have the Global Recycled Standard certificate. I should add, here, that the 20 denier nylon is soft, silky, and quiet. You don't really get that super annoying swash swash sound. The shell is tough, too. I accidentally got a strip of duct tape stuck to the outside (like really stuck) and was worried the bag would rip as I pulled it off. I held my breath and tugged gently. The bag remained untorn.
Are you a side sleeper? I am. Two sets of lightweight, stretchy straps located in the top and bottom halves of the bag securely fix it to your sleeping pad. Roll around all you'd like and this thing is staying put. On that note, the bag is fairly roomy, especially for being a standard mummy shape. You can keep layers on and still have toss-and-turn space. I hate feeling constricted when I sleep. In this bag, I never did.
The hood can be cinched down if you want a tighter fit, and it's so fluffy you can fold it over itself to make a pillow. In addition to the roomy top, the bottom of the Parsec protrudes up to create a noticeably spacey foot pouch, or, as Therm-a-Rest calls it, a Toe-asis Foot Warmer Pocket. It's warm down there, and I love that I never felt that weird ankle compression flattening thing that you get with less spacious designs.
The zipper has a meaty string attached to it, making it easy to find in the dark. Admittedly, I've accidentally cinched it down on the shell a few times now, but never with any casualties to the fabric. There's a side pouch on the upper part of the bag for convenient storage of small things. It would fit your phone or a headlamp or a nighttime snack.
The Parsec is also available as 20-degree and 32-degree sleeping bags, but I'm glad I went with the zero, since it's more versatile and the long zipper makes it easy to vent. The Parsec 0F comes with a hefty price tag: $490 to $570, depending on length (it comes in small, regular, and large). But I'll level with you, dear reader: while I don't trust gear reviews that don't discuss at least a few cons, the price is the only that I can think of. To be fair, other sleeping bags with the 0° F recommendation fall in that ballpark as well. 
At the risk of being too complimentary, I leave you with this image: My back was aching, my fingers were fat and swollen from climbing. My boyfriend and I parked the truck in an empty, flat meadow, the dying grass expanding out from us in gentle waves. In the distance, coyotes let out a chorus of howls. Crawling into my truck bed and into the Parsec was truly divine. It was exactly what it should be: a thing to look forward to after everything else.
Lead Photo: Therm-a-Rest