Gear Guy
5 Food Thermoses You Can Depend On
These vacuum-insulated containers will keep your soup warm again and again this winter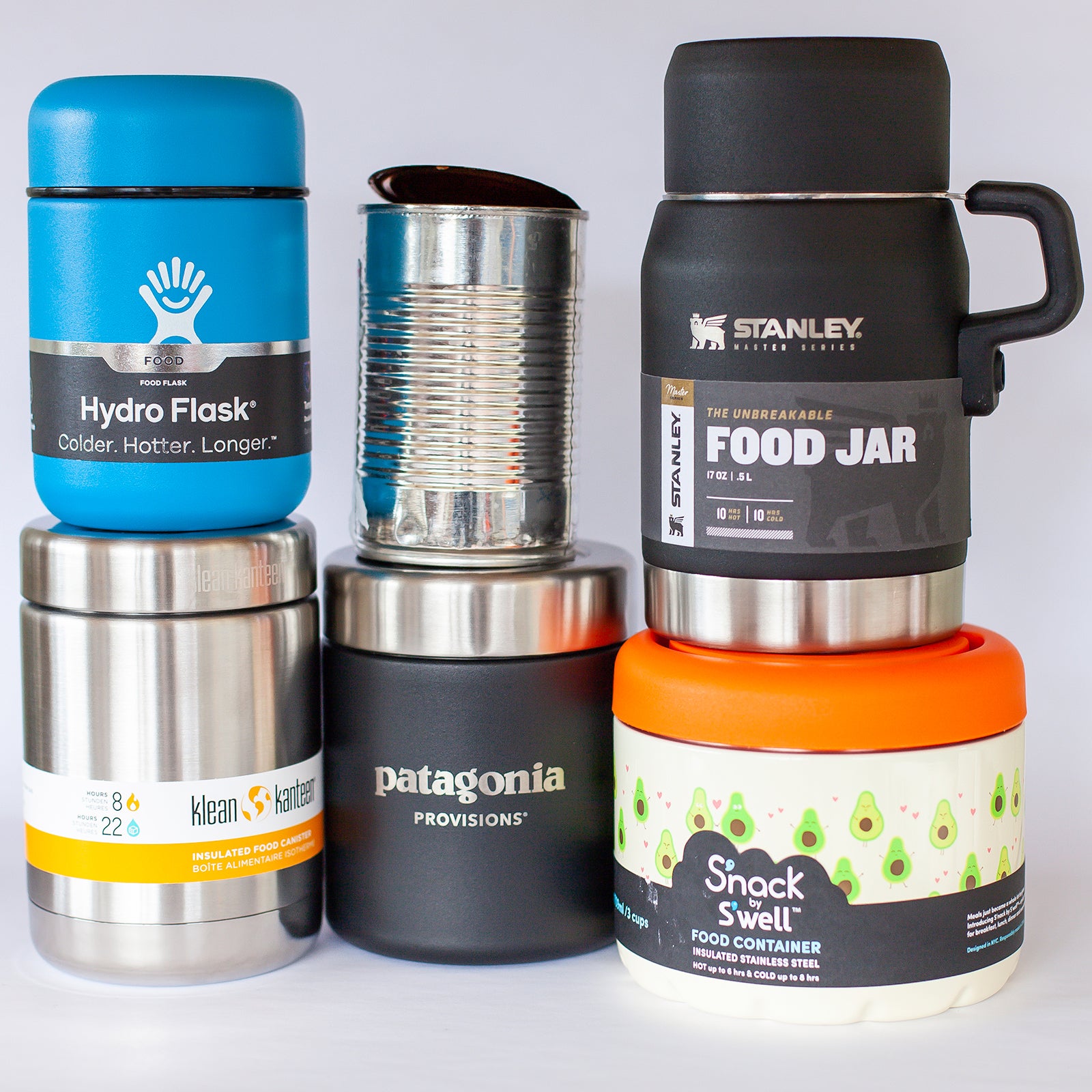 Sarah Jackson(Photo)
Heading out the door? Read this article on the new Outside+ app available now on iOS devices for members! Download the app.
Few things are better than drinking blazing-hot coffee or tea after a cold ski tour while you thaw your fingers in the front seat of your car. Though I'd argue that one of those things is eating hot soup or oatmeal in that same scenario. Enter the vacuum-insulated food canister. While they might seem less versatile than their more lauded liquid-specific drinking vessels (here's looking at you, water bottles), I think they're just as important for winter sanity. Plus, they don't just keep soup hot in the winter, they can also prevent food from spoiling in the summer.
The Test
Thermoregulation: I filled each container with boiling water, took the temperature, put the top on, then let each sit in my 73-degree kitchen for five hours. I then took the temperature again and subtracted points for heat loss. 
Eating Experience: I ate hot oatmeal, tortilla soup, Top Ramen, and cold cereal out of each of these containers and took notes on the experiences. 
Ease of Use: I washed each container five times and took notes on how easy they were to clean. I also repeatedly opened and closed each of the lids to check for flaws. 
Spill Mitigation: I filled each canister up with water, weighed each on a kitchen scale, leaned them on their sides for four hours, then weighed them again to check for leaks. None of them lost any liquid. 
The Results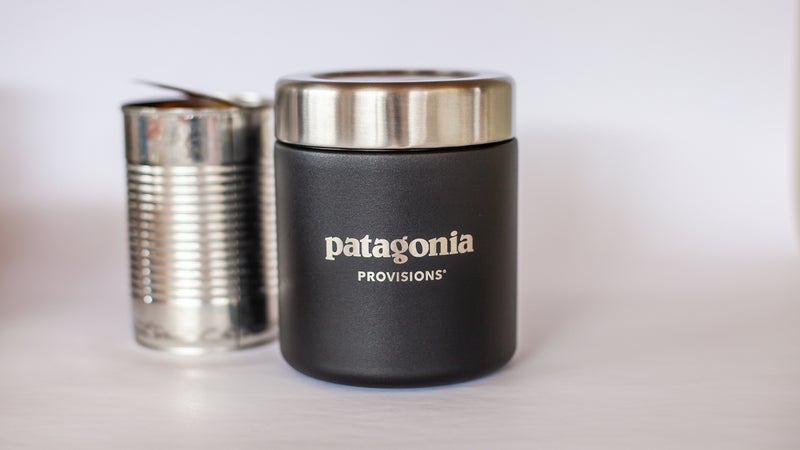 Winner: Patagonia Provisions Miir Live Simply Food Canister ($36)
Thermoregulation: 3/5 (60 degrees lost) 
Eating Experience: 5/5
Ease of Use: 5/5
Spill Mitigation: 5/5
While this collaboration by Patagonia Provisions and Miir did not perform as well as other canisters on this list in the thermoregulation department—in fact, it tied for last—it rated the best in both eating experience and usability. Its top was the perfect diameter to fit a cleaning sponge and to distribute spoonfuls brimming with tortilla soup, but it was still small enough to hold with one hand while shoveling food with the other. This ease, along with the powder-coated exterior, made it my favorite of the test.
---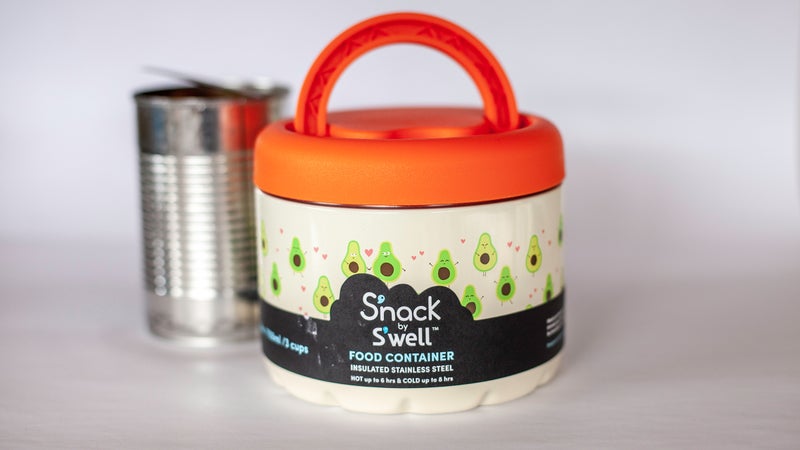 2. S'well Avocado Food Bowl ($25)
Thermoregulation: 3/5 (60 degrees lost) 
Eating Experience: 4/5
Ease of Use: 5/5
Spill Mitigation: 5/5
This was the sleeper of the bunch. I said out loud that I was anticipating the Avocado Food Bowl to get its ass kicked because of how nontechnical it looked. It didn't win the thermoregulation test, as it saw the same amount of loss as the Miir canister. But it delivered 140-degree water at the end of five hours, which is pretty damned hot. Because of how wide it is, the bowl scored highly in both eating and usability, making it just as easy to eat out of and clean as any other bowl in my house. Finally, it had a little folding handle on the lid, so it was effortless to carry by hand as well as open and close.
---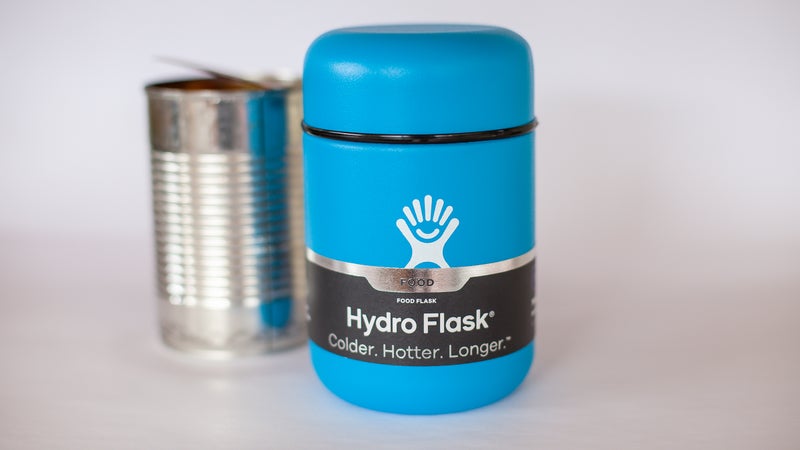 3. Hydro Flask 12-Ounce Food Flask ($30)
Thermoregulation: 4/5 (53 degrees lost)
Eating Experience: 2.5/5
Ease of Use: 3/5
Spill Mitigation: 5/5
The Food Flask's aesthetics, handheld ease, and powder-coated exterior were all on point. Unfortunately, the 3.07-inch diameter mouth was too small to be washed comfortably with a sponge or easily spoon noodles, cereal, and tortilla soup. Overall, the opening on the S'well was a little too large, and the Miir was just right, but this was just too tight. On a positive note, it was awesome at pulling double duty as a mug—I instinctively drank half a dozen cups of tea from it while it was in my office.
---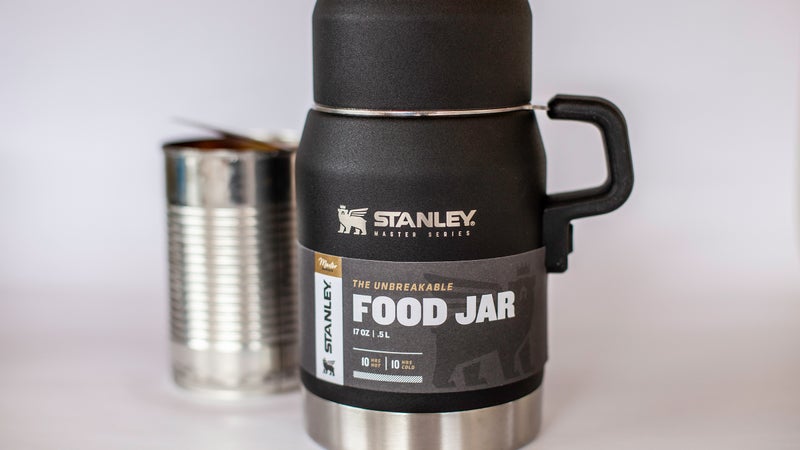 4. Stanley 17-Ounce Master Unbreakable Food Jar ($46)
Thermoregulation: 5/5 (34 degrees lost)
Eating Experience: 3/5
Ease of Use: 2/5
Spill Mitigation: 5/5
The Master Unbreakable Food Jar is equal parts burly and beautiful. It was definitely the coolest looking of the bunch, and based on weight alone, I assume it would survive a direct shot from a grenade. It also crushed the competition in the thermoregulation test. It ended up this low on the list, however, because the mouth diameter was so small: it couldn't be washed without a handled scrub brush, and it was tough to eat out of. It also didn't help that the base was a lot wider than the opening, which knocked off spoonfuls of soup en route to my face.
---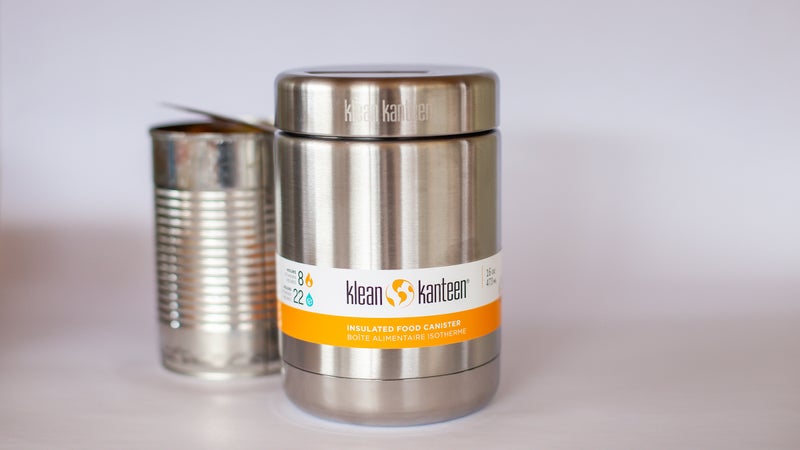 5. Klean Kanteen 16-Ounce Insulated Food Canister ($40)
Thermoregulation: 4/5 (54 degrees lost)
Eating Experience: 3.5/5
Ease of Use: 2.5/5
Spill Mitigation: 5/5
The 3.08-inch diameter opening of this Klean Kanteen made it as tough to clean and eat from as the Hydro Flask, and the lack of powder coating made it more difficult to hold with one hand. That slick stainless-steel exterior looked sharp but was tough to open with wet hands—particularly when the hot liquids inside created a seal. It fared admirably in the thermoregulation test, placing second, and overall was a solid carrier, but it just didn't do as well as the standouts.
Lead Photo: Sarah Jackson