Indefinitely Wild
The Simple Joy of a Perfect Camp Table
Behold the ultimate place upon which to rest a hard-earned beer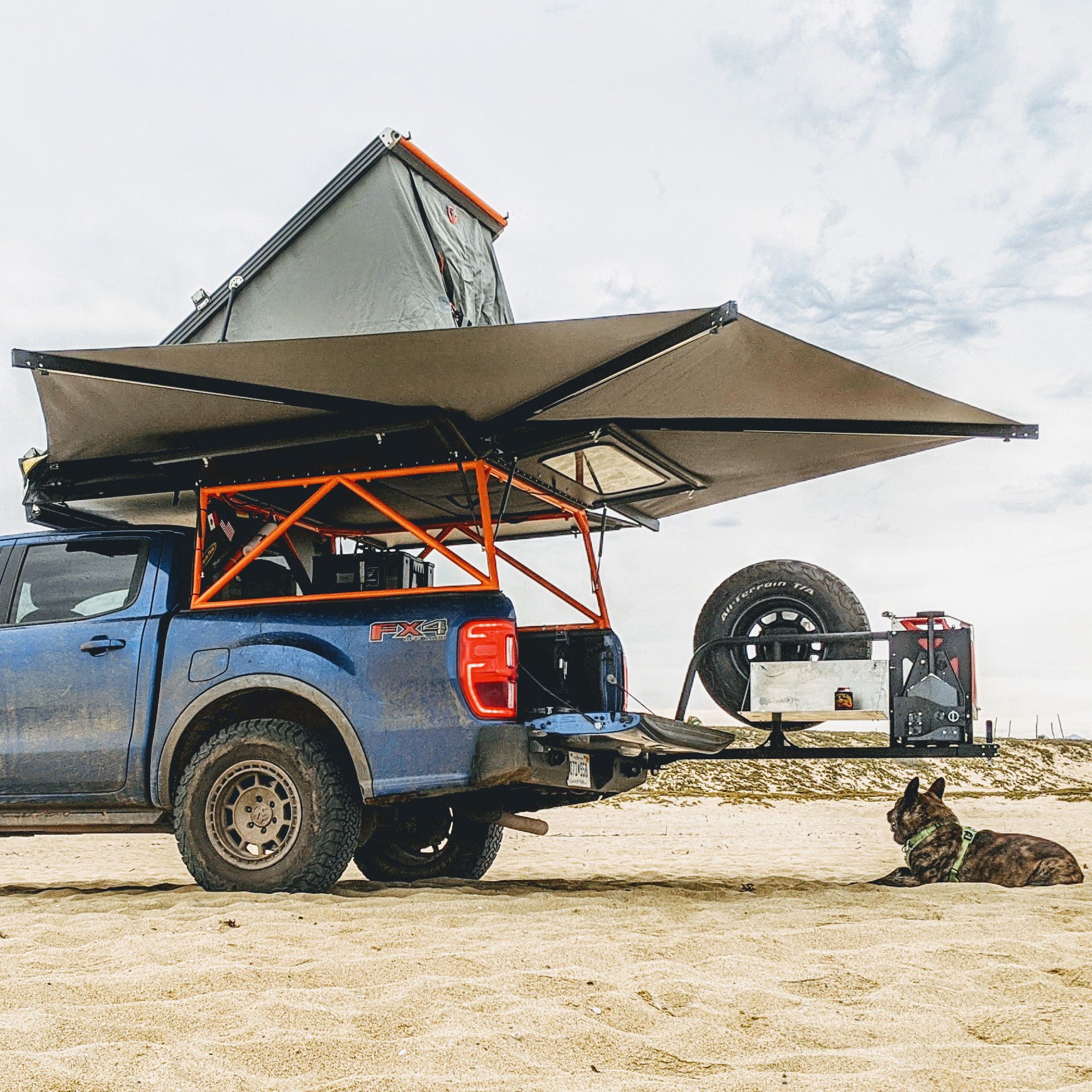 Heading out the door? Read this article on the new Outside+ app available now on iOS devices for members! Download the app.
The gear we use to go outdoors makes our lives easier, safer, and more comfortable. But while we all get wrapped up in exciting stuff like sharp knives and bright flashlights, often it's the most humble equipment that adds to the experience. I submit for your consideration the camp table.
When I started to plan the build for my Ford Ranger, I penciled in lights that shine half a mile into the night, most practical camper ever made, and all the gear I'd need to protect my rig from damage and get it out myself if it got stuck. But the part that brings me the most satisfaction, the thing that took the most trial and error to figure out, and had me staying up late working the night before my wedding road trip to southern Baja is a little table mounted to the back bumper.
That table is mounted to the rear bumper's swingout—a device that allows you to carry heavy, bulky equipment, like an oversize spare tire, a fuel can, and tools, upright and flush to the back of a truck but which swings out of the way when you unlatch it so you can still access the bed or trunk. Because it locks in place at a 90-degree angle to the back of the truck, and because you're always getting stuff in and out (or getting in and out yourself), it creates a sort of natural bookend to a campsite. It makes sense to make that bookend useful, rather than just a barrier.
But mounting a table to a swingout comes with challenges. For one, the vehicle's tailgate needs to open, which takes up about one-third of the available length on the swingout. And, of course, you need to figure a way to mount the table so that it's secure, not just during use but as the vehicle vibrates and bounces around on and off-road, too. Other considerations are weight, since that swingout can only handle so much dynamic load; imperviousness to weather, beause it's going to withstand a lot mounted on the outside of a truck; and a construction designed to stand up to vibrations, road spray, and repeated use.
And after all that forethought, you need to consider the elements of a good table: it should be level and stable and the right height, so it's comfortable to use, and it should offer enough real estate to actually put some stuff on it.
Back in October, my now wife, Virginia, had a low-speed accident in the Ranger, sending it to the body shop for what ended up taking four months. I got the truck back four weeks before we were scheduled to leave for Baja, and with one of those weeks booked for a visit to New York, I had to scramble to get all the parts mounted in time for our Mexico trip. By the time the bumpers, winch, lights, and rock rails were on and working correctly, we had just a couple days to spare. And it was then that I remembered how much I wanted this table.
My plan had to been to construct the entire table with some plywood, cutting-board wax, and whatever hardware I could find in the bins at Home Depot. But when I realized I hadn't bought a new circular saw since the move to Montana, I called my friend Graeme to see if I could borrow his. He patiently listened to my idea, then invited me to come by his dad's race-car shop instead.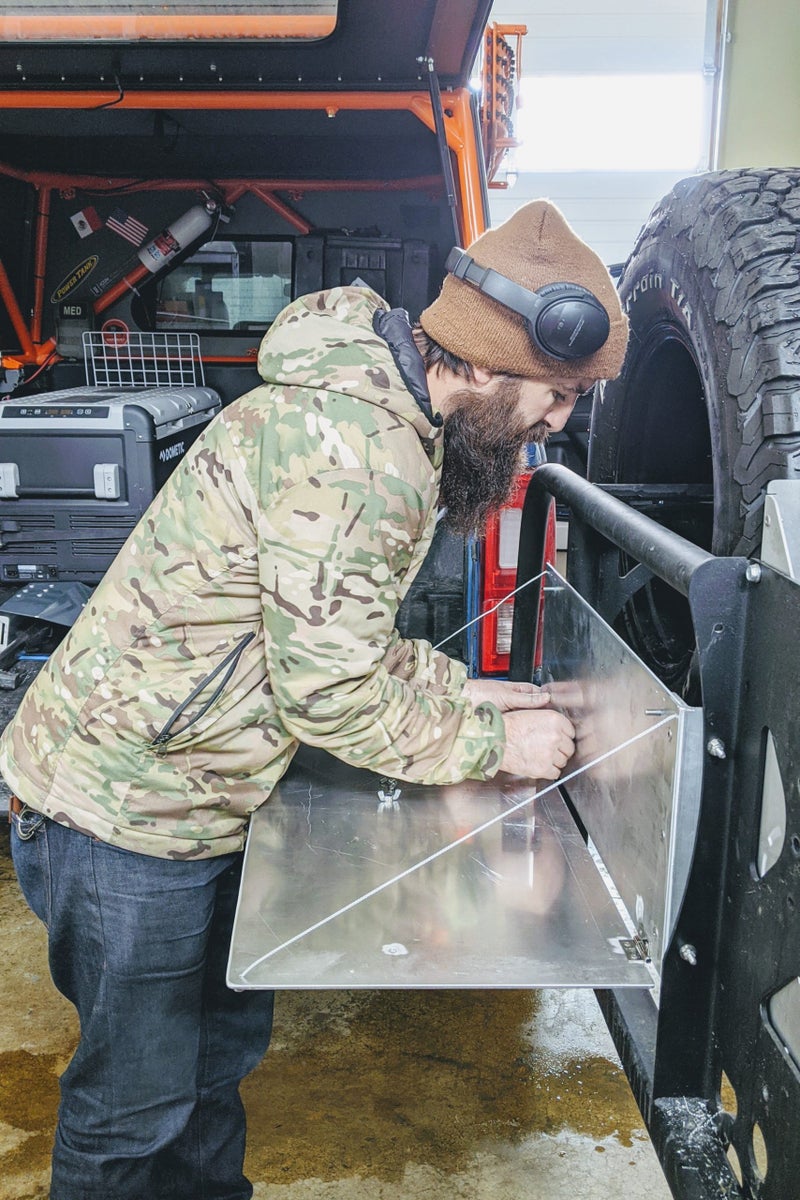 It took us two nights and more runs to Ace Hardware than we'd planned, but we were able to turn a sheet of aluminum we found in the back of that shop into a functional table with the aid of some aircraft cable, hinges, and a grinding wheel. Relentless Fabication (which made the bumpers) reinforces its jerry can mounts with a 90-degree gusset on both sides, so we were able to mount one side of the table to that and the other to the vertical tire support with a flat bar and some long bolts. It's so overbuilt that I can stand on it, but thanks to the aluminum, it's also light and will never corrode.
After wrapping it up, I went home, went to bed, and woke up five hours later to make a 12-hour drive south into the Nevada desert with Virginia. When we pulled into camp, I undid the two wing nuts holding it closed, careful to thread those back onto the bolts in the splash back, and that's all it took to have a safe place to rest my beer while we opened the tailgate, let the dogs out, and unloaded our camp gear.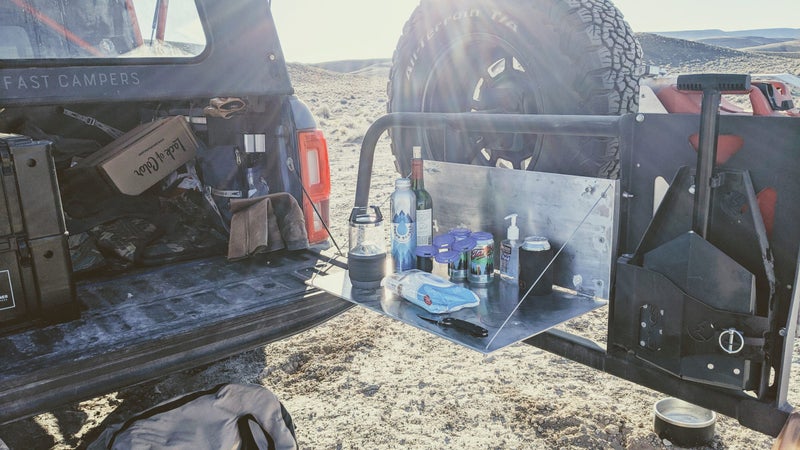 The table's just big enough to prepare a quick meal on, tall enough that the dogs can't get to anything that's on it, and so quick and easy to set up that I use it as a disinfection station in the grocery store parking lot. It's perfect, basically, and adds a considerable amount of convenience, utility, and joy to all the tasks my truck performs.
Why not simply use the tailgate? Well, tailgates get dirty, tailgates remain in use as you set up and take down camp, and having a table that's functional without opening the back of the truck means you can keep dogs penned up or supplies from falling out if all you need to do is perform a quick job on a work surface. Perhaps most important: tailgates make a good seat. And it's pretty neat to have a table right there, next to where you're sitting.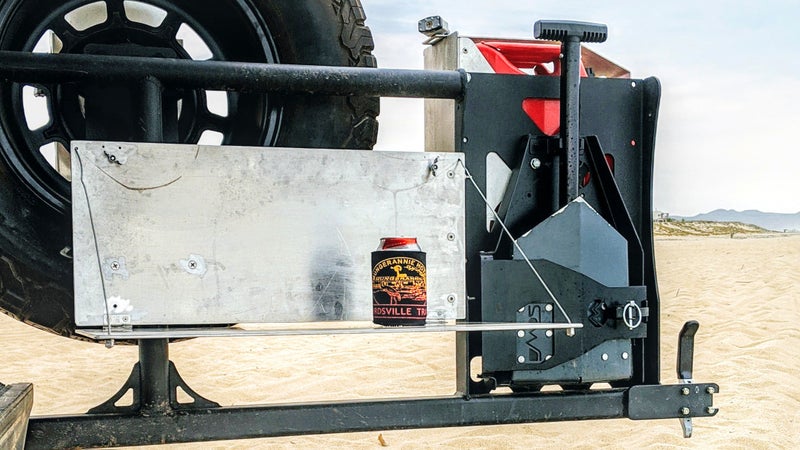 So how do you get a table like this if your friend's dad doesn't have a race-car shop that he lets you steal parts from? I've got a few suggestions.
Front Runner Drop Down Tailgate Table ($169)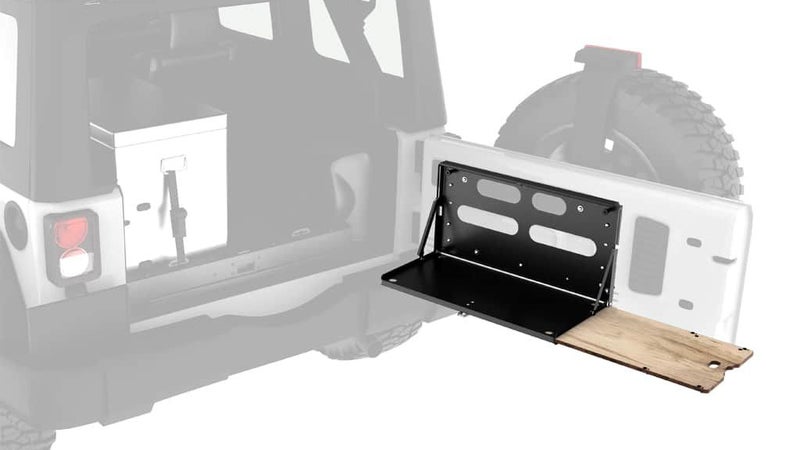 One of the reasons I procrastinated on making a table is that Front Runner's PR firm told me one of these was on the way. Designed for the side-opening tailgate on the Jeep Wrangler, it's universal enough that you can probably make it fit to any swingout or side tailgate with a run to the hardware store. The company has also spent time developing telescoping arms, rather than cable tabletop supports, which free up the sides when it's deployed. And an included cutting board pulls out of either end of the table, giving you added work space. If you want a setup like mine, this is what I'd buy.
Rigd Supply UltraSwing ($1,100)
Is it possible to get a swingout without spending money and payload on an expensive, heavy rear bumper? Rigd makes a universal-fit ​​​​​​swingout (for any two-inch hitch receiver) that you can use on virtually any vehicle, including crossovers like the Subaru Crosstrek. It's the best way to add a full-size spare to one of those while also allowing you to carry fuel cans or a Hi-Lift jack. But the reason I'm including it here is that Rigd has developed a mount for that aforementioned Front Runner table, creating the best possible home for that product. It's even swapped out the table's standard wooden cutting board for one made from a food-grade, BPA-free polymer that's impervious to weather.
REI Co-op Camp Roll Table ($75)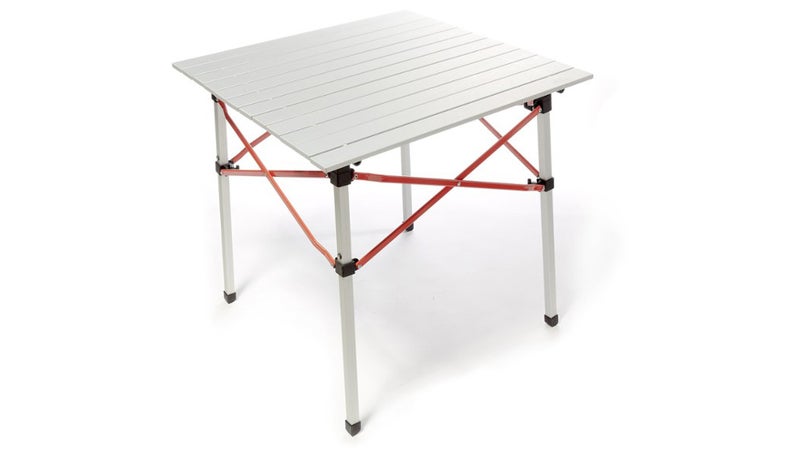 You don't need to spend a fortune if you want a great table. This piece weighs just 8.5 pounds, is sturdy, and affords more work space than you will believe can come out of the small package it folds down into. This is what I carry for additional cooking and eating space once I've set up camp. It's easy to clean and made well enough that it'll last for years. Buy something fancier because you want to—not because you need to.
Kovea AL Bamboo One Action Table ($185)
Want to set up a camp kitchen as nice as the one you have at home? Start with this impressive bamboo and aluminum table from South Korean luxe-camping brand Kovea. Not only is the bamboo surface pleasing to look at, but I have yet to scar it with any permanent damage, even after using it as a vet exam table for my dogs in this video. It's much sturdier than any other folding table I've used, too, making it a great upgrade option if you've outgrown the one from REI. Plus, it adjusts from normal table height down to just 16.5 inches—perfect as a cocktail table between two beach chairs.
Camp Chef Mesa Aluminum Table ($118)
Similar to the REI table, Camp Chef's alternative offers two advantages: a larger tabletop and legs that can extend to a 39-inch height—ideal for use as a standing desk, if you're one of those weird people who works from camp. Its main advantage to me, though, is that it's tall enough to keep even the biggest dogs from stealing stuff from it. At home, this is the table I use to prep outdoor meals, as the height makes it more comfortable to work on for this tall barbecue chef, and being able to turn my back without risking the loss of an entire brisket and 12 hours of work saves me a lot of stress. I left it up all winter, and with just a quick wipe down, it's still as good as new.
Relentless Fabrication Custom Rear Bumper ($1,700 and Up)
Have you fallen as far down the truck-modification rabbit hole as I have? A replacement rear bumper will add a considerable amount of protection from low-speed impacts on the trail (or in parking lots), while adding convenient recovery points. And yes, that swingout tire carrier makes a good table mount. But bumpers come at the penalty of weight and cost. Also, you'll likely need stiffer aftermarket suspension to support the weight of fully featured bumpers.
The Relentless rear bumper simply bolts to the Ranger in place of its stock item, requiring no further modification. It can support tires up to 35 inches in diameter and has mounts on the end for a jerry can or Rotopax (go with the latter, they rattle way less). Behind that mount is a location that couldn't be a better fit for the DMOS Delta Shovel. And there are even places to attach ultrabright reverse or work lights. The best part? Relentless makes its own table for its swingouts, giving you a considerably larger work area than mine. Make sure you spec that option.