What are the best stuff sacks out there for clothes and food?
I've always packed clothes in zip-lock-type bags, but I'm sick of my clothes ending up in different places in the pack. I'd like to switch to one dry compression sack. Any recommendations? Also, is there anything lighter than the Ursack that you would recommend for food storage? Dan Vail, Colorado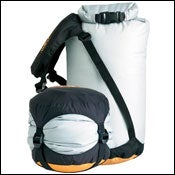 Heading out the door? Read this article on the new Outside+ app available now on iOS devices for members! Download the app.
Well, I like the clothes-in-the-zip-lock trick because it lets me segregate things: T-shirts in one, underwear in another, socks in a third, and so on. So I can use differently sized bags for different batches of stuff, depending on what I'm storing.
Sea to Summit eVent Compression Dry Sack

eVent Compression Dry Sack
But certainly, compression sacks make a lot of sense, particularly if you can squeeze everything into one sack. And Sea to Summit's compression bags (seatosummit.com) probably are the best ones out there right now. They have bottom panels made from eVent, a waterproof-breathable fabric also found in a handful of outdoor jackets (such as those from Integral Designs; integraldesigns.com). Because eVent is air-permeable, a bag made from it doesn't need a valve—the fabric itself lets the air out, the compression straps hold it all in place. The bulk of the bag is made from a polyurethane-coated material for maximum waterproofness. They're moderately expensive bags, but not too bad—$30 gets you an 8X18″ bag with 854 cubic inches of capacity.
As for the Ursack, nothing else out there is quite like it. Some readers will know that the Ursack ($65 for a 650-cubic-inch bag; ursack.com) is a bear-resistant food bag designed to replace bulky, difficult-to-carry hard containers. It's made from a super-tough material that bears find nearly impossible to penetrate. The idea is that you put your food in the Ursack and tie it to a tree, ten bears can't haul it off. The bear can, of course, crush the hell out of the food inside the sack, so for that reason the Ursack people now offer an optional aluminum liner. And it is highly recommended that food is first placed inside a waterproof, odor-proof liner bag. The Ursack has gained some acceptance among the bear-handling community, and it seems like a good alternative to containers like the Garcia hard container ($70; rei.com).
You've seen our picks for 2007 Gear of the Year, and now the entire
Outside Summer Buyer's Guide is online. Check out this year's more than 400 must-have gear items, including backpacks.