What container should I use to pack all of my water into the Badlands?
I'm going backpacking in South Dakota's Badlands, and everything I read says that you have to bring in your own water. For a four day trip, that could mean as much as five gallons. What type of water containers should I use to most effectively carry this much water? Junior Minneapolis, Minnesota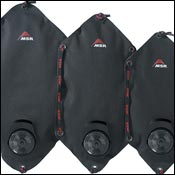 Heading out the door? Read this article on the new Outside+ app available now on iOS devices for members! Download the app.
Yikes! That's rather a challenge, isn't it? But you're quite right—NONE of the water found in the Badlands (the term came from the French, who thought them "bad lands to travel across") is regarded as potable. And due to dissolved minerals and very fine sediment, filters and other treatments don't seem to work.
MSR Dromedary Bags
Dromedary Bags
Personally, I don't think it's possible to carry enough water for three to four days, especially in hot conditions. A gallon a day barely cuts it for drinking. Then what to do about any cooking? And a gallon weighs 8.33 pounds, so it adds up. Water + gear=80 pounds, easy.
But you're lugging the load, not me, so I'll go along. You could start with four or five plastic milk jugs—they're pretty sturdy. Reinforce the screw-on caps with duct tape or something. As you empty them, you can crush them.
Alternatively, some camping stores sell a thing called the Reliance Fold-A-Carrier. A 2.5-gallon size sells for $7, which is pretty reasonable. It's tough and has a sturdy cap/spigot. MSR also makes a ten-liter (2.6 gallon) version of their Dromedary Bag. They're $40 each, and you'd need two, but they're very tough bags and would be about the safest way to carry the water. It would be a shame to spill it!
Somehow this trip does NOT sound like fun. I mean, where is there room for beer?
The 2008 Winter Outside Buyer's Guide is now online. From snow sports to trail-running to camping, get reviews of more than 300 new gear must-haves.