Gear Guy
What Gear Do I Need to Camp in the Rain?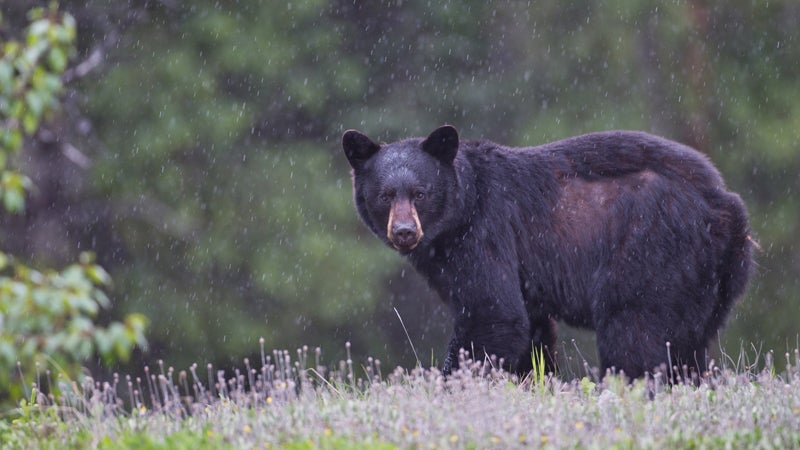 Getty Images/iStockphoto(Photo)
Heading out the door? Read this article on the new Outside+ app available now on iOS devices for members! Download the app.
Camping at the start of spring is pure magic: the rivers are opening up, the days are getting longer, and most of the country gets deluged with life-giving rain.
Okay, so while the rain might not be your favorite part of camping, if you come at it with the right mentality and the right stuff, it can be just as much fun as a trip under bluebird skies.
Better yet, you don't have to spend a lot of money on new gear to stay dry. Here are six tips to help you camp in the rain, most of which won't cost you more than ten bucks.  
1. Get Ready to Get Wet
First, you have to be ready for every piece of gear you own to get wet. Let go of the illusion of being dry—wet but warm is the name of the game, so think synthetics. Synthetic sleeping bags are usually cheaper than down ones, and inexpensive synthetic layers are extremely easy to find. Make sure you bring plenty of layers and some positivity (that's free).
2. Embrace the Tyvek
Bring a small Tyvek tarp. Most houses are wrapped in Tyvek to make them waterproof, and the same material works just as well as an excellent, inexpensive, makeshift rain shelter. Pro tip: run the tarp through the washing machine to make it suppler and easier to pack. 
3. Stock Up On Trash Bags
I've suggested trash compactor bags before, and I think they're worth mentioning again here. Instead of buying an expensive waterproof pack, fill a trash compactor bag with your gear, cinch it down, and stuff it in your bag. Voilà: you've now waterproofed your clothing. Fight the temptation to save a few bucks by getting regular trash bags—compactor bags are considerably more durable.
4. Start a Fire with Duct Tape
Hedge your bets for getting a fire started with some chemical advantage. Duct tape—the epitome of multi-use gear—works well as kindling when torn into small pieces. (Plus, it's something you should have in your pack anyway.)
You can also deploy cotton balls soaked in Vaseline, which function even better than the tape as a fire starter (but they aren't as versatile). This petroleum-based product can even ignite while it's raining.
5. Protect the Grommets on Your Tarp
If you do use a tarp to keep dry, protect its grommets by putting a rock on the corners and tying your rope around some anchoring rocks. This will keep grommets from ripping out while your tarp gets whipped around in the wind—which, in the long run, will extend its life, and, in the short run, will reduce its chances of failing in the middle of the night.
6. Waterproof Your Tent
Revitalize your tent with Nikwax Tent and Gear SolarProof. Nikwax claims that a single application can double your tent's life. The maker also says that its water-repellent spray protects your tent from UV rays. 
Lead Photo: Getty Images/iStockphoto