What insect-repelling measures can I take while in Africa?
I plan to travel for four months in eastern and southern Africa, and I intend to use 50 percent DEET (spray or lotion) and permethrin-treated clothes and nets. But I have no idea how much of either of these items I will need for this length of time. Can you provide any enlightenment? Daniel Dublin, Ireland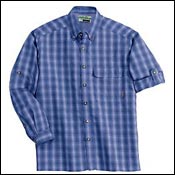 Heading out the door? Read this article on the new Outside+ app available now on iOS devices for members! Download the app.
That's an interesting question. The thing is, I assume you'll be able to re-stock at some point, although I wouldn't hazard a guess where. But let's run some numbers. Most DEET repellents with 30- to 50-percent DEET advise the user to re-apply every eight to 12 hours, depending on the formulation ("waterproof" repellents last longer). So let's say you're wearing a permethrin-integrated short-sleeve shirt and convertible pants with the lower part zipped off. You put DEET repellent on your arms, legs, neck, and face. My guess is you'd go through about four fluid ounces per week (120 milliliters) of a lotion-type repellent. Maybe a bit less. That comes out to a little less than a half-liter per month, which sounds about right to me.
Ex Officio BUZZ OFF Ombre Shirt

BUZZ OFF Ombre Shirt
As for clothing, makers of insect-repellent clothing, such as Ex-Officio (exofficio.com) here in the United States, say that their stuff is good for 25 washings. In four months you might go through a wash per week, so you'd be about right—particularly if you take a change or two, which I assume you will. You might carry some spray-on repellent for your clothing, just in case. I suggest lotion for your skin as there will be less waste so you won't need as much.
One repellent net should be fine, with a spare in case you lose yours or it's damaged.
I'd sure check this beta against someone who's been in the areas where you plan to travel. Find an online chat site or something and pose the question. But I think my estimates should give you a good start.
The Gear Guy reports from 2007 Winter Outdoor Retailer, the bi-annual gearapalooza in Salt Lake City. Check out his top picks for gear to watch in 2007.