What's the most cost- and weight-effective way to treat water while backpacking?
Have you tried the Aquira Frontier water filter yet? Also, what's the best way, that isn't too expensive or heavy, to treat water while backpacking? Claudia Asheville, North Carolina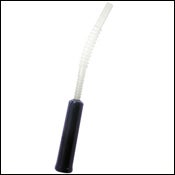 Heading out the door? Read this article on the new Outside+ app available now on iOS devices for members! Download the app.
I can't say I've used the Aquamira Frontier ($10; aquamira.com) yet, but it's certainly worth a look. The device is simplicity itself—basically, a straw with a filter attached. Unfurl the straw, stick it into a water bottle, and sip. The unit is billed as capable of removing nearly all giardia, cryptosporidium, and other nasties. It's not a purifier—viruses and very small bacteria can get through—but you could use it in conjunction with something such as MSR Sweetwater Purifier ($10; msrgear.com) for nearly total protection from water-borne badies.
Aquamira Frontier Filter

Frontier Water Filter
Drawbacks? Well, yes. Even Aquamira bills it as more of an "emergency" filter, or as a backup to a larger filtering unit such as a Katadyn Pocket Filter ($229; katadyn.com). It also is limited to about 20 gallons of filtering. Enough for one person for a week, certainly. The other drawback with gadgets like this is that they tend to force you to "sip," rather than "drink."
My own preference is the MSR Miniworks EX ($85) which I find to be effective, sturdy, and easy to use. It does weigh nearly a pound, so that's an issue. But it can filter a lot of water in a fairly short period of time.
The 2008 Winter Outside Buyer's Guide is now online. From snow sports to trail-running to camping, get reviews of more than 300 new gear must-haves.