What's the deal with single-wall tents?
I realized the knock on single walled tents is moisture and condensation. What are your thoughts on the new The North Face Phoenix 2 tent (made with DryWall membrane)? Would you recommend seam-sealing this tents or single walled tents in general? Bill Billerica, MA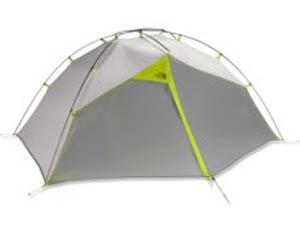 Heading out the door? Read this article on the new Outside+ app available now on iOS devices for members! Download the app.
Yeah, that is one of the knocks on single-wall tents. The others are that they tend to be cooler in the winter, and hotter in the summer, than double-wall tents.
The Phoenix 2

The Phoenix 2
The North Face's Phoenix 2 ($299) seems fine. It's quite light (about four pounds with poles and stakes), reasonably roomy (30 feet), and has double doors and vestibules for easy access and places to store gear. One thing I like is that its poles are mounted externally. I've always found it a pain to crawl into a single-wall tent and try to fiddle the poles into the appropriate corner pockets, then attach them to the tent wall with hook-and-loop tabs. It has a proprietary material that is designed so it sheds water and does not "wet out," which should help reduce condensation. Still, you'd want to pitch it with an eye toward ventilation, so that any prevailing breezes can flow through the tent.
As with any single-wall tent, the seams are a vulnerable spot. So yes, seam-seal them. That goes for any single-wall.
The thing is, the era of single-wall tents is sort of coming to an end. Their advantage is/was light weight. These days that really applies only to four-season or expedition tents. In a three-season tent, you can get something like the REI Quarter Dome T2 ($299), which allows you to set up only the mesh fly, or the full-coverage canopy, and weighs only an ounce or two more than the Phoenix. In most applications, it's a better tent.
Trending on Outside Online