Which trekking poles will stand up to Grand Canyon hikes?
I have bad knees from running and think that poles might help with my hiking. I doing the Grand Canyon rim-to-rim this fall and want your opinion on a good mid-range trekking pole. What do you recommend? Heidi Chicago, Illinois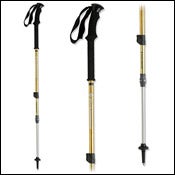 Heading out the door? Read this article on the new Outside+ app available now on iOS devices for members! Download the app.
Eh, another victim of running. I'm increasingly convinced that running is inherently bad for you, regardless of how often you change your shoes, watch your stride, stay off concrete, etc. I love running's low equipment factor and the notion that you can get in a good workout in an hour or less. But your knees pay the price.
Black Diamond Contour Trekking Poles

Black Diamond Contour Trekking Poles
Anyway, that's an editorial aside, spoken by a reformed (meaning, former) marathoner.
Otherwise, yeah, I'm a HUGE proponent of trekking poles. In my mind there is no downside—they reduce shock to knees and ankles, help with balance, create a natural hiking rhythm, and more. I don't go on any trail without poles, almost regardless of the load.
These days, there are two main decisions when buying poles. The first is whether to get two-section or three-section poles. Three-section poles collapse to a smaller size, which can be handy when traveling or when you don't want half-pole lengths sticking out of your pack. But they also add another joint, so have a slightly higher chance of mechanical failure while offering slightly less structural strength than two-section poles. To me it's sort of a matter of personal preference, and today, three-section poles are most common.
The other main choice is whether to get aluminum alloy or carbon fiber poles. Carbon costs more but I'm completely behind it. Poles made with carbon seem weightless, the stuff is extremely strong, and carbon's natural ability to flex renders unnecessary add-ons such as built-in shock absorbers.
A classic pair of three-section aluminum poles would be Black Diamond's Contour Trekking Poles ($100; bdel.com). These have excellent grips with 15-degree angles for natural hand position, easy-to-manipulate adjustment locks, and low-profile trekking baskets that don't snag easily on underbrush. If you're less than five feet, eight inches in height, then try the Compact version ($80). Leki's Tour Ergosoft poles ($80; leki.com) are another excellent example of a three-section, aluminum-shaft trekking pole. Leki's handles aren't angled to quite the degree as Black Diamond's, and you might find the difference to your advantage.
REI's Peak UL Carbon Compact Trekking Poles ($130; rei.com) are an excellent buy in poles made with this material. I've been using a pair this summer and really like them. They're incredibly light (11.2 ounces per pair), seem very strong, and have a nice balance of flex and stiffness. I've had occasional problems getting the shafts to lock, but once they're tightened, they stay put. It may be an operator-error issue. Leki's Ultralite Carbon SLS Trekking Poles offer a higher-priced alternative at $200. That's pretty steep for a pair of glorified walking sticks, but they're light, tough poles.
Rim-to-rim is a big hike. Hope it goes well!
You've seen our picks for 2007 Gear of the Year, and now the entire
Outside Summer Buyer's Guide is online. Check out this year's more than 400 must-have gear items, including trekking poles.
Trending on Outside Online