Will hiking poles help or hinder on a long-distance trek?
Would trekking poles be a help or a hindrance on an extensive hike, such as the entire AT? Also, is there a real benefit to shock-absorbing poles? John Redlands, California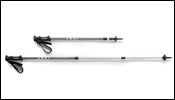 Heading out the door? Read this article on the new Outside+ app available now on iOS devices for members! Download the app.
Trekking poles are definitely a plus. In the past ten years I've gone from mild skeptic about poles (good for long glacier treks, not much else) to an absolute believer in using them any time I put on a pack. The upsides are many: they help maintain a good hiking rhythm, aid with balance over rough terrain or when crossing streams, reduce shock to knees and hips when descending, and even give your arms a part in propelling you uphill.
Leki Makalu Antishock poles

Leki Makalu Antishock poles
It's hard to think of any downsides. The little weight they add to your kit is more than offset by the hiking efficiency you gain. And some hikers have complained to me that they see scars on rocks from the hard carbide tips on the poles, but I confess I haven't noticed that myself.
I'm neutral on the little shock absorbers built into some poles. I think they probably help reduce strain on your elbows and shoulders a little, but they also add mechanical complexity and cost while conferring minimal benefit. The poles themselves are the big gain.
That said, the Leki Makalu Antishock poles ($120; www.leki.com) have internal springs to ease stress on your arms, plus all the other features you want in poles—light weight, sturdy aluminum construction, and comfortable grips.
I also think that carbon-fiber poles convey some of the benefits of shock-equipped poles, with less weight. REI's Peak UL Trekking Poles ($130; www.rei.com) are made from carbon fiber, so they're super light (12.4 ounces per pair, about half the weight of the Lekis) and very strong. With three sections, they telescope down to a very small package and give you plenty of fitting options. Nice poles. Or, Black Diamond's Switchback Hiking Poles ($65 ; www.bdel.com) give you all the benefits of quality poles—aluminum shafts, comfy grips, tough tips—at a really great price.
Check out this year's more than 400 must-have gear items, including a comprehensive hiking section, in the 2006 Buyer's Guide.