Indefinitely Wild
Can Flip Flops Save the World?
The guys at Combat Flip Flops think so and they've maxed out their credit cards to prove it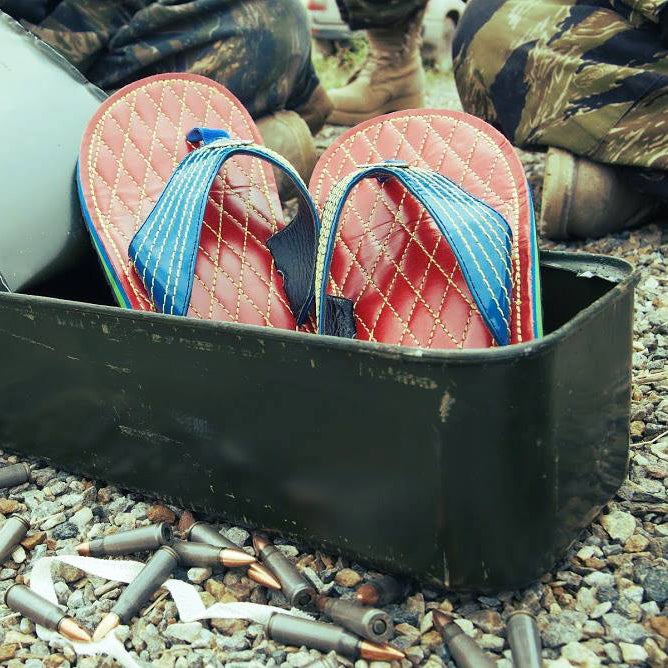 Heading out the door? Read this article on the new Outside+ app available now on iOS devices for members! Download the app.
Can gear—and the consumerism that drives its sale and development—save the world? That's what the Army Rangers behind Combat Flip Flops think, and they're opening factories in war zones in an attempt to prove it. The goal: spread peace through economic opportunity and education. 
Early last year, I met a couple of rangers in a bar. Five minutes into a conversation about the chaos in the Middle East, one of them scooted in real close, looked me in the eye, and said, "Weird knows weird. Wes, you and I are going to be friends." 
At that point, I was pretty convinced that Griff was going to murder me, possibly to create some sort of hat. But fast forward less than twelve months, and I've visited him up in Seattle three times, crashed on his couch for a total of two weeks, butchered a deer with his 13-year-old daughter, debated the ethics about hunting with his 9-year-old, and even bought his wife nice flowers for her birthday. (Actually, that was probably the closest he ever came to killing me.) 
The story I wrote about Combat Flip Flops last year, back when IndefinitelyWild was still a part of Gizmodo, was probably my favorite of the year. Curious why a couple of crazy guys think flip flops and sarongs can defeat terrorism? You should read the piece. 
What makes these guys neat is that they're not a couple of bleeding-heart eggheads. They're normal dudes from Middle America who joined the military out of patriotism, went through hell to make it to the elite ranks of the rangers, killed a bunch of people they thought were our enemies, then realized that, in order to fulfill their mission of defeating terrorism, killing was counterproductive. Their experience in Iraq and Afghanistan (and, since then, around the world), taught them that it's economic opportunity and education (especially for women) that can effect long-term, positive change in war zones. 
And they're putting their money where their mouths are, selling everything and maxing out their credit cards to open factories and employ women and enroll them in school in countries like Afghanistan. In an effort to make the numbers work, Griff even moved out of the nice, brand-new home he built for his family. He now lives with them in a modest, rented house across the street.
The plan's working. Last year, they donated over 60 years of schooling to women in Afghanistan and cleared 1,533 square meters of land mines in Laos.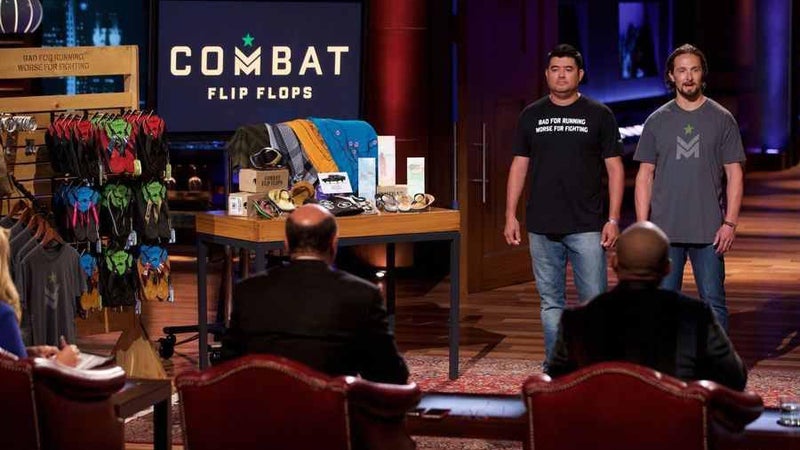 Now, they have a chance to do much more. On Friday night, they'll appear on ABC's Shark Tank TV show and ask the panel of angel investors for the ability to scale their business. You should tune in to watch: Griff and Lee are always entertaining. It's also something our readers helped make happen, as the show's producers first heard about Combat Flip Flops on IndefinitelyWild. "We want to promote peace through business, not bullets," says Griff.
Their episode airs February 5 at 9 p.m. ET.