Gear Guy
Can you help a gearaholic get a mitten fix?
Oh Great One, I a proud gearaholic. Before my wife forces me to enter into a 12-step program, I need some new mitts for layering. So I was thinking an uninsulated water-resistant, breathable shell with enough room for inserts. I have a jacket made out of eVent and was wondering if anyone uses this fabric for mittens too? Truly wonderful stuff. Dennis Raymond, New Hampshire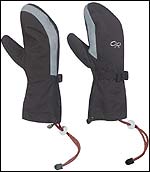 Heading out the door? Read this article on the new Outside+ app available now on iOS devices for members! Download the app.
It is a sad fact in our society, but gearaholics often are misunderstood—even by those closest to them. Those piles of packs, mounds of mittens, slithering masses of ropes and slings, bevies of bicycles… No! This is not an affliction but a sign of bonding with all things gearly, and through that, finding a greater connection to the world. It's a beautiful thing, really. Still, for some, enough gear becomes, well, too much. Particularly these days, when lots of stuff on the market is just so good that a single piece can eliminate three or four. And certainly, you should be able to find some mitts that serve as shells, then modify your layers underneath for fluctuating temperature conditions.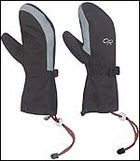 Glacier Mitt


I agree with you about eVent, a waterproof-breathable fabric made by BHA Technologies. Most readers will know that it's a material that is chemically similar to Gore-Tex (ePTFE, more commonly known as expanded polytetrafluoroethylene, a cousin of Teflon) but made with a different process that results in a fabric with more open pores. Alas, the stuff is having a little problem getting traction in the market. Lowe Alpine unveiled a line of eVent jackets in 2003, then yanked it last year in favor of Gore-Tex. I have an eVent cycling jacket made by Pearl Izumi, and absolutely love it.
But, so far as I can tell, no one is making mittens of the stuff, which is too bad. Your best bet, I think, is going to be something such as Outdoor Research's Glacier Mitts ($79, www.orgear.com). They use a proprietary waterproof-breathable fabric OR calls Ventia, which seems to work pretty well. It comes with a mid-weight liner, and that can be removed and replaced with whatever you wish—anything from silk glove liners to a heaver mitt liner. So it's sort of a mitten for all seasons. Mammut makes a Gore-Tex overmitt called the Covermitt (about $90, www.mammut.ch) but they're exceedingly hard to find in the United States.
I'd also take a look at Marmot's Randonnee Mitts ($100, www.marmot.com), which use a Gore-Tex liner for good waterproofness and breathability. The downside is that they're not a modular mitten like the Glacier Mitts. The Primaloft insulation—which is great stuff—is sewn into the mitten. But for regular use in cold weather, they're great. Glove liners can extend the comfort range down a bit further. The same holds true for Black Diamond's Mercury Mitt ($80, www.bdel.com), which combines Gore-Tex with Schoeller fabrics for a great all-purpose mitt.
Stay strong, Dennis. Don't enter that 12-step program!