Gear Guy
Can you help me choose a full-suspension bike?
I currently ride a Specialized Rockhopper, but I want to upgrade to a full-suspension rig. I've looked at Giant's Trance and Specialized Enduro, trying to keep under $2,000. I ride two to three times a week. You have any other ideas? Paul Howell, New Jersey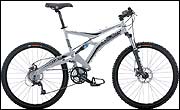 Heading out the door? Read this article on the new Outside+ app available now on iOS devices for members! Download the app.
OK, OK, I admit that I've been skeptical of dualies for a number of years, and to some extent still am. And I still think that for most people on most terrain, hardtails offer more bike for the money, have better riding efficiency, weigh less than dualies, and so on. But, here comes the confession, it's also true I've been riding a dual-suspension bike for the past six months (Marin Mount Vision Pro) and really, really like it on the terrain we ride, which is moderately technical, with a fair amount of roots and rocks. The rear suspension keeps my tire in contact with the ground in bumpy turns, allows more efficient pedaling on terrain that would knock a hardtail wheel into the air, and is in general more comfortable.

East Peak

I suggest you take a look at the Marin dualies, as the East Peak ($1,430; www.marinbikes.com) has the same monocoque frame and rear shock design as my much pricier Mount Vision Pro, and it's a well-regarded design that is light, efficient, and exhibits almost no bobbing on climbs. The East Peak also has the molto desirable Fox Float R rear shock, plus a decent component package, with Shimano drivetrain and Hayes hydraulic brakes, and a Rock Shox front fork.
Giant's Trance 3 ($1,700; www.giant-bicycle.com) has a very similar component package. Its rear suspension—the key element to a dualie—works on a principle similar to the Marin, creating a floating or "virtual" pivot point that helps reduce bob and actually pulls the wheel over obstacles. Giant, however, goes about it in a different way. On the Marin the shock is mounted on the top tube, and the pivoting frame pushes up and into it. On the Giant, the shock (a Fox Float R as well) is mounted near the bottom of the triangle, and the pivot pushes down onto it. Both makes, of course, claim their design is the best ever.
Specialized's Enduro ($2,200; www.specialized.com) splits the difference, with the rear shock mounted pretty much horizontally. It has a somewhat better component group than the Marin or Giant, thus the higher price. Much of that goes into the excellent Marzocchi front fork.
I think the solution is to ride some of these bikes. They'll all work well, so it's a matter of what fits best and seems to work with your riding style. A good shop should let you take one for a spin, if not to hammer it on a trail, then to get a sense of its feel. Find a steep hill near the shop and do some sitting climbs, which will tell you a lot about how the bike performs.
Pick up a copy of the April issue of Outside for 2006's best new bikes.
Trending on Outside Online