The 2019 Ford F-150 Raptor Is the Best Version Yet
Testing the addition of active suspension and semiautonomous off-road driving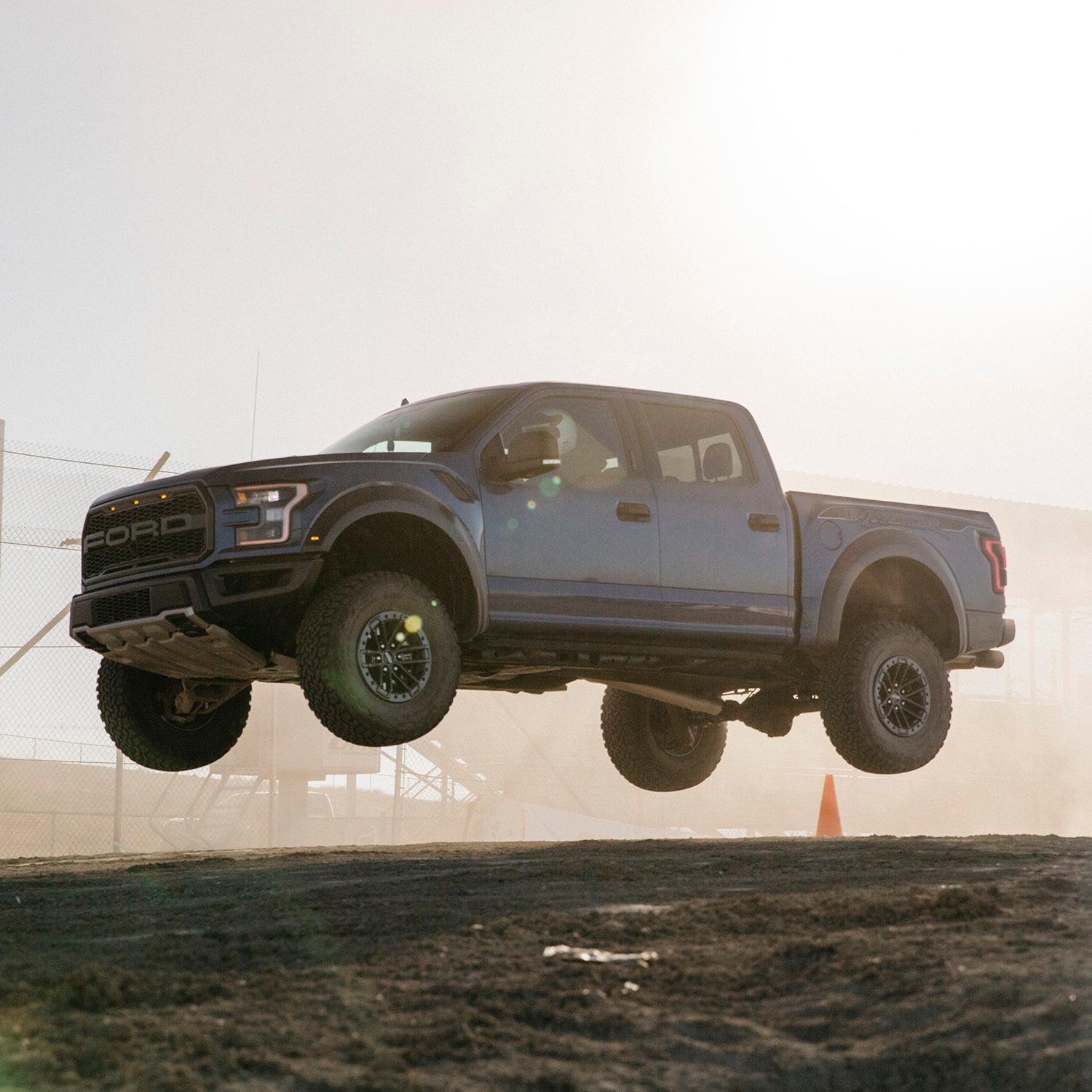 Heading out the door? Read this article on the new Outside+ app available now on iOS devices for members! Download the app.
Ford did not need to make the Raptor any better. Since the launch of the first-generation truck way back in 2009, it has competed in a class of one—the only high-performance off-road pickup. So it's a testament to the special place this special vehicle occupies in Ford's imagination that the company decided to add two key driver-aid technologies to it for 2019. 
The first is something Ford has dubbed Live Valve Technology, which adds continuously adaptive adjustment to the compression-damping valve in the truck's shocks. Basically, the Raptor's computers monitor parameters like throttle, brake, and steering inputs, as well as the truck's degree of yaw, relative wheel speeds, and suspension position, adjusting the rate at which the suspension compresses accordingly. This is designed to increase both on-road handling and off-road control and comfort.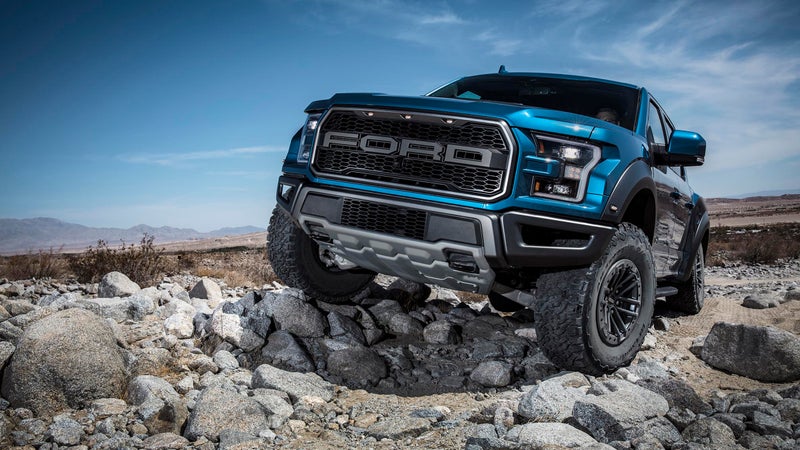 The second technology is Trail Control, which Ford is billing as "cruise control for low-speed, rugged terrain." It can be set in half-mile-per-hour increments of up to 20 miles per hour and frees the driver to focus only on steering by totally taking over braking and acceleration through challenging off-road obstacles. If you've ever used electronic hill-descent control, it works kind of like that, only now it'll take you uphill, too.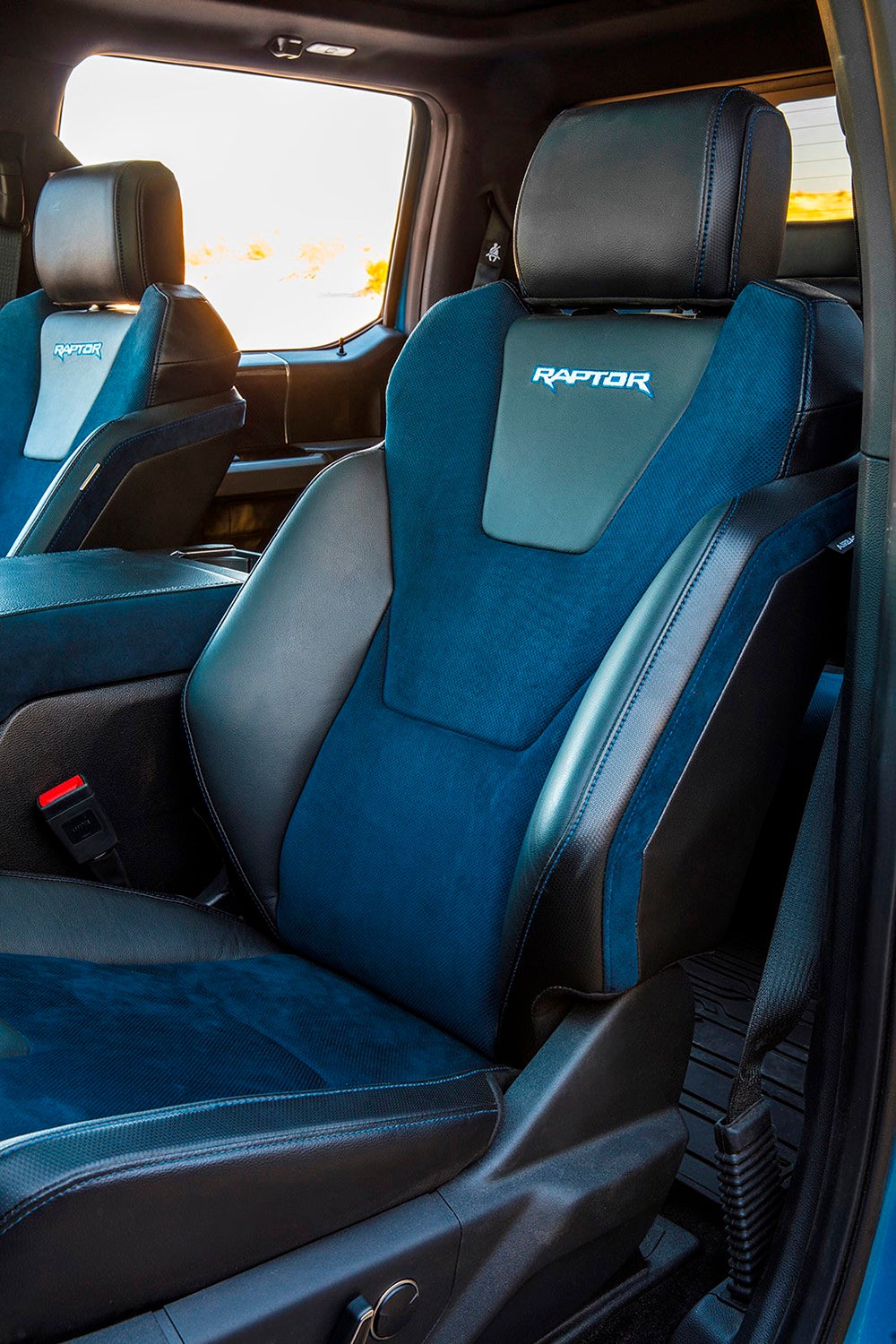 Other changes to the truck are minimal. There's more prominent Ford lettering on the tailgate, a much tackier optional sticker package, and the addition of optional front seats designed by Recaro (a high-end orthopedic seat maker), which are pretty comfy. Fitted with the same 450-horsepower, 510-pound-foot, twin-turbocharged V6 and the same incredible 10-speed automatic transmission, as well as the widened track, unique body, and expensive Fox 3.0 internal bypass shocks, this very much remains the same second-generation Raptor that I hammered through the desert in with Robert Young Pelton a couple of years back. Just now it's a little easier to drive.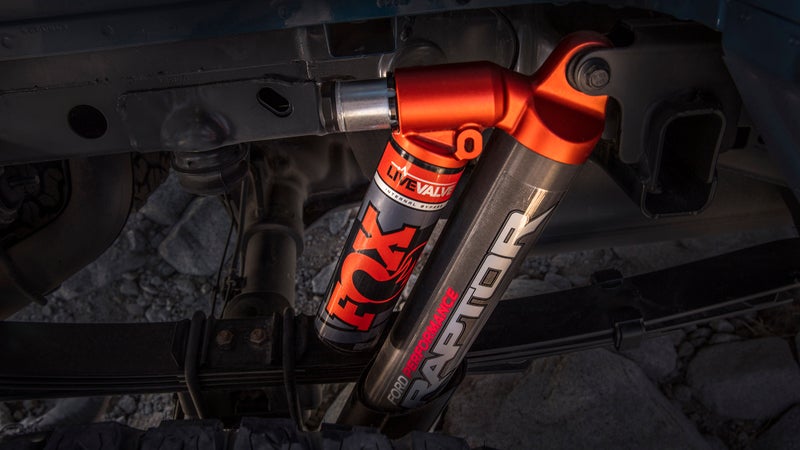 Taking over control of the shocks' rate of compression enables Ford to do some neat things. Through on-road corners, the Raptor's outside shocks now stiffen, helping it more strongly resist a body roll. In the air, the shocks can detect that you're jumping. This prompts them to dial up compression damping to max, preventing them from bottoming out during hard landings. These adjustments are taking place constantly and subtly as you drive and also respond to much more mundane conditions like simple bumps. You won't notice that the adjustments are taking place, but you'll likely note that you may be cornering a little bit flatter than before or that a section of pesky washboard feels a little bit smoother. 
Live Valve also adds another parameter that the Raptor's Terrain Management System can control. With the TMS, drivers are able to tell the truck the kind of driving they're doing, and it then takes control of the four-wheel-drive system, locking rear differential, throttle response, transmission shift programming, and the traction and stability-control systems to suit. All that helps give the truck an impressively diverse array of capabilities and makes controlling the wide array of systems incredibly simple for the driver. The Raptor remains as impressively luxurious on the highway as it does phenomenally fast off-road.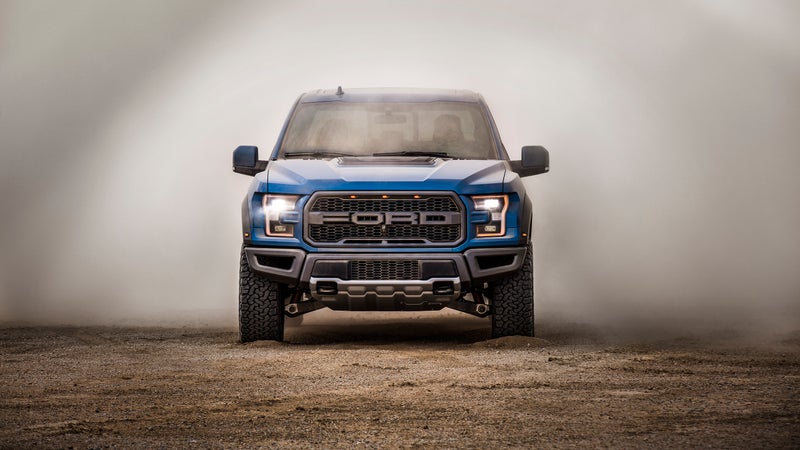 That the truck is so good everywhere is also possibly its biggest flaw. Car journalists attending the launch event in Utah complained that they couldn't feel a difference in the revised truck's suspension, but I also watched those same journalists repeatedly stick the landings on their first-ever vehicle jumps without effort or drama. And they were able to complete a full day of driving through technical off-road terrain without feeling jostled, uncomfortable, or wary. 
The unflappable confidence that the Raptor grants even inexperienced off-roaders combines problematically with its immense turn of speed. Off-road, conditions change rapidly and are the product of nature's chaos rather than the intentional safety of a road or track. Learning to identify the types of obstacles a vehicle can handle, and the correct way to address all of them, will only ever be the product of considerable experience, but compared to other vehicles, the Raptor asks its drivers to identify and address those obstacles at 100 mph rather than ten, with predictably severe results. Ford includes the cost of its high-performance off-road driving school in Utah with the purchase of all new Raptors—and buyers should consider attendance to be mandatory. 
That dilemma also leads us to Trail Control. Jumps and slides and whatnot look good in photos, but off-road driving is primarily an exercise in managing traction. To climb over a large rock, for instance, you need to accelerate over it from a dead stop with enough force to drive your wheels up and over the rock but with enough control that you don't just spin those wheels. Four-wheel drive and locking diffs help there, but managing traction in truly challenging circumstances can still be a case for using the brake and throttle pedals simultaneously, all while trying to see stuff that's going on where your vision is blocked by the vehicle, and steering accordingly. If that sounds like rubbing your tummy while patting your head—and wearing a blindfold—you're not wrong. And that's what Trail Control helps handle. You simply dial in a safe speed, then you're free to focus on steering while throttling and braking are handled for you. Trail Control will maintain that speed up or downhill (or even on level terrain), and it's able to find more traction than you ever could, by individually applying the brakes across all four wheels to limit wheelspin.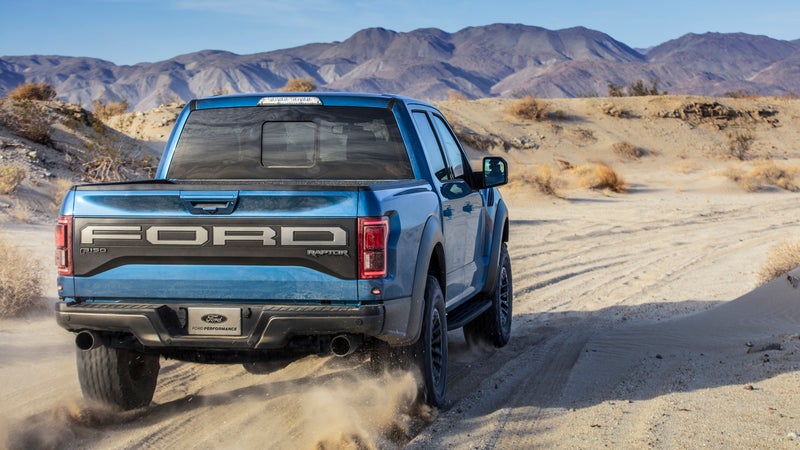 In action, Trail Control can feel alien. As with all autonomous driver aids, decision-making is handled by an entity other than yourself, and can leave you feeling a bit like a back-seat driver, second-guessing someone else's choices. In particular I found the Trail Control's stop-start approach to be divergent from my own preference of simply throttling over whatever's in the way, but I can't argue that the vehicle's choices are safer than my own and probably also more effective. This feature will likely be much more useful for people tackling difficult trails for the first time, and it should provide a measurable increase in both safety and ability in those conditions. It can also take the guesswork out of getting unstuck, which should be another major confidence booster for people venturing way out there for the first time. 
Together, Live Valve and Trail Control probably don't add any extra speed to the super truck—and that speed sells the Raptor. But by offering drivers a solid dose of control and confidence, Ford has actually done a really good job at making the Raptor a friendlier vehicle that will be more accessible to a wider range of drivers. 
Trending on Outside Online