Indefinitely Wild
The New F-150 Is the Most Practical Adventure Vehicle
Features like campsite lighting, onboard gear storage, and portable power generation are useful overlanding-inspired additions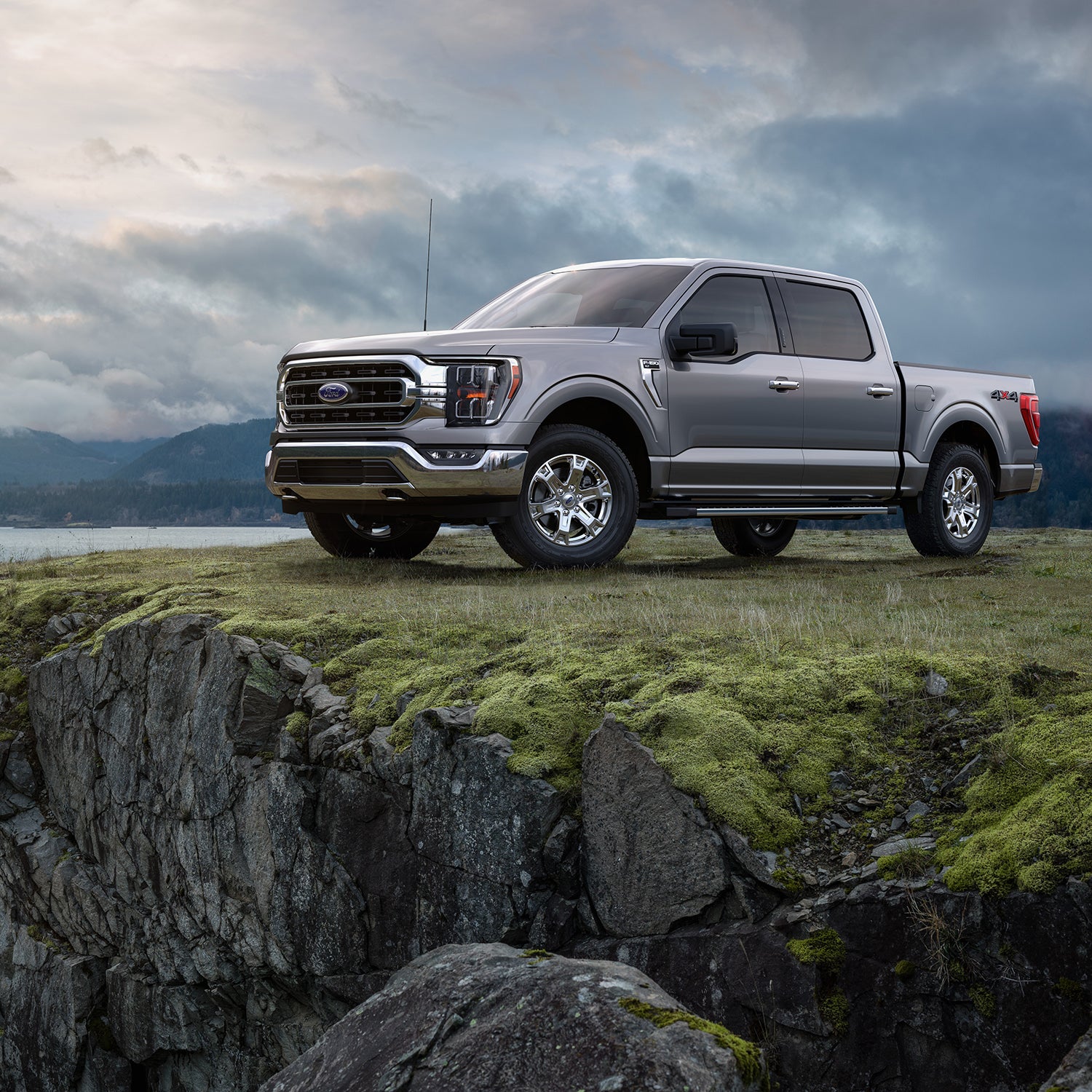 Heading out the door? Read this article on the new Outside+ app available now on iOS devices for members! Download the app.
Committed enthusiasts of over-the-top car camping—often known as overlanding—spend a great deal of time and money modifying their vehicles to make them more practical to live and work out of. With its entirely new F-150, however, Ford is providing many of those popular camping features built in.
Released in a live video stream on Thursday night, the 2021 Ford F-150 is a conservative evolution of America's most popular vehicle. The smoother, more aerodynamic, all-aluminum body is heavily reminiscent of the truck it replaces, which debuted in 2015. But, those familiar looks hide a thorough series of upgrades that should combine to make the truck stronger, faster, more luxurious, more practical, and yes, even more fuel efficient.
Ford has not yet announced an on-sale date, a price list, or performance and fuel economy figures. But the company detailed the truck's new fully-boxed steel frame, semi-autonomous driving technology that will allow true hands-free operation, an impressive suite of touchscreen infotainment features, and an optional gasoline-electric hybrid drivetrain dubbed "Powerboost."
Full-size pickup trucks—a category the F-150 defines—are often decried as wasteful by people who don't understand them. But, for many drivers, big trucks like this are necessary tools that enable them to perform work, travel through remote areas, and operate self-supported across an immense range of conditions and challenges. It's in that role where practical features like I'm about to detail become more than simple conveniences.
Zone Lighting
I just installed a lighting system on my Ford Ranger that can illuminate my truck bed, the little camp table that I obsessively spent two days building, and my campsites. Those lights cost $400, and I still need to tidy up the wiring so it won't get snagged by cargo or dogs.
F-150 drivers won't need to do any of that because the truck includes zoned lighting controls that will enable them to individually operate the truck's exterior lights using the big touchscreen on the dash or Ford's smartphone app. Ford even included dedicated work lights in the bed that illuminate the open tailgate.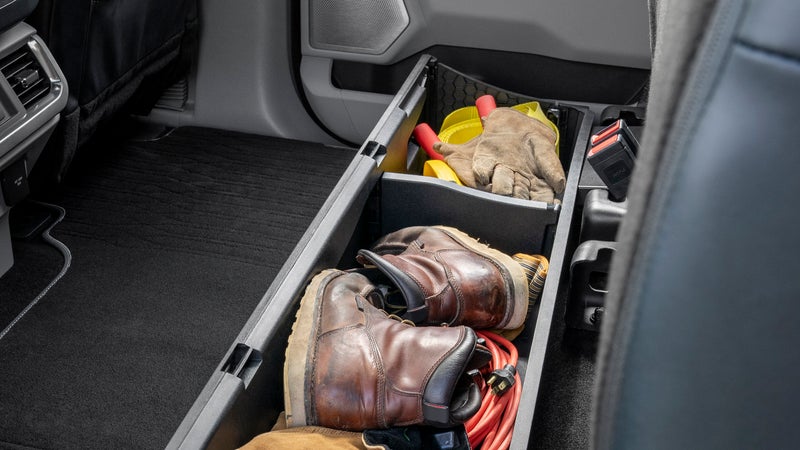 Gear Organization
I carry must-haves like tools, recovery gear, stuff I need for my dogs, and camp convenience items all squared away in nesting plastic boxes, strapped down in my bed. Other overlanders rely on expensive, heavy drawer systems to organize their necessities. Both approaches cost money and eat up onboard space that could be better used to haul loads.
The F-150 has a better solution. Located under the rear bench seat is a full-width, foldaway gear storage box. It makes use of otherwise unused space to provide all the room you should need for essential items. But, if you want to carry larger items inside the cab, that rear seat swings up and the cargo box folds away to reveal a totally flat load floor.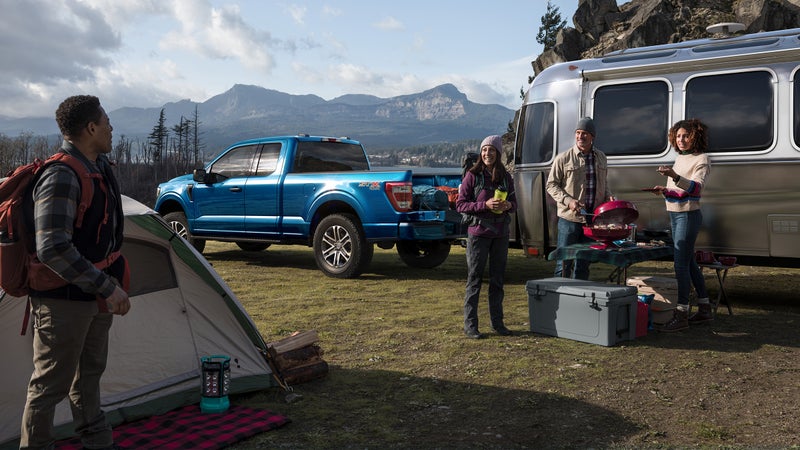 Long Fuel Ranges
An aftermarket rear bumper, complete with a swing-out load carrier, enables me to mount two 2.5-gallon Rotopax fuel containers to the back of my Ford Ranger, giving it up to 400 miles of range. I'm about to add a $2,400, 12.5 gallon auxiliary tank to my wife's Land Cruiser, giving her about 500 miles of range.
The F-150? Hybrid versions fitted with the optional 30 gallon tank will have a 700-mile fuel range. No messy gas cans and no expensive, complicated auxiliary tank necessary. This will be a boon on long off-road trips, enabling driver to plan more remote routes. It'll also help with towing, again facilitating camping trips through more remote areas while carrying less stuff.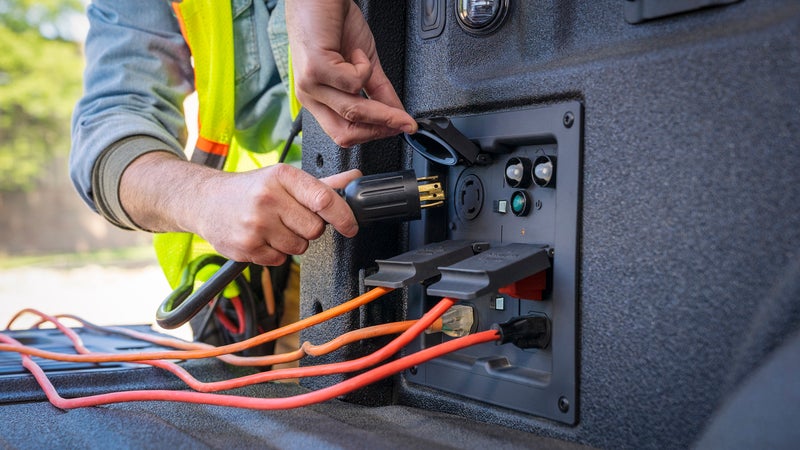 Portable Power
To power my portable fridge-freezer, run those camp lights, and charge my devices, I strap an $850 lithium-ion battery into my truck bed. It works for my needs, but wouldn't be enough to run power tools or charge electric bikes. Plus, I've got to pull it out when I need to haul a bunch of stuff back there.
The new F-150 can work as a true generator, with three tiers of power available: a 2.0 kilowatt system with two 120-volt, 20-amp three-prong plugs; a 2.4 kilowatt version that will come standard on hybrid models; and a 7.2 kilowatt monster that includes a twist-lock NEMA L6-20 240-volt, 30-amp outlet.
The basic version will be enough to charge gadgets, run an air compressor, or even power an eight-inch chop saw. The 7.2 kilowatt generator has enough juice to power an entire job site. It can run a 120-volt plasma cutter, a TiG welder, a 12-inch chop saw, a 1.5 horsepower air compressor, an angle grinder, and work lights, simultaneously. Plus, with a full tank of gas, you'll be able to do that for 32 consecutive hours.
That large generator will also provide enough power to run the air-conditioning and other appliances in a large camping trailer and is capable of fast charging electric motorcycles. Intelligent power monitoring will switch between battery and engine power automatically, while preventing short circuits, overcharging, and other safety risks. The generators can run while the truck is driving, enabling you to charge tool batteries or bikes on the go.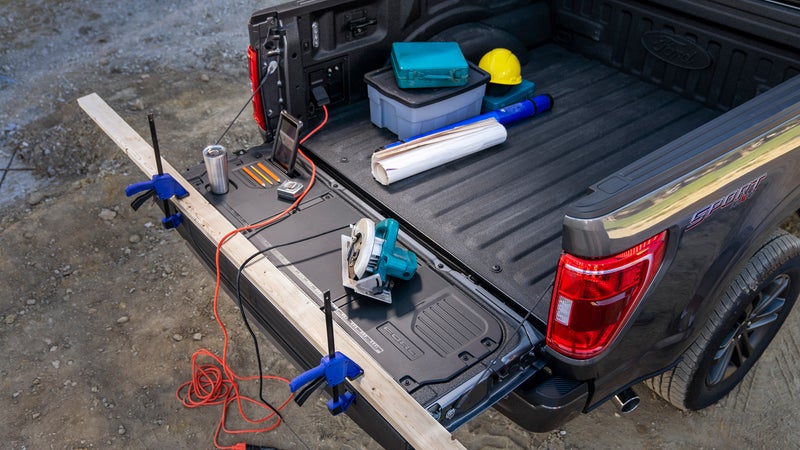 Two Types of Work Tables
A popular addition to pickup trucks is a tailgate reinforcement that not only provides a flat work surface, but also strengthens the tailgate so you can really bear down on it during jobs that require force.
The new F-150 will offer such a work table tailgate as an option. It includes channels designed to accept C-clamps, a built-in ruler, holders for pens, pencils, and a tablet, and even tie down points that double as bottle openers. And again, the built-in zone lighting is designed to illuminate it.
But that's not the F-150's only work table. If you want a place to lay out documents or a laptop inside the cab, the center console-mounted gear shift lever folds away, then a table top unfolds from the storage bin lid.
And a Place to Sleep
Many of us have tried sleeping inside a truck at some point. So, we know the rear benches aren't long enough to stretch out on and that the front seats never recline enough to actually lay down.
The F-150 fixes that with an optional sleeper arrangement for the front passenger seat. It works like the first-class seats on long-haul flights by folding into a totally flat, full-length sleep surface. It may not be an ideal solution for camping trips, but if you just need to take a quick nap, or are forced inside the truck by a nighttime storm, you will actually find a place to lay down.
Trending on Outside Online